P.J. Hairston will open practice with North Carolina on Friday
While P.J. Hairston will still miss games during the season, Roy Williams announced on Thursday that his junior swingman will practice with the team on Friday.
• 2 min read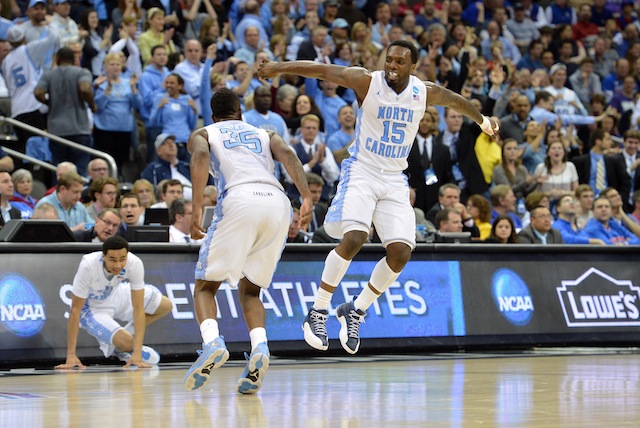 After an offseason that included arrests, driving citations and potential NCAA involvement, it looks like P.J. Hairston will practice with North Carolina when the Tar Heels kick things off on Friday.
Head coach Roy Williams announced on Thursday that Hairston will still be suspended, but he will be on the court with his teammates Friday.
"In 26 years as a head coach, I've never made demands on a young man that I have made of P.J.," Williams said. "To his credit, he accepted them without question. This is just the first step towards permanently earning his place back on the roster. He will have to sit out some games, but we haven't yet determined how many that will be.
"P.J. has done, to this point, everything he's been asked to do, and done it with an outstanding attitude and a sense of remorse for his actions which put him in this position," says Williams.  "He knows he made a series of mistakes and understands very clearly that he embarrassed his family, our program and the University. But he's worked hard to get to where he could once again practice with the team."
Hairston, a 6-foot-5 junior, was stopped at a checkpoint on June 5 and arrested on charges of possessing marijuana and driving without a license. A gun was found outside of the car. All charges were dropped in July. Hairston was then cited for reckless and careless driving on July 28, which led to his indefinite suspension.
The NCAA is also reportedly interested in the relationship between Hairston and Haydn "Fats" Thomas, a party promoter and convicted felon who had rented the 2013 GMC Yukon Hairston was driving at the time of his June 5 arrest.
"I am so sorry for the mistakes I made that brought such negative attention to the team, the University of North Carolina and my family," Hairston said in the release. "That's not how I was brought up and it's certainly not how Coach Williams expects us to represent this program. I know I let a lot of people down, including our fans and all the people who love not just the basketball team but UNC. I will do whatever I can to regain your faith in me and make sure that I represent the school and the Tar Heels with respect in the future. I appreciate Coach Williams giving me another chance to show that I can and will make better choices and decisions. I owe it to my mom, my dad, my coaches and teammates and every Tar Heel out there to make you proud to have me play basketball for Carolina. It was my dream as a kid and I would love more than anything to have that chance once again."
Hairston led North Carolina in scoring last season, averaging 14.6 points while shooting nearly 40 percent from 3-point range. The Tar Heels, who went 25-11 a season ago, open the season at home against Oakland on Nov. 8. However, a likely matchup with Louisville, as well as games against Michigan State and Kentucky, are also on the docket within the first four weeks of the campaign.
The NCAA formally notified MSU of its investigation into Nassar on Tuesday

The Sooners' freshman, pilloried for his recent performances, showed a different side Tues...

Young is leading the NCAA in both scoring and assists per game
Our advanced computer model simulated Tuesday's UNLV vs. Fresno State game 10,000 times

Our advanced computer model simulated Tuesday's Kansas-Oklahoma game 10,000 times

Our advanced computer model simulated Tuesday's Virginia vs. Clemson game 10,000 times