Point guard dominoes: pickings are slim for schools in need
Once Tyler Ulis commits on Friday night, only two of the top 25 point guards in the country will still be available.
• 3 min read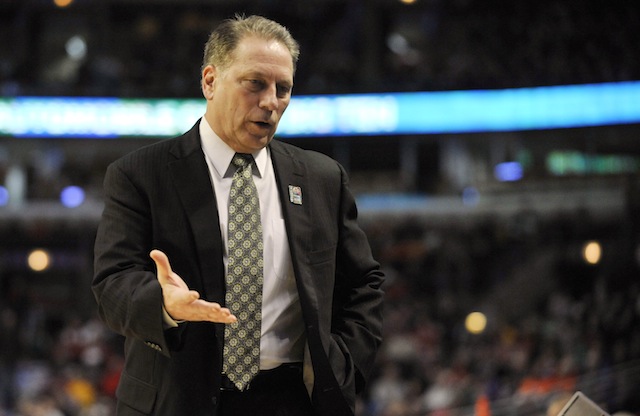 Tyler Ulis is announcing his college decision on Friday evening, and all signs point to the 5-foot-8 Marian Catholic (Ill.) product choosing Kentucky over Michigan State and Iowa.
Once Ulis makes his pick, only two of the top 25 point guards in the 247Sports Composite rankings will still be on the board. Considering one of them is Tyus Jones, who has been a strong Duke lean for a long time, and the pickings are getting very slim at the point guard position.
Of course, most teams have already figured it out for the 2014-15 season. But schools like SMU, Gonzaga, USC and Illinois all landing top 10 point guards have thrown some wrenches into the usual pecking order for high-level recruits. While that's fun for observers, it has left some big-name schools in trouble at point guard.
One of those schools was UCLA, which missed out on its top three point guard targets in the past month. First was Josh Perkins, who chose Gonzaga. Next was Jordan McLaughlin, who decided to go to crosstown rival USC on Wednesday. The final straw came on Thursday, when former Louisville commit Quentin Snider announced he was heading to Illinois. The knife was twisted a little bit more when Snider said that he wanted to commit to UCLA after visiting Westwood – but Illinois changed his mind on his trip to Champaign.
The Bruins didn't necessarily have a contingency plan in the class of 2014, as there simply wasn't a plan D for a point guard recruit. However, they made a big move on Friday – enrolling former UTEP signee Isaac Hamilton. Hamilton was expected to play for the Miners, but he wanted to move closer to home. UTEP wouldn't let him out of his letter of intent, so Hamilton will sit out the 2013-14 season and suit up for the Bruins next season. He's more of a scorer, but he's capable of handling the ball and igniting an offense.
The biggest name with a need for a point guard is Michigan State, which struck out with Snider on Thursday – and is also planning to miss on Ulis when he decides on Friday. Next up for the Spartans seems to be Lourawls Nairn, who is taking an official visit to East Lansing this weekend. Minnesota, Indiana and others are also in the mix for "Tum Tum." If Michigan State was to miss out on Nairn, Tom Izzo would be in serious trouble. Keith Appling is gone after the 2013-14 season, so he needs someone.
After the Spartans, there's Connecticut, which has also missed out on its main point guard targets. This week wasn't good for the Huskies, who saw Devin Watson go to Oregon State and Snider commit to Illinois before a scheduled in-home visit with UConn head coach Kevin Ollie. It seems like the next option for Ollie is junior college transfer Jeff Newberry. The second-year head coach went to see Newberry on Thursday, and the Huskies are on Newberry's list of five, which also includes: LSU, Oklahoma State, Texas A&M and Texas Tech.
There are a couple of options out there for teams in major need, though. Alex Robinson is the best non-Tyus Jones point guard left on the board, and he's officially visiting Texas A&M this weekend. He's already taken an official trip to Vanderbilt, and Memphis, Pittsburgh, TCU and Florida State are also on his list. Expect his phone to blow up.
Junior college prospect Josh Gray might be the most coveted guard in the JC ranks. He's officially visiting Florida State this weekend, and the Seminoles could make an effort to close the deal early.
Then there's Dante Exum. The future lottery pick from Australia might not go to college at all – but if he does, he will have no shortage of options. Indiana, North Carolina, Kentucky, Michigan and Oregon are on his list.
If some schools in need don't wrap up a point guard by November, expect the stock of several mid-level lead guards to skyrocket in the spring. There are more schools looking than there are available high-major prospects – it's supply and demand.
And right now, the demand for certain schools is high – and will only increase as we progress toward the early signing period.
It's difficult to imagine an athletic director giving the Hall of Famer another chance

The recruiting scandal has cost Rick Pitino his job as coach of the Cardinals

Pitino's lawyer fought for his client's job Monday
These teams who have the potential to pull some upsets should they make it to the Big Danc...

Gary Parrish and Matt Norlander explain how and why UNC escaped penalty

J'Raan Brooks, a top-100 player, says he's reassessing his options