Poll Attacks: Gary Williams is an Associated Press voter now?
Former Maryland coach Gary Williams is now an AP voter, and he did not have a good week this week.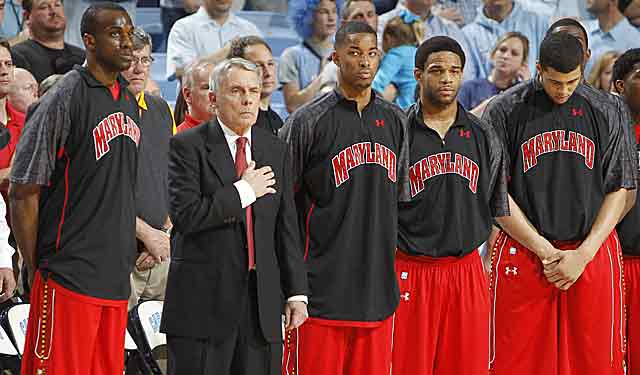 So now we have former coaches voting in the AP poll.
Life is getting weird.
Let's do the Poll Attacks, shall we?
Associated Press poll: The first thing I noticed, when I started scanning AP ballots on Monday, is that the Oregonian's Andrew Greif dropped Connecticut from 11th on last week's ballot to unranked on this week's ballot despite the fact that the Huskies are still undefeated, and I also noticed that he had Indiana ranked 23rd despite the fact that the Hoosiers are not undefeated because of a neutral-court loss they suffered to the UConn team Greif is no longer ranking. So, yeah, this was gonna be light work. But then, before I could even start typing, Greif acknowledged that leaving UConn off of his ballot was simply an oversight, and so how could I mock a nice person for that?
I mean, I could. And I have.
But I decided to look around a little more.
Next I found Kevin Lyttle's ballot. He works at the Austin American Statesman, and he's the only other voter that didn't rank UConn. That places him in the minority. But Lyttle also isn't ranking Indiana, so it's possible he just doesn't think much of UConn or Indiana, in which case it's reasonable for him to not be impressed by UConn's win over Indiana and leave both schools unranked. To be clear, I think that's wrong. But Lyttle's opinion is a perfectly reasonable opinion given what's happened between the start of the season and now.
So I decided to look around a little more.
And, goodness gracious, guess what I found pretty quickly?
Two weird things, actually.
Xavier getting one vote.
Xavier getting its one vote from Gary Williams.
Yes, that Gary Williams, the iconic Maryland coach who now works for the Comcast Sports Network. To my surprise -- I seriously had never noticed this -- Williams is now an AP voter, and even more surprising is that he put Xavier 25th on his ballot this week despite the Musketeers being 5-3 and on a three-game losing streak featuring losses to Iowa, Tennessee and USC. Xavier just straight up finished dead last in the Battle 4 Atlantis, but Gary Williams does not care one bit. He still put the Musketeers 25th, which is even stranger when you consider that he didn't have them ranked at all on last week's ballot, you know, back before they lost three straight and finished last in the Battle 4 Atlantis, and I don't even know where to go from here. It's hard to accidentally write Xavier on a ballot -- that's not like confusing New Mexico and New Mexico State -- or justify dropping Memphis after the week Memphis just had, which is worth pointing out because Williams -- you ready for this? -- dropped Memphis from 10th on last week's ballot to 18th on this week's ballot despite the Tigers now being on a four-game winning streak with victories over LSU and Oklahoma State.
But whatever.
I'm not here to clown Gary Williams' ballot.
I'm here to ask one question: How wild is it that Gary Williams is an AP voter!?!
I swear I had no idea!
Coaches poll: Nobody believes in Buzz Williams more than me, and his track record of five straight NCAA tournament appearances featuring three Sweet 16 appearances speaks for itself. He's good, and Marquette is a Top 25 program. But, as I've written many times, the results have to matter, and the results of the games played this season have put Marquette in a position where it can't reasonably be getting Top 25 votes right now.
And yet the Golden Eagles are getting Top 25 votes right now -- even though they're 5-3 with no good wins and a loss to an Arizona State team that's lost two of its past three games, the most recent loss coming to a Miami team that's ranked outside of the top 100. Again, I like Marquette. And Buzz. And I won't be surprised if the Golden Eagles are worthy of Top 25 votes at some point. But they're not worthy now. And that's the point I'm trying to make.
Jackson isn't showing the Sun Devils much respect after beating KU

One AP voter must not know ASU is undefeated with wins over the Jayhawks and Musketeers

Duke and Kansas take a hit in the coaches poll
The top 10 gets a major shakeup after a wild week of upsets

The Sun Devils make a big jump and the Jayhawks slide after ASU pulls the big upset

Gary Parrish and Matt Norlander spend some time on the SEC, too