Poll Attacks: How could you leave Michigan off of a top 25 ballot?
Michigan is in the top 25 of every human poll and computer ranking available. But one AP voter still left the Wolverines off of his ballot, for some reason.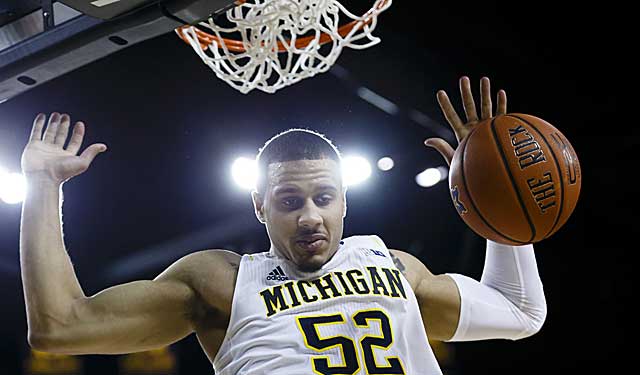 More hoops: AP Poll | Coaches | Top 25 (and 1) | Bracketology
It is with great sorrow that I turn this edition of the Poll Attacks toward John Feinstein.
But he gave me no choice.
Let's get it!
Associated Press poll: I've explained many times how I go about this each week -- that I typically look for something specific to write about, then figure out who committed the predetermined crime against the polls. In other words, I never look for specific voters. I just look for things. Then I see who did those things. And then I write about those things.
Which brings me to John Feinstein.
It pains my heart to spend this space on John.
But how could I ignore the one ballot that isn't ranking Michigan?
(Michigan!)
The Wolverines (17-6, 9-2 Big Ten) have won 11 of their past 13 games. They own three victories over teams currently ranked in the AP poll, and their only four losses since the weekend before Thanksgiving are to No. 2 Arizona, to No. 8 Duke, to No. 16 Iowa and at Indiana -- a place where seven of the past eight top-10 teams to enter have lost. That's a nice body of work, and it's why Michigan is 11th in the Sagarin, 14th in the Top 25 (and one), 15th in the AP poll, 16th at KenPom, 17th in the RPI, 18th in the Coaches poll and a part of every single top 25 ranking done by humans and/or computers. And yet John, this incredibly smart and talented writer, radio host and best-selling author whose most recent book can be found at this link  -- that's me softening the blow, so to speak -- still couldn't find a spot on his top 25 ballot for Michigan even though his top 25 ballot included Stephen F. Austin, which has a loss worse than Michigan's worst loss, and zero wins better than Michigan's 11th-best win. The resumes aren't even comparable.
Bottom line, I love John Feinstein.
He's terrific.
But a ballot missing Michigan is a ballot missing a top 25 team.
Coaches poll: It's not often that a team goes from getting no votes in a poll to a vote in the poll two days after a 14-point loss, but who said the Coaches poll had to make sense?
(Not me!)
Forget that West Virginia is 14-10 with two losses outside of the top 100 of the RPI, and just two wins over schools ranked inside the top 50. And never mind that some coach is ranking a 10-loss team when no school with more than six losses is currently in either poll. What's funny to me is that West Virginia went from zero votes to one vote after a 14-point loss.
When's the last time that happened?
In fairness, West Virginia is playing better. And I won't be surprised if the Mountaineers beat Iowa State tonight in Morgantown. But a team that's 14-10 and just two days removed from a 14-point loss shouldn't go from being off of a ballot to being on a ballot. I mean, that seems like a pretty reasonable guideline for ranking teams, doesn't it?
Oklahoma and Arkansas are new additions to Sunday's Top 25 (and one)

Gary Parrish and Matt Norlander discuss a wild Saturday of college basketball

Ball left the program earlier this month and has since signed with a Lithuania professional...
Sooners beat third-ranked Shockers while Florida and FSU lost in upset fashion to unranked...

The Hoosiers grow up before our eyes, and Miller has his first signature victory as Indiana...

Trae Young, a freshman and the nation's top player, has a 21-point first half at Wichita S...