Poll Attacks: Not all records are created equal, you know?
How can you rank Oklahoma but not Kansas? I have no idea. But one dude did it, and he's featured in the Poll Attacks.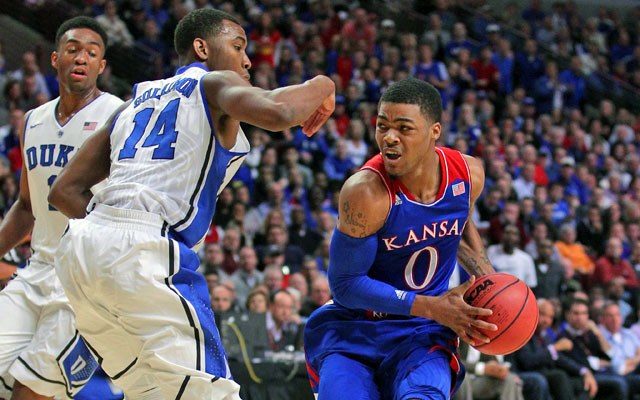 I can't stand when voters rank teams without considering the quality of the schedules played.
Drives me nuts.
But it keeps the Poll Attacks fresh, I guess.
Let's get into it!
Associated Press poll: I wrote a few hundred words the other day applauding Arizona's Sean Miller for scheduling aggressively with my basic premise being that it's a high-reward/low-risk way to approach things, provided you think your team will be good.
I still believe every word of that post.
(You can read it here.)
But there apparently is some risk to scheduling aggressively, and that risk is that Associated Press voters might not take the time to look at your losses and use context, which brings me Doug Doughty of the Roanoke Times. He's the only one of the 65 AP voters who has Kansas unranked on his ballot, and I can only assume it's because he can't bring himself to rank a school that's lost three of its first 10 games. Now let me explain why that's silly.
Yes, Kansas is 7-3.
But that 7-3 record has come against a schedule featuring five games against opponents that are currently ranked in the top 35 at KenPom.com. According to the AP poll, Kansas has a neutral-court win over No. 8 Duke (to go with a neutral-court win over New Mexico), and the losses are to No. 8 Villanova on a neutral court, to No. 16 Florida on the road, and to No. 20 Colorado on the road, and those three losses have come by an average of 4.3 points. In other words, the Jayhawks have shown they can beat good teams, and they haven't lost to a single bad team. But they're still unworthy of a spot on Doughty's Top 25 ballot.
Meantime, he ranked Oklahoma 22nd.
To be clear, Oklahoma might end up being good.
I have no idea.
But, to date, all Oklahoma has done is build a 9-1 record against a non-conference schedule rated 254th at KenPom.com. The Sooners have played one top-40 team, and they lost that game (to Michigan State) by double-digits. But OU got the nod over KU on Doughty's ballot because, I guess, 9-1 looks better than 7-3 when you don't take the time to really look at it.
Coaches poll: I had Virginia ranked in the preseason, kept Virginia ranked after its last-minute loss to VCU, and I still think Virginia is and will be pretty good. But, when it comes to ranking teams, I think, the results of the games need to matter, and there's no way Virginia should be ranked on anybody's ballot given the results of the Cavaliers' first 10 games.
Virginia is 7-3 overall.
Virginia has zero notable wins. (The best is against SMU.)
Virginia has two losses to currently unranked teams -- specifically VCU and Green Bay.
Again, I have no issues with somebody ranking a three-loss team; Kansas and Kentucky should both be ranked right now with three losses. But neither KU nor UK has a loss to a currently unranked team, and that's the difference between KU, UK and Virginia.
KU's and UK's losses are reasonable.
Virginia's really aren't ... especially considering two of them are at home.
So perhaps Virginia will win its way back into the Top 25. Honestly, it wouldn't surprise me. But no school with no good wins and two losses to currently unranked teams should be getting Top 25 votes, and that seems like something we should all be able to agree on.
Gatto is accused of helping funnel approximately $100K to the family of a high school All-...

What you need to know as college basketball coaches and an Adidas executive face bribery c...

Emanuel 'Book' Richardson, Chuck Person, Lamont Evans and Tony Bland have been arrested
The UConn women's basketball coach stepped in to offer up a solution in an education budget...

Duke and North Carolina players will skip ACC Operation Basketball because of new NCAA pol...

After a close game against Michigan, Air Force is playing San Diego State with some moment...