Poll Attacks: Why in the world are you still ranking Iowa?
The Hawkeyes have lost five of their past six games. Still, they're getting votes on two AP ballots.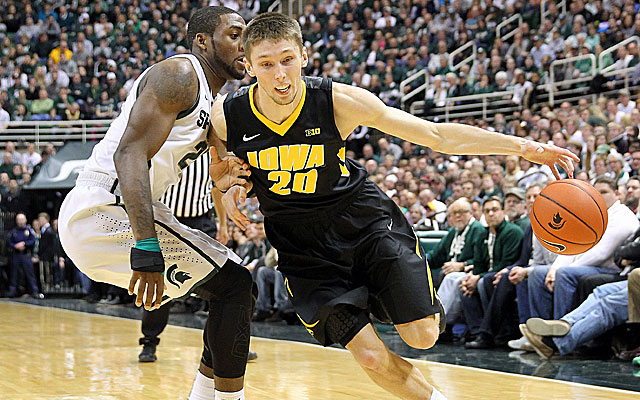 Latest in college hoops: Top 25 (and one) | Bracketology | Bubble Watch
You guys realize Iowa has lost five of its past six games, right? And that the Hawkeyes have beaten just two projected NCAA Tournament teams since Jan. 1, right?
Oh, you didn't realize that?
Then you have to be in the Poll Attacks.
Let's get it!
Associated Press poll: I had Iowa ranked as recently as last week. So I'm not down on the Hawkeyes as much as some, and I actually think they could be dangerous in the NCAA Tournament. They're good offensively and good offensive teams are often dangerous.
But should they really be on a Top 25 ballot now?
After losing five of their past six games?
And after a home loss to Illinois?
I say no.
But AP voters Percy Allen and Jason Franchuk said yes, which is how Iowa ended up with four points in the new AP poll. Allen has Iowa ranked 23rd on his ballot; Franchuk has Iowa ranked 25th. In fairness, neither of these things is the dumbest thing I've ever seen on a ballot, but I still don't know why anybody would rank a team that, again, has lost five of its past six games -- including two home games -- and hasn't beaten anybody other than Penn State and Purdue in the past month.
Beyond that, Iowa has topped only two projected NCAA Tournament teams since the calendar turned to 2014. Two! And, in case you didn't know, the Hawkeyes play in the Big Ten. So it's not like they haven't had opportunities. More specifically, since Jan. 1, Iowa is 2-6 against schools currently projected to make the NCAA Tournament (according to Jerry Palm) with three additional losses to schools not projected to make the tournament.
If that sounds bad, that's because it is bad.
It's bad enough to make Iowa a No. 9 seed in Palm's latest bracket.
It should've been bad enough to keep Iowa off of every AP Top 25 ballot.
Coaches poll: Let the record show that I like Duke, love Jabari Parker and think the Blue Devils are the best team in the ACC. With the right matchups, I can envision Duke in the Final Four. I might even pick Coach K's team to get there.
So why do I have Duke ranked 15th in the Top 25 (and one), you ask?
Because my philosophy on ranking teams in March is to mostly do it according to bodies of work, and that's my philosophy for two reasons: 1. It takes any perceived biases out of the equation because it's hard for fans to argue with facts (even though some still try). 2. It tends to make my Top 25 (and one) align well with how a projected bracket might look because the NCAA Tournament selection committee also seeds according to bodies of work.
I say all that to say this: Duke doesn't have a top-10 body of work.
That's why I think it's wrong for the Blue Devils to be ranked sixth in the coaches poll.
I mean, I guess, if you want to rank teams with little regard for the results of games, then you can rank Duke sixth ... or even first. Whatever. But Duke's actual body of work consists of six top-50 RPI wins and three losses outside of the top 50, including two losses outside of the top 100. And that's not anywhere close to the sixth-best body of work in the country -- especially when you consider that Kansas has 12 top-50 RPI wins, just one loss outside of the top 50, and zero losses outside of the top 100.
Can I break it down for you so that it's easy to digest?
Check this out ...
----- DUKE -----
Top 25 wins: 4
Top 50 wins: 6
Losses outside of the top 50: 3
Losses outside of the top 100: 2
----- KANSAS -----
Top 25 wins: 6
Top 50 wins: 12
Losses outside of the top 50: 1
Losses outside of the top 100: 0 
Bottom line, if you care about actual results of games, Duke is a little too high and Kansas is a little too low. Again, I like both teams. But the coaches poll has them in the wrong order.
Kenny White used to set lines for Vegas' biggest books. Now, he's telling you who to back on...

Duke, which held the previous record of 32 set in 1950, took to Twitter to congratulate the...

Without Trier, Arizona's Final Four chances are clearly in jeopardy
Porter Jr. is a projected top 10 pick but has played just two minutes all season

Our advanced computer model simulated Friday's IUPUI vs. Wright State game 10,000 times

Dawn Staley was accused of promoting an atmosphere that induced racial slurs toward Mizzou...