Poll Attacks: You ranked Illinois behind who and who and who?
How is it that Illinois is ranked behind Ohio State, Butler and Gonzaga, all teams that the Illini have beaten?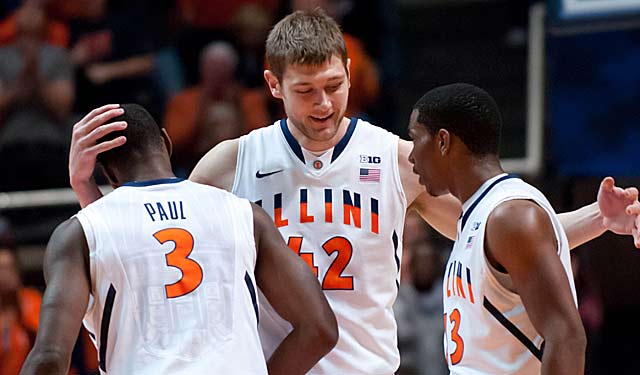 Illinois is 14-2 and generally taking names, but that's not good enough for one voter. (US Presswire)
I know you might think a person who covers college basketball for a living couldn't possibly have a team ranked behind three teams that it has beaten by double digits this season. But you'd be wrong to think that. Because such an AP voter does indeed exist. He's about to get worked in the Poll Attacks.
Associated Press Poll: There are good teams (even ranked teams) that still have zero wins over currently ranked opponents, which is why Illinois' victories over No. 9 Gonzaga, No. 14 Butler and No. 15 Ohio State are notable. John Groce has been incredible in his first season with the Illini. He has a pretty strong 14-2 record.
But don't try telling that to Randy Rosetta.
Because Randy isn't buying it!
More on hoops rankings
Related content
The writer from the New Orleans Times-Picayune -- a paper that was featured in Sunday's "60 Minutes," by the way -- has Illinois ranked 20th on his ballot. He actually has the Illini ranked eight spots behind the Ohio State team that they beat by 19 points, seven spots behind the Butler team that they beat by 17 and two spots behind the Gonzaga team that they beat by 11 at Gonzaga. Seriously, how could anybody conclude a team that's 14-2 with convincing victories over Gonzaga, Butler and Ohio State should be ranked behind Gonzaga, Butler and Ohio State? Or how a team that's 14-2 with convincing wins over Gonzaga, Butler and Ohio State should be ranked six spots behind Cincinnati?
Yep, Rosetta did that, too.
Cincinnati is 13-2 with one loss to a ranked team (New Mexico) and one loss to an unranked team (St. John's), so the Bearcats' losses are similar to the Illini's losses in that regard. But Illinois' loss to No. 10 Missouri on a neutral court is better than Cincinnati's loss to No. 25 New Mexico at home, and Illinois' loss to Purdue on the road is better than Cincinnati's loss to St. John's at home because a road loss to Purdue is understandable but a home loss to St. John's isn't nearly as much.
So Illinois' two losses are better than Cincinnati's two losses.
We can all agree on that, right?
Assuming we can, then the team that has better wins isn't even up for debate considering Illinois has wins over three teams currently ranked in the top 15 while Cincinnati doesn't have a single win over a single team currently ranked at all. And yet Rosetta has UC ranked 14th and Illinois ranked 20th. And I think I've made my point.
Let's move on ...
Coaches Poll: Nobody is a bigger believer in Jamie Dixon than me. The guy is a tremendous teacher and coach, and I've forever believed those who try to shortchange him because he has never made a Final Four are missing the larger picture, i.e., that he made eight NCAA tournaments in his first eight seasons at Pittsburgh -- a school that mostly lacks good basketball tradition. Bottom line, Dixon is one of this sport's best. It's why everybody from North Carolina State to Arizona has tried to hire him in recent years.
(This is where I transition with a "But.")
But ...
Reputation alone shouldn't be enough to garner Top 25 votes in January, and there's no way to reasonably have Pitt on a ballot this week unless you're ignoring results from actual games. Yes, we at CBSSports.com had Pitt ranked last week. But that's when the Panthers were 12-1 with a lone loss to No. 2 Michigan by a slim margin. In other words, there were no bad losses and, at the time, that seemed good enough. But now there are two bad losses -- specifically a home loss to Cincinnati and a road loss to Rutgers. So Pitt enters this week with a 12-3 record featuring no good wins and two bad losses, and yet the Panthers still got seven votes in the Coaches Poll, which is inexplicable.
Might Pitt turn it around and be a Top 25 team in March?
Yes.
Hell, I'd probably bet on it.
But what might happen should rarely trump what has happened when it comes to ranking teams in January. And what has happened with Pitt has been uninspiring to date.
Gary Parrish and Matt Norlander discuss Louisville's punishment from every angle

Those Cardinals were fun to watch, but those memories are forever tainted

Josh Nagel is a Reno-based handicapper who has his finger on the pulse of Nevada basketbal...
Zack Cimini is a contrarian thinker who's tailed throughout the handicapping industry

The Seahawks could be back in the NCAA Tournament next year if Cacok returns for his senior...

Kenny White used to set lines for the biggest casinos. Now, he's locked in a Syracuse vs. UNC...