Poppin' Bubbles: Arkansas sweeps Kentucky, Oregon beats UCLA
Arkansas made a major statement on Thursday, going into Rupp Arena and knocking off Kentucky.
• 4 min read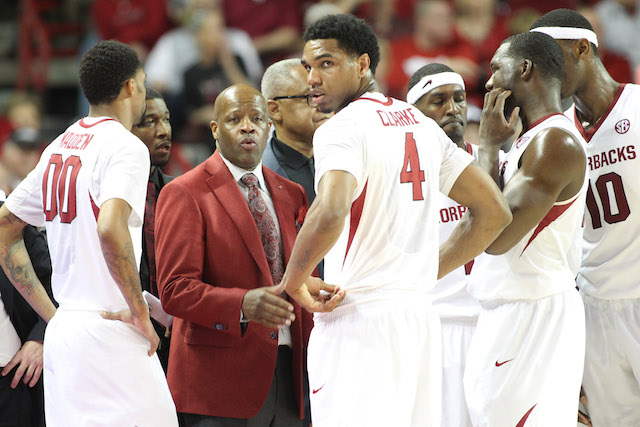 Thursday is a fairly light bubble day in terms of quantity, but there are two huge road opportunities for teams on the fence. Aside from that, there's a bubble battle in the Big East and a couple of teams trying to play themselves into the mix.
Winners
Arkansas: I think we might have found our frontrunner for the coveted third SEC bid. The Razorbacks completed a monster sweep of Kentucky on Thursday night, going into Rupp Arena and taking down the Wildcats in overtime. Arkansas is now going to find itself in many projected brackets in the morning, although our own Jerry Palm already had the Razorbacks in the field heading into Thursday. They have won six of their last seven games since starting 2-6 in the SEC -- and more impressively (and importantly), they have won three of their last four road games. The biggest hole in their resume always seems to be their performance away from home; this year, the Razorbacks have something to show for their road games.
Going into the night, the computer numbers weren't great, but they will certainly improve after beating Kentucky. Sweeping the Wildcats gives them four top-50 wins: two over Kentucky, plus victories against SMU and Minnesota. They still have to hold their own down the stretch, though. Up next are home games against Georgia and Ole Miss, then a season-ending road trip to Alabama. They need to go at least 2-1. 
Oregon: Forget the fact UCLA was without Kyle Anderson and Jordan Adams due to a one-game suspension, this was a crucial win for the Ducks. It is the team's biggest victory of the season, its first victory over a sure-fire NCAA tournament team. The committee might mention that UCLA was without two players, but the win still happened and is still there in the top-25 column. The Ducks are now just 2-6 against the top 50, but they are 8-7 against the top 100 with only one sub-100 loss. Completing the road sweep of the Los Angeles schools would be huge this weekend for the Ducks, as they head to USC on Saturday. Oregon has won four in a row to get to 7-8 in the Pac-12, and a weekend win would put them at .500. If that happens, the season could come down to next week's homestand against Arizona State and Arizona. 
Gonzaga: The Bulldogs clinched the West Coast Conference regular-season championship by blowing out Pacific and ending their own two-game losing streak. Regular-season titles are a nice chip to have in the back pocket, especially if compared with BYU on Selection Sunday. The resume still isn't great because the best RPI win is BYU, and Gonzaga is just 1-3 against the top 50. The Bulldogs are 7-5 with a top-30 RPI. They close out the season at Saint Mary's -- while the Gaels aren't as good as they have been in recent years, it would still be another top-70 win. A loss there and a loss in the conference tournament would be dicey.
Southern Miss: The Golden Eagles kept their at-large hopes alive by beating Florida International on Thursday. It's not a noteworthy win, but it avoids a bad loss and continues to pad the record. They are now 24-5 overall, 11-3 in Conference USA. They finish the season with trips to Florida Atlantic and Tulane; the Golden Eagles obviously can't lose either game. Southern Miss' RPI is in the 30s despite the SOS numbers being in the triple-digits. The Golden Eagles' best win is at North Dakota State, and they have three sub-100 losses. There's still work to do.
Marquette: Beating Georgetown on Thursday was nice -- a game the Golden Eagles absolutely needed to win -- but they still have a ton of work to do to get in the conversation. Their computer numbers aren't very good, and they are just 2-9 against the top 50 and 5-10 against the top 100. Marquette is now 9-6 in the Big East, but games against Villanova, Providence and St. John's close out the regular season. The Golden Eagles will have chances to play themselves into the mix.
Losers
Georgetown: The Hoyas were a step ahead of fellow Big East bubblers St. John's and Providence heading into the week because of their quality wins: they had quality victories over Michigan State, VCU and Kansas State. However, their loss at Marquette on Thursday night drops them to 16-12 overall and 7-9 in the Big East. Moreover, their final two games are vs. Creighton and at Villanova. They need at least one of them to have a chance heading into the Big East tournament. Outside of the aforementioned victories, they have also beaten Xavier and the other Big East bubble teams -- but there are three sub-100 losses. 
Louisville's coach predicts a change is coming to the NBA's one-and-done rule by 2019

Multiple former players of Lonergan's alleged verbal abuse and inappropriate remarks

When Miller left for Indiana, there was cause for concern in Flyerland; a top-100 signee says...
The Hoyas will spend their non-league schedule playing mostly nobodies -- as will most big...

An overview of what the most interesting conference will offer up this season -- beyond Duke...

The sneakers were made to commemorate the Tar Heels' six national championships