Poppin' Bubbles: Baylor and Oregon inch closer, Hoyas get big win
Tuesday has been a day for teams to improve their resumes.
• 3 min read
Bracketology: Latest projected bracket | Compare teams | Bubble Watch
Monday saw two solid teams dip back to the bubble, but Tuesday was terrific for teams near the cutline. All five teams profiled here came out as winners.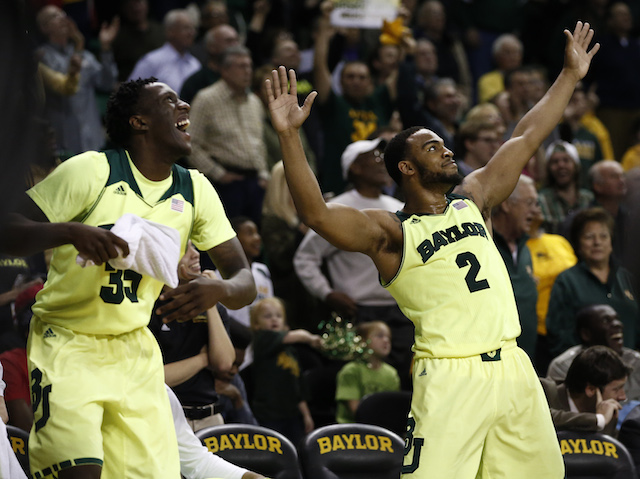 Winners
Baylor: The Bears likely punched their ticket to the NCAA tournament on Tuesday, taking down Iowa State at home. They have now won six of their last seven to get to 8-9 in the Big 12 and 20-10 overall. It seemed like a longshot when Baylor was 2-8 in the Big 12 -- and it seemed like the Bears might not even get a chance to defend their NIT championship. Now, though, Baylor is in great shape for Selection Sunday. The Bears are 7-8 against the top 50, and Iowa State marks their biggest win yet this season. Throw in good computer numbers and Baylor won't sweat much in a week and a half. They can likely afford a loss to Kansas State and in the Big 12 tournament.
Oregon: The Ducks are in a similar boat to Baylor. They shook off a terrible start to conference play (3-8) and now have some breathing room heading into the final game of the regular season. On Tuesday night, they took down Arizona State to move to 9-8 in the Pac-12 -- their sixth win in a row. After entering last week with just one top-50 win, the Ducks now have three, with a chance to get one more this weekend, when Arizona comes to town. Oregon has a very good RPI, a good record away from home, solid SOS numbers, and just one sub-100 loss. Moreover, the Ducks are 9-7 against the top 100. A loss to the Wildcats in the season finale and then one more in the Pac-12 tournament, and Oregon can still get in. One more win would really lock things up, though. 
Georgetown: The Hoyas seem to be a team of debate among bracketologists. They dropped to 16-12 overall after losing three of their last four games, but they bounced back in a major way by beating Creighton on Tuesday night. That now makes Georgetown 5-5 against the top 50, with four wins over sure-fire NCAA Tournament teams. The Hoyas got things done in the non-league, beating Michigan State, VCU and Kansas State, and now they have a marquee Big East victory under their belt too. There's another chance to close the regular-season on a high note this weekend, when Georgetown trips to Villanova. There are some negatives on the resume, though. They have a mediocre RPI, which will likely go up after Tuesday's win, and they have three sub-100 losses. Moreover, a defeat at Nova and then in the Big East tournament would give them 14 losses on the season. That's a high number.
Providence: That's one way to keep your at-large hopes alive. The Friars went to double-overtime with Marquette, coming back in the final seconds to get the win -- and stay squarely in the conversation. That's three straight wins for Providence, after a stretch in which the Friars had lost four of six. The Friars now have a huge chance ahead of them in the season finale, as they travel to Creighton with an opportunity for a resume-boosting win. Providence is an impressive 10-7 in the Big East, and a solid 7-7 away from home. The biggest knock on the Friars is their lack of quality wins, with Creighton and Xavier the lone top-50 wins on the resume. Providence only has one bad loss and is 8-9 against the top 100. Saturday will be huge for the Friars. 
Florida State: The Seminoles almost saw their at-large hopes go up in flames at Boston College, but they pulled out a win late and remain alive. The victory puts them above .500 in the ACC, but their optimism heading into the conference tournament will depend on this weekend's game against a struggling Syracuse team. Florida State does host, and could really use the marquee win. The 'Noles have two top-25 wins, over VCU and Massachusetts, but they are just 5-10 against the top 100. A win over the Orange would catapult them to the precipice of the tournament, although there would still be work to be done in the conference tourney. 
Creighton AD Bruce Rasmussen answers questions about some of the committee's grouping metr...

Guy, the leading scorer for the No. 1 Cavaliers, had a big weekend even though UVA didn't...

The stigma of being the first men's Division I team to vacate a title will be difficult to...
The Quicken Loans Confidence Builder focuses on Syracuse, Butler and Florida

Rhode Island can clinch a share of the A-10 regular season title with a win on Tuesday

20 programs have had their national championships taken away by the NCAA