Poppin' Bubbles: Dayton and Colorado notch huge wins, Cal falls
After a successful Tuesday, could bubble teams keep the good vibes rolling on Wednesday?
• 6 min read
Bracketology: Latest projected bracket | Compare teams | Bubble Watch
Winners
Dayton: The Flyers were right on the cut line heading into the week, with bracketologists essentially split on whether they were in or out. After Wednesday's road win at Saint Louis, there won't be much debate on Thursday morning. Dayton is in good shape right now, as beating the Billikens gave the Flyers four top-30 wins, an 8-6 record against the top 100, and a 9-5 record away from home. Those categories give Dayton the edge over most other bubble teams, although the three sub-100 losses do give some pause. The Flyers have won eight of their last nine games, and just need to take care of business against Richmond at home in the season finale. A win there, and the Flyers might be able to overcome a loss in the Atlantic 10 tournament. Two more wins, and Dayton is a lock. 
Colorado: The big question for the Buffaloes heading into the week basically revolved around a worst-case scenario. If Colorado lost both road games this week, how much trouble would the Buffaloes be in? Two losses would have meant they were just 6-8 without Spencer Dinwiddie. However, it's all a moot point now, as Colorado went into Palo Alto and came out with a huge bubble win over Stanford. The Buffaloes are 10-7 in the Pac-12, with a road game against California in the season finale. A win there would likely lock up a bid, although California will also be looking for a victory after falling on Wednesday. Colorado has terrific RPI and SOS numbers, as well as five top-50 wins -- including a marquee victory over Kansas. Throw in zero bad losses, and the Buffs have a solid impressive.
Arkansas: Well, that was some performance. The Razorbacks absolutely mauled Ole Miss on Wednesday, hitting the 100-point mark with more than eight minutes left. That runs the Razorbacks' winning streak to six games, moving them to 10-7 in the SEC. They need to finish strong at Alabama this weekend in order to have some confidence heading into the conference tournament. They're certainly not a lock right now, but they are at the top of the SEC bubble pecking order. Arkansas is 4-3 against the top 50, including a sweep of Kentucky. The Razorbacks only have one bad loss on the season and are 9-8 against the top 100. Losing to Alabama this weekend would bring some doubt back into the equation, though.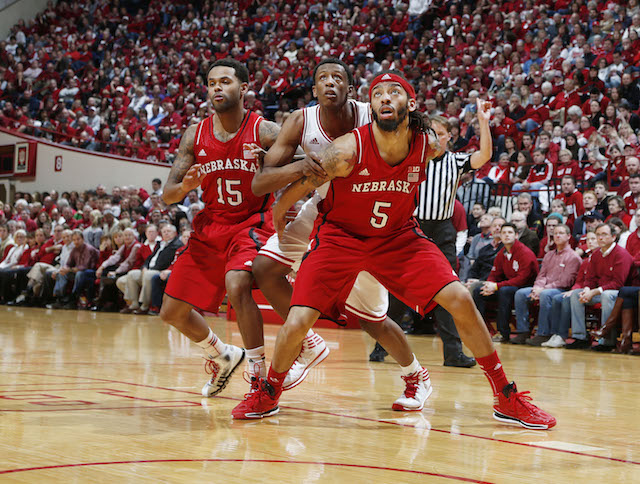 Nebraska: The Cornhuskers just need to keep on winning to stay in the at-large mix, and they went into Bloomington -- a place where Wisconsin, Michigan, Iowa and Ohio State all lost -- and came out with a win over a surging Indiana team. That's now 10 wins for Nebraska in its last 13 games, and a nice two-game response since losing at Illinois last week. This weekend is another big one for Tim Miles' crew. Wisconsin comes to town, and it's essentially a must-win for the Cornhuskers. If they beat the Badgers, it will provide a tremendous boost for Nebraska's resume. Right now, they are just 3-7 against the top 50, but they do have a 7-8 record against the top 100. Three sub-100 losses are ugly, though. 
Tennessee: Arkansas wasn't the only SEC team to blow someone out on Wednesday, as the Volunteers went into Auburn and easily handled the Tigers. That's three straight wins for Tennessee, moving the Vols to 10-7 in the SEC heading into the season finale against Missouri. That's a huge bubble game for both teams, especially with Missouri escaping with a desperation win against Texas A&M. The Tigers need to win to stay in the discussion -- and the Volunteers can't afford to lose either. The RPI is solid, the SOS is very good, but they still have only defeated one sure-fire NCAA Tournament team (Virginia). They are 7-9 against the top 100 and have two sub-100 losses. They need to beat Missouri this weekend and then do some damage in the conference tournament.
Missouri: The Tigers were seconds away from seeing their at-large hopes go up in flames with a loss to Texas A&M -- but the Aggies collapsed down the stretch and now Missouri is still alive. The Tigers will have an enormous bubble battle this weekend at Tennessee. The winner will still have damage to do in the SEC tournament, but the loser could be facing a major uphill climb in the conference tournament. Missouri did win the first meeting between the two teams, and that's one of the Tigers' two top-50 wins -- with the other one being a marquee non-conference victory against UCLA. They are 8-8 against the top 100 and 2-2 against the top 50, and also have only one sub-100 loss. The RPI and SOS numbers aren't great, and neither is the record away from home. This weekend's game is a must.
Losers
California: The Golden Bears might have been the biggest loser of Wednesday night, as they fell at home to a Utah team that had won one road game all season prior to this week. California has now lost three in a row and is just 4-8 in its last 12 games. Wednesday's loss makes this weekend's game against Colorado even more important. Both teams need to win -- and Cal might be in danger of falling out of the field with a loss. The RPI isn't good, they are just 3-9 against the top 50, 6-10 against the top 100 -- plus two sub-100 losses. The win over Arizona is a nice chip for Selection Sunday (and there are also wins over fellow bubblers Oregon and Stanford), but California needs to do more in order to get a bid. It starts this weekend. A loss there, and the Golden Bears will need to make a run in the Pac-12 tournament.
Saint Joseph's: The Hawks could have really solidified their place in the NCAA Tournament with a win at George Washington, but the Colonials pulled away down the stretch to lock things up for them. Now Saint Joseph's still has work to do. Despite the loss, it has still won 17 of its last 21 games, heading into a home game against La Salle this weekend. A win there, and the Hawks will be 12-4 in the Atlantic 10 -- a league that could be headed toward six bids on Selection Sunday. The RPI is in the 30s and they are 10-5 away from home, plus they have four top-50 wins (including top-20 victories over VCU and Massachusetts). The non-conference performance wasn't great, with the best win coming over Boston University. 
Stanford: The Cardinal were very close to locking things up a couple of weeks ago, when they beat UCLA to move to 9-5 in the Pac-12. Since then, they have dropped three in a row and are in some trouble heading into the season finale. Utah comes to Palo Alto, and that's a must-win for Stanford. A win there would get the Cardinal back on solid ground, while a loss would put a lot of pressure on them going into the conference tournament. They have a solid RPI, a top-20 SOS, four top-30 wins, and only one bad loss. The 6-10 record vs. the top 100 isn't good, though, so beating Utah is necessary to get back on the right track.
FBI investigation suggests Quinerly received improper benefits from a Wildcats assistant c...

Meet the mid-major coach who refused to vote for the teams involved in the recruiting scan...
The player, now at the University of Portland, says he was injured during a workout which broke...

Please don't start with the 'Being preseason No. 1 didn't work out so well for Duke last season!'...

A look at some of the biggest name coaches in new places in 2017