Poppin' Bubbles: Georgetown loses to DePaul, likely NIT-bound
Thursday is a busier day for bubble watchers, but there are a handful of games to keep an eye on Wednesday.
• 3 min read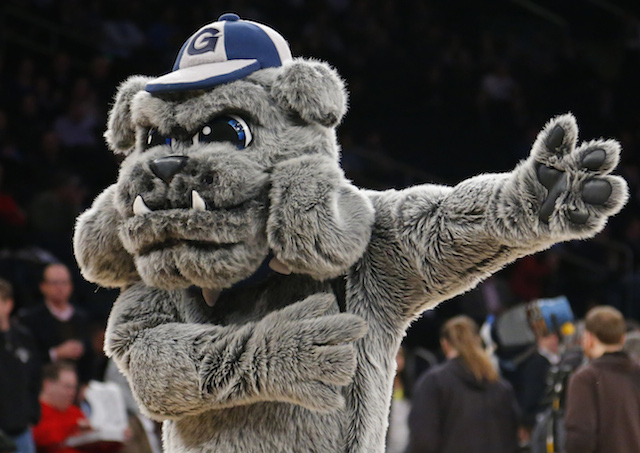 Latest in hoops: Top 25 (and one) | Bracketology | Bubble Watch
Thursday will feature a busy day of bubble action, with a few bubble elimination games, some opportunities for marquee wins, as well as games that bubble teams need to win just to keep their hopes alive. Wednesday isn't as busy, but there are still some noteworthy games to watch on the bubble.
Winners
Colorado: It wasn't pretty, but the Buffaloes emerged with a three-point win over USC that was necessary for their at-large hopes. It doesn't boost the resume all that much, but a loss would have left them in a much more precarious position. As it stands now, Colorado is in pretty good shape for a bid. A win on Thursday over fellow bubble team California would clinch a bid, but the Buffaloes could survive even with a loss. Colorado has five top-50 wins, including a victory back in December over Kansas. The Buffs have very good RPI and SOS numbers, a 10-10 top 100 record, and zero bad losses. The biggest knock is the performance without star guard Spencer Dinwiddie; Colorado is just 8-7 since he was lost for the season with an injury.
Oklahoma State: Much like Colorado, the Cowboys just needed to avoid a loss on Wednesday to feel pretty confident on Selection Sunday. Oklahoma State passed that test with ease, rolling through Texas Tech. Up next is a quarterfinal matchup with Kansas. A win would vault the Cowboys into the top half of the NCAA Tournament bracket, which would be a tremendous turnaround since the seven-game losing streak. A loss most likely wouldn't impact their spot in the field either. The Cowboys are 5-1 since Smart's return from suspension. They have five top-50 wins, including the win earlier this month over Kansas. The RPI and SOS are solid, and there is only one sub-100 loss. Things look good for Oklahoma State.
Stanford: With the Cardinal's NCAA hopes -- and perhaps Johnny Dawkins' job -- on the line, they picked up a win they absolutely needed to get. Beating Washington State doesn't do much good for the resume, but a defeat would have meant a sub-200 loss, which could have sunk the profile. Losses in three of their last four regular-season games put the Cardinal in peril, but righting the ship against Utah and now Washington State stabilizes their position. A win over Arizona State in the quarterfinals on Thursday would make Selection Sunday a stress-free day, but they probably survive even with a loss. Stanford has four top-40 wins, a top-20 SOS, an RPI in the 40s, and an above-.500 record away from home. Moreover, the Cardinal don't have a single sub-100 defeat. They're not a lock, but things look OK.
Utah: The Utes still have a long way to go, and a trip to the Pac-12 title game might be the only way they get in. But they got past Washington on Wednesday, and now move on to face top-seeded Arizona. A win there, and maybe Utah gets into the periphery of the conversation. Efficiency metrics love Utah, but the Utes' at-large resume isn't worthy of a bid. They do have four top-50 wins, although only one (UCLA) is against a team likely to be seeded in the top half of the tournament bracket. They are 7-9 against the top 100, and also have a sub-200 loss to Washington State. The biggest knock on the Utes' resume, though, is the No. 341 non-conference SOS and 2-8 record away from home heading into the Pac-12 tournament. Beat Arizona on Thursday, and we'll talk some more. 
Losers
Georgetown: The Hoyas have been one of the tougher bubble calls of the past month, as they had five top-50 wins, three sub-100 losses, a great SOS, and a ton of overall losses heading into the week. Things needed to be clarified one way or another this week at Madison Square Garden. And they were on Wednesday night -- Georgetown lost to DePaul in the opening round of the Big East tournament. As a result, the Hoyas can almost certainly kiss their at-large hopes goodbye. They are just 17-14 on the season, with four sub-100 losses to go with the quality wins. Having a collection of good wins can only take you so far if there are too many negatives on the resume. The 7-10 top 100 record and 5-11 record away from home are now highlighted as well. Georgetown won't be happy on Selection Sunday.
Young is leading the NCAA in both scoring and assists per game

Our advanced computer model simulated Tuesday's UNLV vs. Fresno State game 10,000 times

Our advanced computer model simulated Tuesday's Kansas-Oklahoma game 10,000 times
Our advanced computer model simulated Tuesday's Virginia vs. Clemson game 10,000 times

The Sooners and freshman Trae Young try to snap a two-game skid when they face the Jayhawk...

Howard scoring sensation R.J. Cole is our Freshman of the Week