Poppin' Bubbles: Gonzaga and BYU both move on
It was a light bubble day, but both Gonzaga and BYU needed a win.
• 2 min read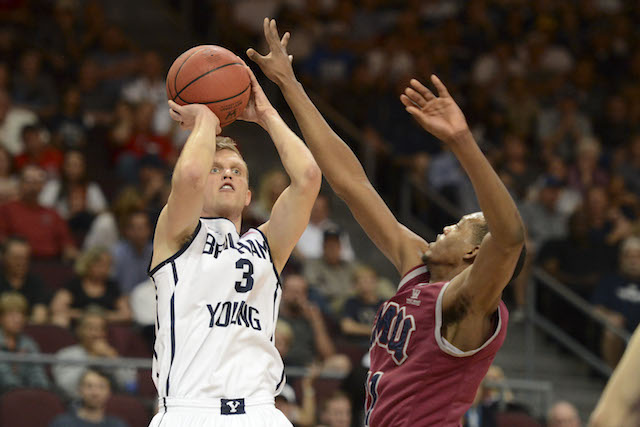 Latest in hoops: Top 25 (and one) | Bracketology | Bubble Watch
With the regular season over and the major conference tournaments not starting until Wednesday, there wasn't a lot of bubble action on Monday night. But Gonzaga and BYU were both in the West Coast Conference semifinals, and a loss by either could have left them sweating on Selection Sunday.
Gonzaga likely secured a bid by handling Saint Mary's in the first semifinal. The Bulldogs' resume isn't overwhelming, which is why they will have some nervous moments in the next six days if they don't win the automatic bid on Tuesday, but the regular-season championship and a run to the title game could be enough. There is still only one top-50 win on the resume, and it's over BYU. Outside of that, the best victories are over Arkansas and Saint Mary's (three times). The Zags have a very good RPI in the 20s, but they don't play their usual daunting non-conference schedule. They are just 1-4 against the top 50, but going 8-0 against teams 51-100 is a plus. Two sub-100 losses are another cause for concern. 
The Bulldogs aren't a sure-fire tournament team yet because they lack quality wins, but winning on Monday should let them feel somewhat comfortable on Selection Sunday.
Because it didn't win the regular-season championship, BYU probably needed a win on Monday night more than Gonzaga. And the Cougars obliged, holding off San Francisco in overtime to get to the championship game. The only way BYU will feel completely safe on Selection Sunday is by beating Gonzaga for the automatic bid, but the Cougars could get in either way. I thought BYU had to make a run to the championship game to feel somewhat safe about its at-large hopes, and the Cougars did just that. Outside of the regular-season title, BYU's resume is on par with that of Gonzaga (and maybe better). The Cougars have top-50 wins over Gonzaga, Texas and Stanford, and a 9-6 record against the top 100. They have an RPI in the 30s and a single-digit non-conference SOS. The biggest negative is four sub-100 losses, which is certainly something the committee will consider.
Like I said, BYU -- and Gonzaga, for that matter -- will only feel 100 percent secure if it wins the automatic bid. But both teams winning their semifinal battles was huge for their at-large cases.
Both teams needed to reach the title game to move up in the pecking order, and both did.
These teams went to The Big Dance in March, but could take a step back this season

The success of Chris Chiozza and KeVaughn Allen have the Gators ready to compete for SEC t...

FBI investigation suggests Quinerly received improper benefits from a Wildcats assistant c...
Meet the mid-major coach who refused to vote for the teams involved in the recruiting scan...

The player, now at the University of Portland, says he was injured during a workout which broke...