Poppin' Bubbles: Iowa State makes biggest bubble statement
Bubble teams only have a few more shots to make statements.
• 8 min read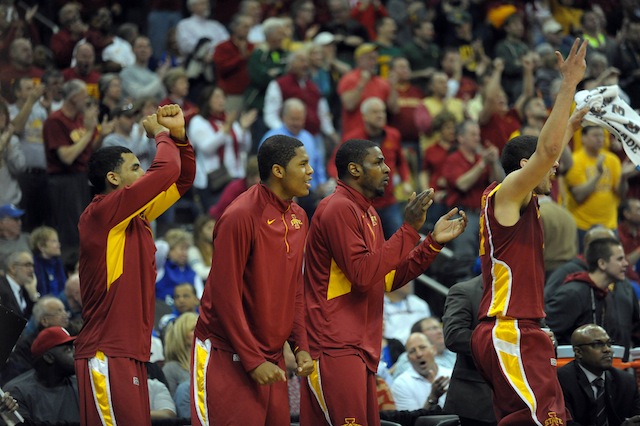 If Wednesday provided separation among the bubble teams ahead of the cut line, Thursday could have been a deciding day for several teams on the fence. There were a couple of bubble vs. bubble battles, as well as several chances for bubble teams to keep their hopes alive -- either by avoiding a loss or by nabbing a key win.
Winners
Iowa State: The Iowa State Cyclones outscoring Oklahoma 25-8 to end the game might have saved their season. Heading into the Big 12 tournament, this was essentially a game they needed to win if they wanted to go dancing. It was only two weeks ago when Iowa State played its worst game of the season and got blitzed in Norman. Avenging that loss was a major key. The Cyclones now own two wins over Oklahoma along with victories over Oklahoma State and Kansas State (as well as a sweep of Baylor). The loss to Texas Tech looks terrible, but going 8-8 against the top 100 should be enough. 
Illinois: The Illinois Fighting Illini would have gone dancing either way, but Brandon Paul's buzzer-beating jumper to beat Minnesota means they won't be sliding too much heading into the NCAA tournament. They have six top-30 wins, including marquee victories against Indiana and Gonzaga. Throw in a great SOS and solid RPI numbers, and Illinois could be in the mix to wear home jerseys in the round of 64. 
Oregon: It was important for the Oregon Ducks to get a win over Washington in the Pac-12 tournament on Thursday night, not for tournament inclusion -- but for seeding purposes. Even with the win, though, the lack of production from Dominic Artis is troubling, both from a qualitative standpoint and from the standpoint of the committee. After all, the Ducks without Artis were a fairly mediocre bunch -- and he hasn't done much since returning from injury. The committee judging Oregon with a healthy Artis is likely to be seeded a lot more favorably than the committee judging Oregon with a halfway-there Artis.
Tennessee: The Tennessee Volunteers didn't exactly boost their resume by beating Mississippi State on Thursday, but avoiding a bad loss keeps their at-large hopes alive. That brings a Friday quarterfinal tilt against Alabama that will be huge for the at-large hopes. A loss to the Crimson Tide could relegate Tennessee to the NIT, while a win keeps them in the field. Four top-50 wins -- including victories over Florida, Missouri and Wichita State -- are impressive, as are nine top-100 wins. The lone sub-100 defeats were at the hands of Georgia. 
Iowa: The Iowa Hawkeyes are trying to play themselves into the bubble discussion, and they stayed alive with a win over Northwestern in the Big Ten tournament. Iowa has won seven of its last nine games, but the resume isn't quite there yet -- despite going 9-9 in the Big Ten's regular season. The computer numbers are mediocre, the non-conference SOS is up in the 300s, and there are three sub-100 losses on the ledger. Wins over Minnesota, Wisconsin, Illinois and Iowa State are solid, but they need more. It starts with Michigan State on Friday. 
Massachusetts: The final two minutes of the Massachusetts Minutemen 's Atlantic 10 tournament game against George Washington was absolutely fantastic -- and UMass came out on top to keep its at-large hopes alive. Massachusetts doesn't have an overwhelming resume, with only one top-50 win (at La Salle). They will need to keep winning if they want to have a chance at a bid, but escaping against GW was a start. 
Southern Miss: The Southern Miss Golden Eagles still face quite the uphill battle to be in the conversation for an at-large bid, but a run to the Conference USA title game would at least keep them in the mix. Beating UAB kept them alive. The main reason is their RPI in the 30s -- which boosts the resume but not enough to be in the field yet. They still might need to beat Memphis and win the automatic bid. 
Maryland: The Maryland Terrapins are likely auto-bid or bust in terms of NCAA tournament consideration, but beating Wake Forest at least keeps those hopes alive. They still have to beat Duke in the quarterfinals, but even knocking off the Blue Devils for a second time wouldn't get them in the at-large hunt. The computer numbers are poor, the non-conference SOS is in the 300s, and they are 3-9 against the top 100. 
Losers
Baylor: The Baylor Bears made themselves a part of the bubble discussion this past week after blowing out Kansas over the weekend, but they needed to win two games in the conference tournament to have a chance. They didn't win one. Oklahoma State jumped out to an early lead and held on to knock off Baylor late -- with a questionable foul call leading to game-winning free throws from Phil Forte. What is means, though, is that the Bears won't be headed to the big dance. They were only 3-11 against the top 50 this season with two sub-100 losses weighing the profile down as well. 
Arizona State: For most of Thursday's game against UCLA, it looked like the Arizona State Sun Devils could sneak back into the bubble conversation. A win over the Bruins would have put them into the Pac-12 semis, and one more win could have been enough to get an at-large bid -- but UCLA came back in the second half to get the win. Given the Sun Devils' resume, it's tough to see them in the NCAA tournament. The RPI is far too high, and the SOS is nearing 300. There are four top-50 wins, but there are also three sub-100 losses. If Jahii Carson returns, the Sun Devils could take the next step a year from now. 
Xavier: The Massachusetts Minutemen might have been on the bubble had they made a run to the title game of the Atlantic 10 tournament. A heartbreaking loss to Saint Joseph's ends those hopes despite Xavier having five top-50 wins and a generally decent profile. Unfortunately for Xavier, going 5-9 against the top 100 and having five sub-100 losses won't get it done. Chris Mack did a terrific job with this team, but the Musketeers will have to settle for a different postseason tourney. 
California: The California Golden Bears were likely in either way, but dispatching of a surprisingly hot Utah team would have been good for the soul. Instead, they will head into the NCAA tournament reeling, on a two-game losing streak. They had suffered a double-digit loss to Stanford to end the regular season, which was on the heels of a seven-game winning streak. California had no sub-100 losses before the Utah game, but it also has wins over Oregon (twice), Arizona, UCLA and Colorado. I do think they will still make the tournament, but it's not on a high note. 
Oklahoma: The Oklahoma Sooners could have felt far more comfortable had they not blown a late lead to Iowa State in the quarterfinals of the Big 12 tournament. The resume is good but not to the point where they are a sure-fire lock for the NCAA tournament. Oklahoma ended the season with two straight losses, including the season-finale defeat at the hands of TCU, which is an absolutely dreadful loss. They have good RPI numbers and wins over Kansas, Oklahoma State and Iowa State, but two sub-100 losses and a 3-7 record against the top 50 makes it dicey. The Sooners will probably get in, but it would have been an easier few days with a win on Thursday.
Minnesota: The Minnesota Golden Gophers are now 5-11 since starting the season with a 15-1 record. Falling on Brandon Paul's buzzer-beater means their seed could be sliding quite a bit heading into Selection Sunday. With that said, Minnesota will make the tournament. The Golden Gophers have the No. 2-ranked SOS, a top-25 RPI, five top-50 wins, 11 top-100 wins -- which includes victories over Indiana and Michigan State. There's simply way too much on the resume to keep the Gophers out of the field. 
Cincinnati: Beating Providence on Wednesday was the key for the Cincinnati Bearcats , and knocking off Georgetown would have just been icing on the cake. After hanging around for the first 25 minutes of the game, Cincinnati watched as the Hoyas pulled away down the stretch. Despite the defeat, expect the Bearcats to go dancing. They have no sub-100 losses and four top-50 wins along with relatively good computer numbers. 
Colorado: Like Cincinnati, the Colorado Buffaloes beating Oregon State on Wednesday was the necessary victory. A loss there could have made things a bit dicey, but Colorado escaped -- before falling to Arizona on Thursday. They have three top-50 wins, with Arizona and Colorado State leading the way, and are 9-9 against the top 100. I wouldn't be surprised to see the Buffaloes fall to a No. 10 seed on Selection Sunday, but they will be dancing. 
Villanova: The Villanova Wildcats did their job by beating St. John's in their Big East tournament opener, so they were essentially playing with house money against Louisville. And that's basically how they played, turning it over left and right and getting blown out. With that said, the Wildcats are likely safely in the field. They have five top-50 wins, including victories over the top-four RPI teams in the conference. A win over Louisville would have been nice, but it wasn't necessary. 
Arkansas: The curse of not playing every game at Bud Walton Arena strikes again. The Arkansas Razorbacks were felled in the second round of the SEC tournament on Thursday, getting bounced by Vanderbilt. As a result, there will be no NCAA tournament for Arkansas this season. A home win over Florida in early February gave them some optimism, but the Razorbacks' inability to win on the road ultimately did them in. They did win four top-50 games, but it won't be nearly enough, as a 1-12 road/neutral record overshadows all the positives. 
Louisiana Tech: The Louisiana Tech Bulldogs didn't have any at-large shot going into the WAC tournament. Now they won't be getting the automatic bid, either, getting upset by Texas-San Antonio in the quarterfinals. It was a disappointing finish -- three losses in a row -- to an otherwise stellar season.
---
For more college basketball news, rumors and analysis, follow @EyeOnCBB on Twitter, subscribe to our RSS Feed and subscribe to our College Basketball Newsletter. You can follow Jeff Borzello on Twitter here: @jeffborzello
Arizona, for no good reason, doesn't have to play at USC or UCLA this season

We look at the 'Major 7' leagues and give you the best of what's to come in conference play...

Louisville's coach predicts a change is coming to the NBA's one-and-done rule by 2019
Multiple former players of Lonergan's alleged verbal abuse and inappropriate remarks

When Miller left for Indiana, there was cause for concern in Flyerland; a top-100 signee says...

The Hoyas will spend their non-league schedule playing mostly nobodies -- as will most big...