Poppin' Bubbles: Kentucky among resume-boosting teams
There are plenty of bubble teams in action on Saturday, and many of them face must-win situations.
• 11 min read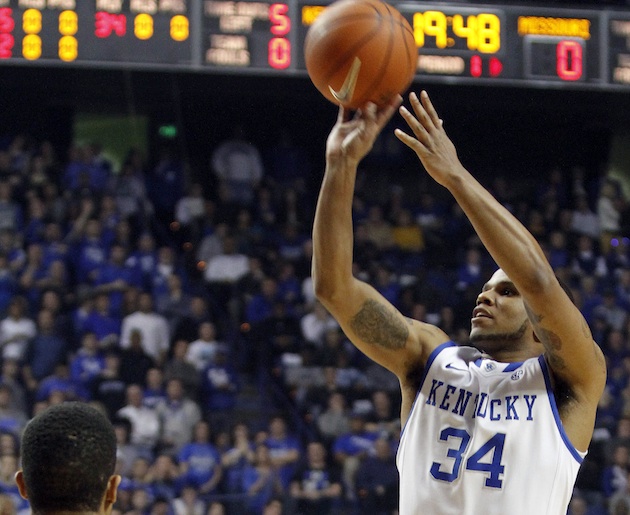 Julius Mays helped lead Kentucky to an important home win over Missouri on Saturday night. (USATSI)
While Bracket Busters is getting plenty of attention this weekend, there is also plenty of Bubble Bursting going around. Most projected brackets have 25 or so of the same teams, meaning there are around 10 or 12 spots that could go to any number of teams. With almost 150 games on the schedule for Saturday, most of those teams are in action. There are bubble battles and chances for resume-boosting wins all over the ledger, so continue to check for all the latest in bubble talk.
Note: This page will be updated throughout the day with bubble discussion and analysis.
Winners
Kentucky: Seven days ago, Kentucky was destroyed by Tennessee in its first game without big man Nerlens Noel, who is out for the rest of the season with an ACL injury. It's been quite a turnaround in the past week. On Saturday, the Wildcats knocked off Missouri at home -- a win they desperately needed. It's not a win that locks up an at-large bid, but it gets them back into the thick of the conversation. Headed into the weekend, they were out of the field, but will this win change things? They still have work to do, but they are definitely in the mix.
Saint Mary's: The Gaels definitely have some life now. Heading into the weekend, they were among the last four teams in the tournament in Jerry Palm's bracket, but a loss to Creighton on Saturday would probably spell doom for their at-large profile. After all, they had no top-50 wins on the season -- which is tough to overcome on Selection Sunday. Now, though, Saint Mary's is squarely in the mix after beating Creighton in impressive fashion. They finish the season with games against Loyola Marymount and Santa Clara -- win those two, and a run to the WCC title game could be enough.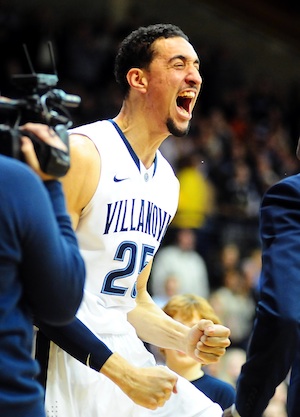 'Nova picked up a key win over Marquette. (USATSI)
Villanova: Prior to last weekend's win at Connecticut, the two wins over Louisville and Syracuse looked more like a random good week in an otherwise mediocre campaign. Now, Villanova is playing itself into the tournament. On Saturday, they knocked off co-Big East leader Marquette 60-56, giving the Wildcats four top-30 wins on the season. They have won five of their last six games, and have plenty of momentum heading down the stretch. Following this up with a win at Seton Hall on Monday would be a good idea, though.
North Carolina: Heading into the day, North Carolina was a No. 10 seed in Jerry Palm's latest bracket, and the Tar Heels will feel slightly more comfortable after beating NC State on Saturday. That's North Carolina's second top-50 win of the year, which isn't great on the surface but is better than some other bubble teams. The computer numbers are very good, too. They have won three in a row, and can keep the streak going with a trip to Clemson and a home matchup with Florida State in the upcoming week.
Oregon: The Ducks were in good shape heading into the weekend, but beating Stanford was comforting nonetheless. Oregon is now 6-4 without Dominic Artis, which isn't great, but at least the Ducks haven't completely collapsed without their freshman point guard. There was also even more good news on Saturday, as it seems like Artis could return this week. Overall, Oregon's resume is better than most of the teams that are seriously on the bubble -- and Artis' return should make the Ducks feel relatively safe. 
Maryland: The Terrapins were badly in need of a win on Saturday, and they came through by beating Clemson. It's not a victory that will boost the resume, but it was a game they couldn't really afford to lose. After this week's loss to Boston College, this would have been back-to-back bad losses, which could have been crippling for the profile, despite last weekend's win over Duke. Maryland still has a lot of work to do, as its RPI and SOS are low and there is nothing much on the profile besides wins over Duke and NC State. Upcoming road games at Georgia Tech and Wake Forest are critical.
Belmont: The Bruins had one of the more impressive Bracket Busters performances of the day, blowing out Ohio in easy fashion. Losses in two of their last five games have put them in an unsafe position should they not win the Ohio Valley automatic bid, but they are 7-3 against the top 100 and have an RPI in the 20s. If they do lose in the conference tournament, the Bruins will be a hotly-debated team on Selection Sunday. 
Wichita State: A three-game losing streak at the end of January and beginning of February put the Shockers in perilous position, but they seem to have righted the ship. They have now won five in a row after beating Detroit in a Bracket Busters matchup on Saturday. Wichita State is 3-0 against teams in the top 50 and 8-3 against the top 100, which should be enough to get them win. The winning streak should go to six with a home matchup against Evansville this upcoming week.
California: The Golden Bears continue to roll along in the Pac-12, winning their fifth in a row by one at Oregon State. There are few teams that have boosted their at-large chances in the past month like Cal. In February, they've beaten Oregon twice, won at Arizona and also knocked off UCLA. The final three games of the season are all on Cal's home court, too. They have no bad losses and are 7-9 against the top 100. The arrow is pointing up for the Golden Bears. 
Memphis: The Tigers are getting awfully close to locking up a bid, especially after completing the season sweep of Southern Miss on Saturday. While the Golden Eagles don't have an impressive resume, they are a top-50 team in the RPI, meaning Memphis now has two top-50 wins on its belt. The Tigers have won 18 consecutive games and are likely to go undefeated in Conference USA. While they are the heavy favorites in the conference tournament, it looks like they will get in regardless.
Iowa State: The biggest knock on the Cyclones' resume is a loss at Texas Tech in January, but they avenged that in a major way on Saturday, scoring 50 points in the second half to beat the Red Raiders. That's now three wins in a row heading into Monday's clash against Kansas. The Cyclones created matchup problems for the Jayhawks on the road, and a home win on Monday could be what Iowa State needs to punch its ticket.
VCU: The Rams are in relatively good shape in terms of the bubble, but winning at Xavier on Saturday was important. It was a good way to bounce back from their blowout loss at Saint Louis, and now they have a week off before welcoming Butler to Richmond. They have not beaten a top-50 team since Dec. 1, and Memphis and Belmont are the best wins on the ledger, so beating the Bulldogs next weekend would be key.
Middle Tennesssee: The Blue Raiders might not need an at-large bid, as they are the heavy favorite to win the Sun Belt's automatic bid. With that said, they continue to avoid bad losses -- and it was more of the same on Saturday, when Middle Tennessee drubbed Louisiana-Monroe. That's 14 wins in a row for the Blue Raiders. 
Boise State: The Broncos were among Palm's Last Four In heading into the weekend, and a road win at Fresno State will likely keep them in right around the cutline. They have won two in a row, getting them back to .500 in the Mountain West. The final four games will be a major factor for Boise, as the Broncos get Colorado State and San Diego State at home, and they have to visit UNLV. There are certainly chances to prove their at-large worth.
Ole Miss: The Rebels were among the first four out heading into the weekend, and while a win over Auburn won't change that too much, it also won't be a resume-crushing loss. Ole Miss has won only three of its last eight, but it has a chance to make a run late in the season. The final four games of the season -- Texas A&M, Mississippi State, Alabama and LSU -- are all winnable games, but there aren't any chances to boost the top-50 wins, of which Ole Miss only has one.
Massachusetts: Three straight losses really crippled the Minutemen's at-large hopes, but they are still in the mix as we head down the stretch. Beating Dayton on Saturday helped, as it made sure they didn't suffer a sub-100 loss and also put them back above .500 in the Atlantic 10. The only impressive game on the profile is a road win at La Salle, but UMass does face Xavier and Butler in the next two games.
Tennessee: The Volunteers still have a lot of work to do to get on the right side of the bubble, but they have now won five in a row after knocking off Texas A&M in four overtimes. The resume isn't great, but there are wins over Wichita State and Kentucky. They are only 6-9 against teams in the top 100, though. Coming on Tuesday is a home tilt against Florida; a win would put Tennessee in the conversation.
Indiana State: The Sycamores losing three straight games to drop to 16-11 overall made them an auto-bid or bust team for the most part, but a win over Iona keeps them on the (distant) radar.
Losers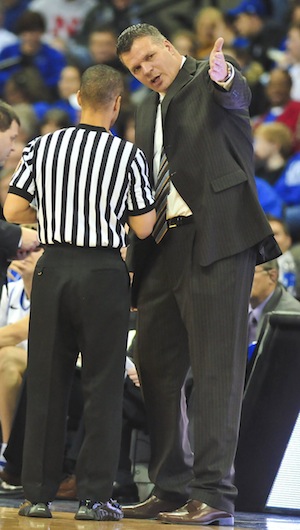 McDermott and Creighton are in trouble. (USATSI)
Creighton: It wasn't too long ago that the idea of the Bluejays missing the NCAA tournament seemed preposterous -- but now, it definitely have some substance. The loss to Saint Mary's was their sixth in the last 10 games, putting them in a dangerous position. There are wins over Wisconsin, California and Akron on the resume, but there are also losses to Illinois State and Drake. Creighton finishes the regular season with a trip to Bradley and a home game to Wichita State. The Bluejays might need a win in the season finale. 
Arizona State: Saturday night's home loss to Washington could be one that the Sun Devils look back on and truly regret. Not only was it their second loss to Washington, but it puts them in a tough position heading into the final three games of the regular season -- which are all on the road, and includes games at UCLA and Arizona. It's not going to be easy for the Sun Devils, who have four top-50 wins but terrible non-conference SOS.
Baylor: The Bears could be in some trouble. They were in the first four out heading into the weekend, and then they went out and got dominated by Oklahoma. That's now three losses in a row and six defeats in the past eight games for the Bears. And things don't get much easier. There are still road trips to West Virginia and Texas, which are both playing better lately, and home tilts against Kansas and Kansas State. Baylor has work to do.
Alabama: The Crimson Tide had made moves into the bubble picture simply because they were compiling wins and were only one game out of first place in the SEC. After Saturday's overtime loss to LSU, though, it's tough to imagine Alabama getting a bid. The Tide now have five sub-100 losses -- and the best wins are over Kentucky and Villanova. They might finish second in the SEC and have a gaudy record, but there's not much meat to the resume.
Southern Miss: Twenty-one wins is impressive, but the Golden Eagles are going to need the automatic bid to get to the NCAA tournament. A second loss to Memphis on Saturday means Southern Miss will not have a single top-80 win during the regular season, which usually spells doom for at-large hopes. The best victories are over Denver and UTEP -- that won't get it done.
Arkansas: Saturday's matchup against Florida couldn't have been more different than the first time these two teams played, when the Razorbacks got out to a hot start and knocked off the Gators. Florida cruised on Saturday, which meshes with Arkansas' usual performances on the road this season (only one away win). They still play Kentucky and Missouri in the final four games, with the one against the Tigers coming on the road. Winning there would certainly send a message. 
Iowa: Three straight wins had put the Hawkeyes on the at-large radar, albeit near the bottom of the pecking order. However, those chances are essentially gone now after Iowa fell to Nebraska on Saturday. The Hawkeyes have a couple of nice wins, but their computer numbers and three sub-100 losses will be too much to overcome.
For more college basketball news, rumors and analysis, follow @EyeOnCBB on Twitter, subscribe to our RSS Feed and subscribe to our College Basketball Newsletter. You can follow Jeff Borzello on Twitter here: @jeffborzello
The university also maintains that Pitino was appropriately fired

Price only made it nine games into his third season

The Wildcats won't play another currently ranked team until Jan. 10
The BC fan has a ton of apparel and gear headed his way after this putt

Durant's made a habit of making sure his alma mater is set with the latest customized gear

Ball says UCLA told him to thank Trump for getting him back to the states after shoplifting...