Poppin' Bubbles: Kentucky, UVA, UMass suffer crippling losses
Multiple bubble teams went on the road in must-win situations, while one team got a chance at a key win.
• 3 min read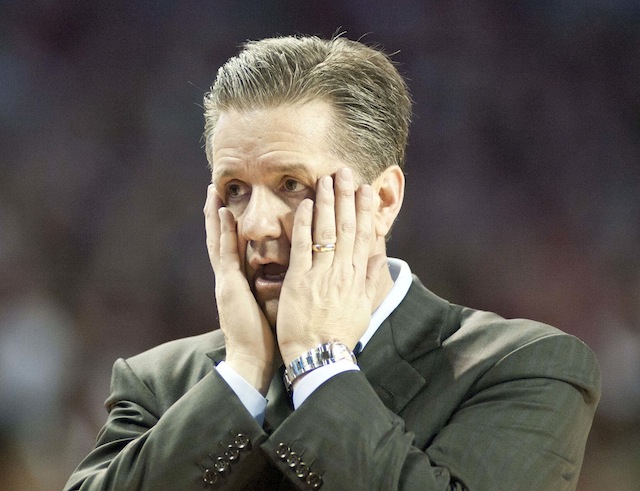 After multiple teams picked up signature wins on Wednesday to clarify their bubble position, what will Thursday bring for bubble hopefuls? A couple of teams hit the road for must-win games, while another one has a chance at a big win. Time is running out.
Winner
Colorado: The Buffaloes probably needed one more win to feel secure about their at-large status, and they looked to be in trouble after it was reported that rebounding extraordinaire Andre Roberson would miss Thursday's game against Oregon. However, they came out of the gate with plenty of energy and cruised to a 23-point victory over the Ducks. That should be enough for Colorado to get a bid to the NCAA tournament. The computer numbers are very solid and they are now 5-4 against the top 50. This weekend's tilt against Oregon State would be nice to get, but it's likely unnecessary.
Losers
Kentucky: The Wildcats had played themselves back into the mix a couple of weekends ago by beating Missouri, but they will need another monster win in the season finale to have any at-large chance. After losing at Arkansas over the weekend, beating Georgia on the road was a must -- and the Wildcats couldn't come through with a victory. They are now 20-10 overall, with an 11-6 record in the SEC, heading into this weekend's showdown at home against Florida. Kentucky absolutely needs to beat the Gators, or it will likely be NIT-bound come Selection Sunday. The one win over Missouri is nice, and victories over fellow SEC bubblers Tennessee and Ole Miss also help, but it's just not a great overall profile. Moreover, Georgia was Kentucky's first sub-100 loss of the season. 
Virginia: The Cavaliers looked solid heading into last weekend, especially after beating Duke at home. Seven days later, they have dropped games at Boston College and Florida State, and now they are in serious at-large trouble. The wins over Duke, North Carolina State and North Carolina look good, and the road victory at Wisconsin is very solid. However, their computer numbers are poor, and the 300-plus non-conference SOS is an eyesore. The biggest thing, though, is the seven sub-100 losses. That's just too many bad defeats for one team to take. They need to beat Maryland this weekend and then make a deep run in the ACC tournament.
Massachusetts: The Minutemen were among most "Last Four Out" lines heading into Thursday, where they had a chance to really boost their resume with a home game against Butler. But they couldn't keep the Bulldogs off the glass early and lost by double-digits. That's Massachusetts' fourth loss in six games, and it puts it at 8-7 in the Atlantic 10 with a road game at Rhode Island remaining. The Minutemen have only one top-50 win, as well as two sub-100 losses. The road record and 51-100 record are solid, but that won't be enough.
Louisiana Tech: Had the Bulldogs swept their road trip at New Mexico State and Denver, they would have put themselves in decent position to potentially get an at-large bid. However, they were dominated by 18 points on Thursday night at New Mexico State, which could be a back-breaking loss for the at-large picture. They only have one top-50 win, over Southern Miss, and there is a sub-200 loss at McNeese State. Beating zero NCAA-caliber teams doesn't bode well for their chances.
For more college basketball news, rumors and analysis, follow @EyeOnCBB on Twitter, subscribe to our RSS Feed and subscribe to our College Basketball Newsletter. You can follow Jeff Borzello on Twitter here: @jeffborzello
Michigan State is probably going to have company atop the Big Ten standings

Neither the Bearcats nor the Bruins have a top-60 KenPom win, but that will change Saturda...

Northern Colorado will be on probation through 2020 due to academic and recruiting violati...
You might not see a projected NCAA Tournament bracket quite like this one anytime soon

The Wildcats, once written off after a three game skid, appear poised to enter Pac-12 play...

The Ducks are riding a three game winning streak yet are slight underdogs against the Bulldogs...