Poppin' Bubbles: Minnesota, California fall toward the bubble
There were plenty of bubble teams that avoided bad losses on Wednesday.
• 7 min read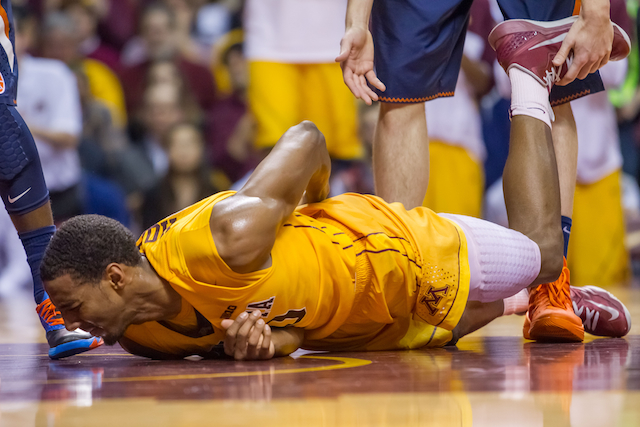 The bubble teams won't be getting attention on Wednesday, with No. 1 Syracuse losing its first game of the season, No. 2 Florida escaping, and No. 3 Wichita State also in action. All in all, there are nine top-25 teams playing on Wednesday -- but there was still certainly some intriguing bubble games.
Note: This page will be updated throughout the night with bubble discussion and analysis.
Winners
Kansas State: The Wildcats bounced back nicely from its overtime loss at Baylor over the weekend, easily dispatching of TCU. The 18-8 and 8-5 records aren't eye-popping, but Kansas State still looks pretty good for the NCAA tournament. The Wildcats' RPI and SOS are good, but more importantly, they have six top-50 wins. The home victory over Kansas is a nice trump card to hold over other potential bubble teams. They are somewhere in the 6-9 range right now in most brackets.
SMU: The Mustangs are in good shape for the NCAA tournament, but they are likely a double-digit seed as of today. As a result, winning the games they are supposed to win is imperative -- and they did just that on Wednesday, holding on for a win over Houston. SMU has won 10 of its last 12 games, and have a big opportunity for a statement win on Sunday at Connecticut. The Mustangs do have three top-35 wins, although they are just 4-4 overall against the top 100.
Colorado: The Buffaloes needed a win on Wednesday night over Arizona State, just to continue showing they are an NCAA tournament team without the injured Spencer Dinwiddie. And they got the job done. They have now won five of their last six games, and seem to be getting far more comfortable playing without Dinwiddie. They are now 3-6 against the top 50 of the RPI -- but a 7-1 record against teams ranked 51-100 also helps the resume. Can they put a stamp on their profile with a home win against Arizona this weekend?
New Mexico: Although the Lobos are just a 9-seed or so in most projected brackets, it's essentially a given that they are going to be dancing. Wednesday's road win at UNLV solidified their resume, while also providing a final tuneup before the weekend showdown with San Diego State. A win there would really lock things up, as they have just one top-50 win right now.
Xavier: With the Big East featuring three teams right on the cutline, Xavier had to take care of business to stay a step ahead of that group. And the Musketeers blew out DePaul to move to 8-5 in the league. They are still just 3-4 in their last seven games, and head on a two-game road trip that could determine their bubble chances next month. They have to play at Georgetown this weekend, and then at St. John's next week. Getting a split would be very nice. They have a top-50 RPI, but only one top-50 win.
Missouri: The Tigers are staking their claim as the third-best team in the SEC, and avoiding a home loss to Vanderbilt was huge. It's not going to improve their resume, but it moves their winning streak to three games. Missouri has to take care of business against the lesser teams in the league, with games against Alabama, Georgia, Mississippi State and Texas A&M coming up before the season finale against Tennessee. Can the Tigers pad their record in the next couple of weeks?
Saint Joseph's: The Hawks are one of those teams that are in the "last four in" category in most brackets, and they are likely staying there after hanging on to beat Rhode Island on Wednesday. That's three wins in a row and a 14-3 record in their last 17 games, and they should improve that by one game after playing Fordham this weekend. A three-game stretch after that vs. Dayton, at Saint Bonaventure, and at George Washington could decide their fate. They have two top-25 wins, although the best non-league victory came over Boston University.
Oregon: A five-game losing streak early in Pac-12 play put the Ducks in a deep hole, and while going 4-3 in their last seven games hasn't completely dug them out of it, they are back in the mix. They beat Washigton on Wednesday, and should be able to take care of business against Washington State over the weekend. They will then be 6-8 in the Pac-12 heading into the Los Angeles road swing and home games against the Arizona schools. The 1-6 record vs. the top 50 needs to improve.
LSU: The Tigers have the talent to make the NCAA tournament, but the profile isn't there yet. They did bounce back with a win on Wednesday, though, beating Mississippi State. It snapped a two-game losing streak and gave them some momentum heading into the weekend trip to Kentucky. LSU won the first meeting between the two teams, and a victory would be a huge boost. They have three top-50 wins -- but also three sub-100 losses. The computer numbers also need improvement. 
Dayton: After dropping to 1-5 in the Atlantic 10 in late January, the Flyers have ripped off five straight wins to reignite their at-large hopes. The latest win was over La Salle on Wednesday night, and a road trip to Duquesne needs to be a sixth straight win. If Dayton is in striking distance heading into the final four games of the regular season, it can make up ground quickly. The season-ending stretch: at Saint Joseph's, vs. Massachusetts, at Saint Louis, vs. Richmond. They have three top-50 wins already, but also three sub-100 losses.
Arkansas: The Razorbacks are still thought of as home warriors who can't win on the road, but their at-large hopes are still alive. They have won four of their last five to get to 6-7 in the SEC, although now they head on the road two straight games, at Mississippi State and at Kentucky. If Arkansas wants its chances to be taken seriously, it needs to get away victories. Their computer numbers aren't very good, but they do have three top-50 wins and six top-100 victories. 
Indiana State: I don't think the Sycamores are heading to the NCAA tournament this season, but they could get into the conversation if they keep winning games. And after knocking off Evansville on Wednesday, they now have a 21-6 record. There is very little margin for error, though, and upcoming road trips to Missouri State and Illinois State could be trouble spots. The SOS numbers are terrible, and they have just one top-100 win.
Losers
Minnesota: Richard Pitino's club was a step ahead many bubble teams entering the week, sitting there as a 10-seed in many brackets. But Wednesday's 13-point home loss to Illinois is terrible, and really hurts the resume. The Fighting Illini had lost 10 of their previous 11 games, and were just 3-10 in the Big Ten. Minnesota has now lost five of its last seven games, and a very difficult three-game stretch is coming up. It starts this weekend at Ohio State, then includes a home game against Iowa and a road trip to Michigan. They have nice wins over Wisconsin and Ohio State, but the Golden Gophers are 4-8 against the top 100.
Arizona State: The Sun Devils aren't in any danger of missing the dance right now, sitting as a 7-seed in most mock drafs. However, they're not a lock just yet, and losing to Colorado on Wednesday night ensures they stay that way. Arizona State had won six of its previous seven games, but three of its final five games are on the road -- and the home games are against Colorado and Stanford. Herb Sendek's crew should be fine, but the road isn't easy.
California: The Golden Bears are an interesting case. On paper, they seem like an NCAA tournament team. Plus, they have a win over Arizona. But in reality, it's not a open-and-shut case. Outside of the win over the Wildcats, there are wins over Oregon and Stanford, and not much else. On Wednesday night, they got blown out by UCLA in a game that could have really boosted their resume. Now, Cal has to beat USC this weekend -- before heading on the road to Arizona and Arizona State. It's looking like they will be sweating on Selection Sunday.
Utah: The Utes had a chance to get back in the picture at home against Arizona on Wednesday, but they fell in overtime and are now just 6-8 in the Pac-12 and have lost five of their last eight games. The most concerning part of their resume is the computer numbers and SOS; they're awful. With a non-conference SOS among the worst in the country and an RPI in the 90s -- plus a top-50 record of 2-6 -- Utah is in really bad shape. 
Marquette: The Golden Eagles were a long way away from the tournament field, but a three-game winning streak put them on the map. However, they had to beat Creighton at home on Wednesday to stay in the conversation -- and they lost by double-digits. They might have to run the table in the regular-season to get back in the mix. The resume just isn't there right now.
Junior point guard was the subject of a Title IX investigation launched by the school last...

Creighton AD Bruce Rasmussen answers questions about some of the committee's grouping metr...

Guy, the leading scorer for the No. 1 Cavaliers, had a big weekend even though UVA didn't...
The stigma of being the first men's Division I team to vacate a title will be difficult to...

The Quicken Loans Confidence Builder focuses on Syracuse, Butler and Florida

Rhode Island can clinch a share of the A-10 regular season title with a win on Tuesday