Poppin' Bubbles: Minnesota gets big win, St. John's and Dayton don't
Minnesota took advantage of a major opportunity on Tuesday, while St. John's and Dayton fell in key games.
• 3 min read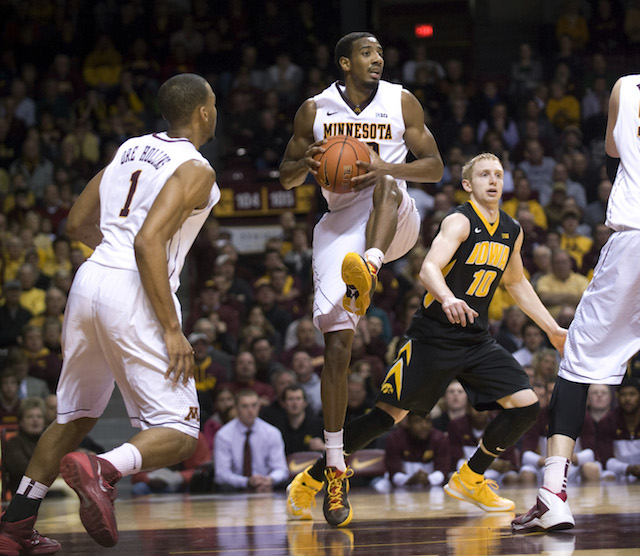 Tuesday was a big day for the bubble. There were two games involving a pair of bubble teams, while a couple of other ones had to avoid losses. Moreover, there was a big chance at a marquee win for one of the teams – how did each one fare?
Winners
Minnesota: The Golden Gophers were the big bubble winners of the day. They dropped 95 points on Iowa in a marquee win, which was huge after losing two in a row and six of their last eight games. Moreover, a loss on Tuesday would have meant heading to Michigan in essentially a must-win game. Now, Minnesota has four top-50 wins – including victories against Wisconsin, Ohio State and Iowa. The Gophers still have work to do, though, meaning they likely need to split the final two games and then do some damage in the Big Ten tournament. Tuesday was a big step, though.
Xavier: That was exactly what the Musketeers needed after getting blown out by Georgetown over the weekend: going into Madison Square Garden and knocking off fellow bubbler St. John's. Xavier is a step ahead of the Red Storm, Hoyas and Providence in the bubble race, and this win keeps it that way. Unfortunately, the schedule doesn't get any easier. In the final three games, home games against Creighton and Villanova are sandwiched around a road trip to Seton Hall. Losing all three would really put the Musketeers in danger. They have only one top-50 win, over Cincinnati on a neutral court, but they are 7-7 against the top 100.
Saint Joseph's: The Hawks continue to win games and improve their résumé. Crushing Dayton on Tuesday brought the winning streak to five games, with victories in 16 of their last 19 games. Up next is a tough road trip to St. Bonaventure and George Washington, and they could ill-afford to lose both games. The RPI is in the 30s, they have top-25 wins against Massachusetts and VCU – plus only one bad loss. Taking care of business going forward could mean a bid.
Kansas State: The Wildcats weren't in danger of falling out of the bracket or anything, but a losing streak could have left them sweating a bit. However, they got a much-needed road victory at Texas Tech on Tuesday night, which helps fill one of the holes in Kansas State's résumé. They have six top-50 wins and a victory against Kansas; they could find themselves wearing home jerseys in the Round of 64.
Losers
Missouri: Last week, the Tigers were in fairly good shape for a bid, or at least the clear-cut best best to get a third bid out of the SEC. Then came the loss at Alabama on Saturday. And on Tuesday, Frank Haith's team compounded their poor weekend with a blowout loss at Georgia. They still only have one top-50 win, over UCLA back in December. Mizzou has seven wins between 51-100, but now they have six losses in that category, too. The computers numbers are OK for now, but nothing special. There is now absolutely no room for error: they likely need to beat Mississippi State and Texas A&M at home, then knock off Tennessee in the season finale in Knoxville.
St. John's: This was a game the Red Storm needed to win, especially after falling short at Villanova over the weekend. Xavier was coming off a blowout loss to Georgetown, and beating the Musketeers could have put St. John's ahead of them in the crowded Big East bubble pecking order. Instead, the Red Storm came out flat and suffered a defeat. They still only have one top-50 win, and while it came against Creighton, the Red Storm need more on the résumé. Beating DePaul and Marquette to finish the season, and then making a run to at least the conference tournament title game seems necessary.
Dayton: Well, that wasn't a great showing by the Flyers. After playing themselves into the cutline of the NCAA tournament, they were blown out at Saint Joseph's – another team on the bubble. Dayton's résumé is better than most people think, with wins over Gonzaga, George Washington and California – but the loss to the Hawks came at a bad time. It snapped a six-game winning streak, and Massachusetts, Saint Louis and Richmond are still on the schedule.
Clemson: The Tigers could have played themselves into the mix by stringing together some wins at the end of the season, but they lost to Wake Forest on Tuesday. With a 3-7 record against the top 100 and poor computer number, it doesn't seem likely we'll be mentioning Clemson again in this space.
Auriemma looks to capture his 1,000th win at the helm of UConn's program

Oklahoma joins the Top 25 and is No. 17 after taking down Wichita State on the road

The Tar Heels, No. 4 in the CBS Sports Top 25 (and one), are 10-1 after beating Tennessee.
Oklahoma and Arkansas are new additions to Sunday's Top 25 (and one)

Gary Parrish and Matt Norlander discuss a wild Saturday of college basketball

Ball left the program earlier this month and has since signed with a Lithuania professional...