Poppin' Bubbles: Minnesota is a lock, Tennessee gets huge boost
Tuesday was a prove-it day for Minnesota and Tennessee -- and both came up big.
• 2 min read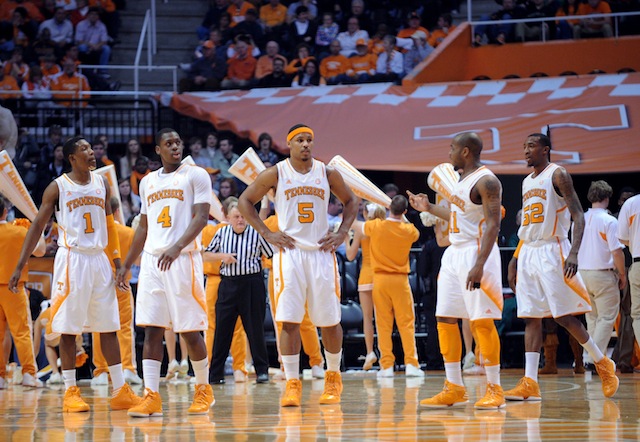 As we've seen this year, it only takes a couple wins or a couple losses to send a team flying down the bracket or into the at-large discussion. With only two weeks left in the regular season, there is still time for teams to make a run -- or play themselves right out of it. Tuesday featured multiple teams looking to solidify their standing or make a major move in the pecking order.
Note: This page will be updated throughout the night, with bubble discussion and analysis.
Locking things up
Minnesota: Maybe Tuesday will be the night Golden Gophers fans end the pessimism about their NCAA tournament hopes. Taking down No. 1 Indiana is the type of win that will do that. It adds yet another marquee win to what has consistently been a very solid resume, one that includes wins over Michigan State, Wisconsin, Illinois -- and the No. 1 SOS in the country. The Gophers have dropped a few seed lines in recent weeks, but they're headed to the dance.
Ahead of the bubble, but keep an eye out
Memphis: The Tigers had reeled off 18 consecutive wins heading into Tuesday, but the only definite NCAA tournament team they had defeated was Harvard. There were plenty of doubters -- but they had a chance to prove themselves a little bit against Xavier on Tuesday. And they didn't. Given its good RPI and a 9-4 record against the top 100, Memphis will still likely make the NCAA tournament. But it's going to be tough for the Tigers to move up in the pecking order. Moreover, they still have road trips to UCF and UTEP before the conference tournament.
Helping themselves
Tennessee: The Volunteers quietly were playing themselves into the at-large discussion, winning five in a row heading into Tuesday. But it was the win over Florida that truly vaulted the Vols into major contention. And now, when you look at their resume, it compares quite favorably with many other bubble teams. Tennessee's computer numbers will improve with the win, and they have victories over Florida, Wichita State and Kentucky. There is a bad loss at home to Georgia, but there is certainly a lot to like about the profile. They have road games at Georgia and Auburn before a season-ending game at home against Missouri. Can Tennessee run the table?
Staying alive:
Alabama: The Crimson Tide have a gaudy record, but it's mostly without substance. However, if they keep winning, they might have a chance. Getting a win over Auburn doesn't help matters, but it also doesn't completely knock them from at-large consideration. The two key games are coming up for Alabama: at Florida and at Ole Miss. The Crimson Tide need to win at least one -- and probably both -- of those games.
Air Force: The Falcons still have a ton of work to do if they want to make the NCAA tournament, but beating Wyoming on Tuesday keeps even the slightest of hopes alive. If they can get by Fresno State this weekend, there are season-closing games against San Diego State and New Mexico. If Air Force wins both -- adding to a resume that already includes wins over UNLV, San Diego State and Boise State -- the Falcons could find themselves in the discussion.
For more college basketball news, rumors and analysis, follow @EyeOnCBB on Twitter, subscribe to our RSS Feed and subscribe to our College Basketball Newsletter. You can follow Jeff Borzello on Twitter here: @jeffborzello
The UConn women's basketball coach stepped in to offer up a solution in an education budget...

Duke and North Carolina players will skip ACC Operation Basketball because of new NCAA pol...

After a close game against Michigan, Air Force is playing San Diego State with some moment...
Quickley played for John Calipari this summer with USA Basketball

A revamped Erwin Center is part of a $4.25 million upgrade to the Longhorns' hoops facilit...

Nov. 10 will be here before you know it so here's what you need to know