Poppin' Bubbles: OK State and Xavier get top-10 wins
Saturday is one of the final chances for bubble teams to make a statement before conference tournaments.
• 10 min read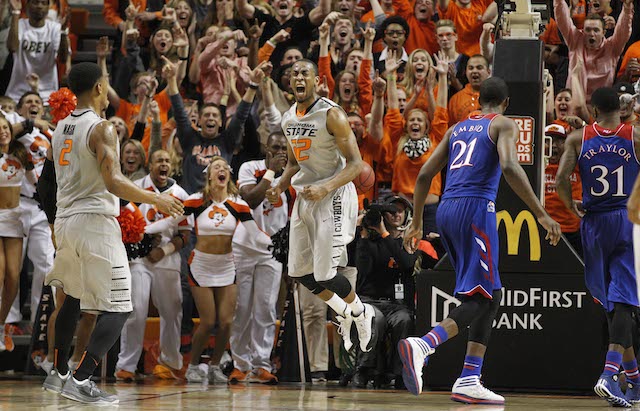 Time is running out for bubble teams to make moves. We saw several teams take big steps forward during the week, including Arkansas and Oregon picking up noteworthy road victories on Thursday night. Saturday's slate offers more opportunities for teams on the cutline to get statement wins.
Providence stayed the course on Friday night, beating Seton Hall on the road to move to 9-7 in the Big East and 19-10 overall. The Friars' computer numbers aren't great, but outside of the non-conference SOS, they're not terrible. Moreover, they're respectable away from home. The biggest thing about Providence's resume is its lack of quality wins. The Friars have beaten Creighton, but that's pretty much it. There's a win over fellow Big East bubble teams Xavier, Georgetown and St. John's, but they need more. Luckily, there are some chances. Providence finishes the season at home against Marquette and then at Creighton.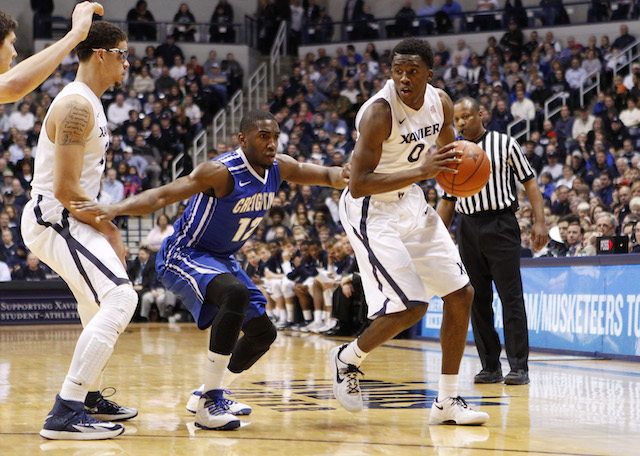 Winners
Oklahoma State: This is what the Cowboys have been waiting for throughout the Big 12 season. They came back down the stretch to beat Kansas, with Marcus Smart leading the way. And now it looks like Oklahoma State will be dancing in a few weeks, as the Cowboys are 3-0 since Marcus Smart's return and have moved to 7-9 in the Big 12. To really make things secure they should probably win one of their final two against Kansas State or Iowa State, but the Cowboys are in great shape going forward. Oklahoma State has four top-40 wins, and its computer numbers are going to get better after the win. The committee will obviously take Smart's suspension into account, so those three losses without him will be weighted far less than the rest of the games.  
Xavier: Heading into this week, the Musketeers knew their at-large hopes likely rested on their two games: at St. John's, home against Creighton. They accomplished the first part in impressive fashion, beating the Red Storm at Madison Square Garden. But they completed the task on Saturday, picking up a huge home victory over Creighton. It was a statement victory, the kind that puts them in good position to grab a bid on Selection Sunday. They now have two top-20 victories, with the Bluejays joining Cincinnati on the list. The RPI was already in the 40s and will likely move up, and they will improve to 9-7 against the top 100. They are 10-6 in the Big East, and close the regular season at Seton Hall and home against Villanova. 
Dayton: After the Flyers were blown out of the gym this week by Saint Joseph's, they needed a statement bounceback win -- and they picked it up, at home against Massachusetts. That's now 20 wins on the season, and victories in seven of their last eight games. Dayton finishes the regular season at Saint Louis and at home against Richmond. The Flyers need at least a split heading into the Atlantic 10 tournament to stay in the mix. They now have four top-50 wins, as the victory over the Minutemen was the biggest one of the season, and are 8-6 against the top 100. Three sub-100 losses are an issue, though, so Dayton still has work to do.
Saint Joseph's: The Hawks continue to churn along, winning at St. Bonaventure on Saturday to move to 11-3 in the Atlantic 10. They have won six in a row and 17 of their last 20 games, heading into a road game at George Washington and then a home final against La Salle. St. Joe's isn't a lock yet, but it is taking care of business while other bubble teams were falling all week. The Hawks have a good RPI, a 10-4 record away from home, an 8-6 record against the top 100, and two big wins over Massachusetts and VCU. 
Arkansas: This is a team really playing itself into the mix. The Razorbacks built upon their big win at Rupp Arena on Thursday by beating Georgia on Saturday. They have won five games in a row and seven of their last eight, turning things around after their 2-6 start in the SEC. Ole Miss comes to town this week, and a season-ending trip to Alabama is also on the docket. Their win over Kentucky put them into a lot of projected brackets, and winning the games they're supposed to down the stretch could cement things. They have four top-50 wins and only one sub-100 loss. The record away from home isn't great, but winning three of their last four road games has really helped.
Baylor: The Bears are another team that simply had to avoid a bad loss on Saturday, and they succeeded, moving past Texas Tech. That's five wins in their last six games for Scott Drew's team, but now come the big tests for Baylor: home against Iowa State and at Kansas State. The Bears could really use a win in one of those games, to boost the resume before the Big 12 tournament. The computer numbers are favorable for Baylor, as is having five top-50 wins up its sleeve. Get one more in the final two games, and the Bears are in good shape. 
BYU: The Cougars closed out their regular season on Saturday afternoon, pulling out a win at San Diego to move to 21-10 overall and 13-5 in the West Coast Conference. They finish the regular season on a four-game winning streak, while also winning eight of their last nine and 13 of their last 16. The computer numbers for BYU are terrific, including a top-five non-conference SOS. The four sub-100 losses are an eyesore, but they have three top-50 wins and a 7-6 record against the top 100. Can they get a bid without winning the automatic bid? Get to the title game, and BYU will have a good case. 
Oregon: The Ducks are another team that built upon what they did earlier in the week, pulling away from USC in the second half after winning at UCLA in double overtime on Thursday. That makes five wins in a row for Oregon, which has climbed back to .500 in the Pac-12 after a 3-8 start. And now the Ducks return home for games against Arizona State and Arizona. They likely need at least one win to feel optimistic heading into the Pac-12 tournament. There is still a relative lack of impressive wins, although there are two top-50 victories over UCLA and BYU, as well as an 8-7 record against the top 100. Getting a win in either game next week would be a boost. 
Tennessee: The Volunteers are basically in a position where they can't afford any more losses to inferior teams -- and they've taken care of business in back-to-back games. They won at Mississippi State during the week, and then absolutely dominated Vanderbilt on Saturday afternoon. Tennessee is now 9-7 in the SEC, heading into games against Auburn and Missouri. The season finale against Missouri could be a bubble buster game for the loser. The Volunteers have decent computer numbers, but are just 3-7 away from home. They have a big win over Virginia, but the rest of the key wins are against fellow bubble teams. The three sub-100 losses are a big negative too.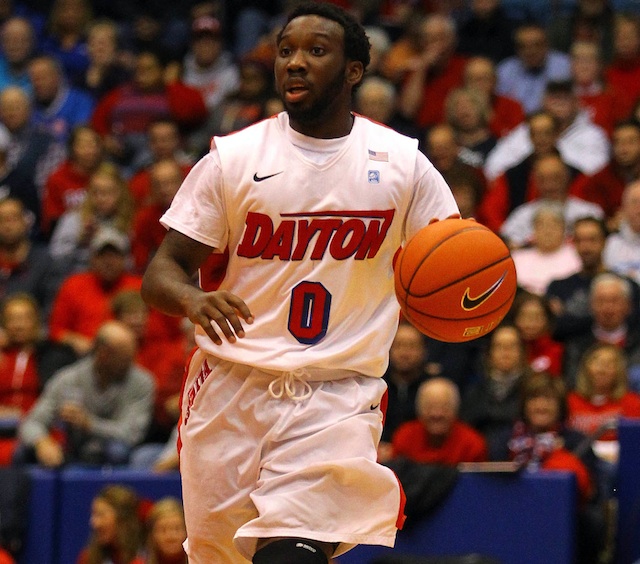 Missouri: Like their SEC brethren just above, the Tigers easily dispatched of Mississippi State in a game they had to win. They had lost two questionable games in a row, to Alabama and Georgia, so this was a game they couldn't lose. Up next is a home game against Texas A&M, before the aforementioned regular-season finale against Tennessee. Missouri doesn't have many quality wins, with a victory over UCLA back in December one of the few highlights in terms of wins. The Tigers did beat Tennessee and have a sweep of Arkansas.
Nebraska: Losing to Illinois earlier in the week slowed the Cornhuskers' momentum, but they bounced back with a victory over Northwestern. Nebraska has won six of its last seven games, and nine of its last 12. Two big games are up next week, though, with a visit to Bloomington on Wednesday and a home opportunity against Wisconsin to end the season on Sunday. That game against the Badgers could have monster implications for Tim Miles' team. The Cornhuskers have three good wins over Michigan State, Ohio State and Minnesota, but they also have three sub-100 losses and are just 4-8 against the top 100.
Gonzaga: The Zags were likely a step ahead of the bubble heading into the weekend, but they couldn't afford a loss at Saint Mary's -- and then a loss in the West Coast Conference tournament. Well, Gonzaga put the idea of a loss to Gaels to bed pretty quickly, dominating from the opening tip. The Bulldogs won the WCC, so they will be the No. 1 seed in the tournament. They're not a lock right now, but I do think they could lose in the title game and still get into the dance. Gonzaga has just one top-50 win (over BYU), but the RPI numbers are very good and the Bulldogs are 8-4 against the top 100. 
Pittsburgh: The Panthers could have slipped to the bubble with a loss to Notre Dame, but they escaped in overtime with a victory. They have now won back-to-back games since a three-game losing streak, staying one step ahead of the bubble. Games against North Carolina State and Clemson close out the season. Going unbeaten in those two games would make Pitt feel very comfortable heading into Selection Sunday.
Losers
Richmond: The Spiders are seeing their at-large hopes fade quickly, and a 23-point loss at Rhode Island on Saturday certainly didn't help matters. Their resume had lost some luster with the injury to Cedrick Lindsay, and now it continues to lose ground in the pecking order as well. They have lost three of their last four, and are just 4-3 without Lindsay, their leading scorer who is out for the season. Richmond does have two top-50 wins, but the best non-conference win is against Belmont -- and the computer numbers also will take a hit after the defeat. Games against VCU and Dayton to finish the season are essentially must-wins.
Minnesota: Beating Iowa earlier in the week was huge for the Golden Gophers' chances, but they couldn't follow it up with another marquee win, falling on the road to Michigan. There is only one game left in the regular season for Minnesota, and it's at home against Penn State -- one would think that's a must-win. The win over the Hawkeyes was the team's third top-50 win, joining Wisconsin and Ohio State on the quality win list. However, they are now just 6-10 against the top 100, to go with two sub-100 losses. They have played one of the 10 most difficult schedules in the country, which will help, but the 3-9 record away from home isn't good.
California: It wasn't a good road trip for the Golden Bears, as they were outscored by 48 points in two games against Arizona and Arizona State. California lost to the Sun Devils on Saturday, dropping to 9-7 in the Pac-12 after its third loss in four games. The Golden Bears are now 3-8 against the top 50, and while they do own a win over Arizona (as well as road victories against Oregon and Stanford), it's not a great overall resume. There are also two sub-100 victories. The season ends with two home games, against Utah and Colorado -- with the latter potentially being a big game for the bubble pecking order.
LSU: The Tigers had a chance to make a statement against Florida on Saturday, but they got handled from the opening tip to drop back to .500 in the SEC. They have lost four of their last six games, and their resume isn't good enough to overcome the growing number of losses. A road trip to Vanderbilt and a home game against Georgia are up next; both are likely must-wins for LSU. They have a very good win over Kentucky, as well as victories over Saint Joseph's, Missouri, and Arkansas -- but there are plenty of negatives too. The computer numbers aren't good, they are 2-8 on the road, they are 5-9 against the top 100, and there are three sub-100 losses. 
Colorado: The Buffaloes are still in good shape in terms of making the field, but they are not out of the woods yet. They lost at Utah on Saturday, their second-straight loss since winning five of their previous six. The final two regular-season games will be big, as Colorado has to go on the road to face Stanford and California. Two losses would leave the Buffs in a precarious position heading into the Pac-12 tournament. They have great RPI and SOS numbers, as well as a win over Kansas (as well as two other top-35 wins). The lack of sub-100 losses is a nice plus, too. 
Our advanced computer model simulated Sunday's Wisconsin vs. Michigan State game 10,000 ti...

Knox dropped 21 points to lead the Wildcats to a win over Missouri

SportsLine's advanced computer model simulated Sunday's Tulsa vs. Cincinnati game 10,000 t...
Graham was so good on Saturday vs. Texas Tech, he's got a case for Big 12 Player of the Ye...

Arizona's had a rough 24 hours, but Kansas and Virginia had big days on the court

Coaches should know better, but players are the real victims in the corruption that rules college...