Poppin' Bubbles: Oklahoma among teams to suffer losses
Lots of bubble games on tap tonight -- which teams will stay alive?
• 8 min read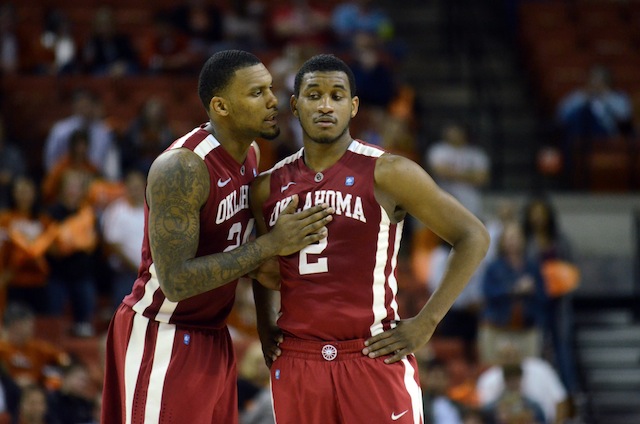 There aren't a ton of bubble-bubble battles on Wednesday, but several teams face must-win situations -- or better, must-avoid-bad-losses situations. Many bubblers are hosting inferior teams on their homecourts, meaning a loss could be disastrous. Meanwhile, a couple of them could also pick up a resume-boosting win.
Note: This page will be updated throughout the night, with bubble discussion and analysis.
Ahead of the bubble, but keep an eye out
Oklahoma: The Sooners came into the week feeling pretty comfortable, as they had a top-20 RPI, great computer numbers, and wins over Kansas and Oklahoma State. After blowing a 22-point lead in the final eight minutes to Texas, though, a closer look at their resume reveals that they could be in some trouble down the stretch. The wins over Kansas and Oklahoma State are the only top-60 wins on the ledger, and they're 8-8 against the top 100. No bad losses (prior to Texas) is a plus. They still have home games against Iowa State and West Virginia, and a road trip to TCU, so they can wrap it up in the final three games. 
San Diego State: The Aztecs should feel fairly comfortable, but it's not a done deal yet for them after falling at New Mexico on Wednesday. It wasn't a game they were supposed to win, but it means they still have work to do. San Diego State has four top-50 wins, including ones over New Mexico, Colorado State and UCLA. Moreover, there are no bad losses. However, they have to close it out to end the season. Games remain against Air Force and at Boise State; win one of those, and then one in the conference tournament, and it will be a sweat-free Selection Sunday.
Winners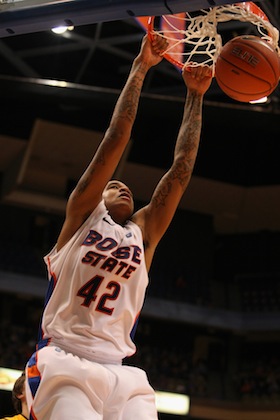 Boise St. can play its way into a bid. (USATSI)
NC State : The Wolfpack were in good shape heading into the week, just needing to avoid bad losses in order to feel comfortable about a bid. They did that on Wednesday, taking care of Boston College in the second half in an easy win. The finishing stretch isn't that difficult, although road games at Georgia Tech and Florida State won't be cakewalks.
Colorado: The Buffaloes, with their very solid RPI profile, were in good shape heading into their trip to the Bay Area. They couldn't afford two losses, though -- and they ensured themselves of at least a split by beating Stanford on the road (well, surviving on Dwight Powell's too-late buzzer dunk). The win is Colorado's fifth in its last six games, and eighth in its last 10. They have wins over Arizona, Colorado State, California and Oregon, and one bad loss at Utah. They can't afford to go winless down the stretch, though.
Creighton: The Bluejays are another team that needed to avoid a bad loss this week, prior to its season-ending game against Wichita State. They also did their job, dominating Bradley on the road. The resume is good enough at this point, but losing at home to Wichita State this weekend and then getting bounced in the conference tournament could be an issue. Wins over Wisconsin, California and Akron look good.
Boise State: That's now three in a row for the Broncos, who have played themselves back into the at-large hunt. Beating Nevada was mandatory, as it sets up a season-ending three-game stretch that will make-or-break their season. Boise hosts Colorado State, visits UNLV and then hosts San Diego State. At least the Broncos have some chances at statement wins; will they take advantage?
Kentucky: Losing to Mississippi State at home would have been disastrous, but the Wildcats never left the game in doubt, dominating the Bulldogs by 30. More important, it seems like they're starting to come together and hit their stride after the Nerlens Noel injury. Now comes the hard part for Kentucky. Down the stretch, they visit Arkansas and Georgia, and also host Florida in the season finale. Kentucky needs two of those three. 
Saint Mary's: The Gaels are playing with some serious momentum right now, beating Creighton over the weekend and then easily dispatching Pepperdine on the road on Wednesday night. They finish up the regular season this weekend at home against Santa Clara, a game Saint Mary's obviously can't afford to lose. If the Gaels make a run to the WCC title game, do they get a bid? They are 5-3 against the top 100, but the SOS is bad, and the best win is over Creighton. It will be close.
Baylor: The Bears snapped their three-game losing streak by picking up a must-win at West Virginia, keeping their NCAA hopes alive. They had lost six of eight heading into the game, and the hopes were fading. Of course, there is still plenty of work to do -- but Baylor has chances. In the final three games, the Bears play at Texas and host Kansas State and Kansas. Getting a couple of marquee wins against the Kansas schools would be huge. 
Ole Miss: The Rebels easily handled Texas A&M on Wednesday night, improving to 10-5 in the SEC. They had lost five of their previous eight games, putting themselves on the wrong side of the bubble heading into the week. The computer numbers are poor, and the only top 50 win is over Missouri at home. If it comes down to it, having two wins over Tennessee could be a trump card against the Volunteers. There are three winnable games to end the season, but two are on the road – at Mississippi State and LSU. 
Belmont: The Bruins will likely win the Ohio Valley regular-season title and will be the favorite in the conference tournament, but do they have a good enough resume for an at-large bid? Losses to Tennessee State, UCF and Northeastern don't look great, but they are 7-4 against the top 100 and have a win over Middle Tennessee. They need to avoid bad losses and make a run to the title game; beating SIU-Edwardsville was a start.
Akron: The Zips won their 19th game in a row on Wednesday, going into second-place Ohio and coming out with a hard-fought overtime victory. Although Akron will be the favorite to win the Mid-American tournament, it's unclear if its resume is good enough to get into the NCAA tournament without winning the automatic bid. The Zips are now 4-3 against the top 100, with the lone top 50 win coming over Middle Tennessee. Win out until the title game, and then we'll see.
Losers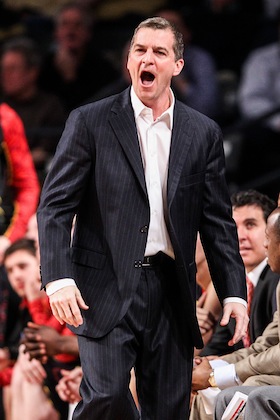 Maryland is slumping at the wrong time. (USATSI)
Wichita State : The Shockers were in pretty good shape heading into the week, sitting atop the Missouri Valley and winners of five straight games. All they needed to do was beat Evansville at home, and then see what happens against Creighton in the season finale. However, the Shockers fell at home to Evansville – their second loss to the Aces this season. They are 3-0 against the top 50 and 8-3 against the top 100, but three sub-100 losses means they have no margin for error. 
Arizona State: After losing at home to Washington over the weekend, the Sun Devils knew it would be tough sledding down the stretch, with three straight road games to end the season. It started on Wednesday at UCLA, and Arizona State lost a heartbreaker in overtime to the Bruins. That's now two straight losses and five defeats in its past eight games, with road games at USC and Arizona still left to go. With a horrible RPI and SOS, the Sun Devils might need both of those games to put themselves back in consideration. They really could have used the UCLA win.
Maryland: The Terrapins have essentially spent all the capital it built up with the win over Duke two weeks ago. They followed up that win with a loss to Boston College – and then got dropped on Wednesday by Georgia Tech. That puts them at 7-8 in the ACC with road games at Wake Forest and Virginia still remaining, along with a home tilt against North Carolina. With poor computer numbers and only three top-100 wins, that Duke win only goes so far.
Charlotte: It's going to be tough for the 49ers to make the NCAA tournament at this point. They were right on the fence heading into Wednesday, and getting blown out at home by Dayton isn't the way to improve a resume. Charlotte has now lost five of its last six games, and seven of its last 10. There are a couple of good wins over Butler and La Salle, but that won't be enough to save them.
Staying Alive
Iowa: The Hawkeyes still have a lot of work to do to get into at-large consideration, but beating Purdue at home kept the dim hopes alive. They have won four of their last five, although the loss at Nebraska was a disaster. Next up for Iowa is a road trip to Indiana – if they lose that, the best they can do in the Big Ten is 9-9. It's going to be tough for the Hawkeyes. Providing they don't beat Iowa, they need to win the final two games and then make a deep run in the Big Ten tournament.
Bubble Popped
Indiana State: The Sycamores have steadily played themselves out of at-large consideration. It was only a few weeks ago when they were 16-8 with wins over Creighton, Wichita State, Miami and Ole Miss. After falling at home to Drake on Wednesday, that's now four straight Missouri Valley losses -- three of them of the sub-100 variety. They need to win the automatic bid.
Arkansas: The Razorbacks didn't have much margin for error heading down the stretch, and they pretty much have no shot after losing at LSU by five. That's their second loss in a row, and the RPI will drop even further. Heading into the week, the computer numbers were already poor – meaning wins over Florida, Oklahoma and Missouri won't be enough to save them. 
For more college basketball news, rumors and analysis, follow @EyeOnCBB on Twitter, subscribe to our RSS Feed and subscribe to our College Basketball Newsletter. You can follow Jeff Borzello on Twitter here: @jeffborzello
College basketball fans, especially those at Missouri, are robbed of the excitement Porter...

School officials expect the five-star freshman to miss the rest of the season

Cincinnati and Iowa highlight an impressive inaugural field for the Cayman lslands Classic
The Bluejays are 4-0 with some impressive victories, including a win vs. the Bruins on Mon...

The world's most prominent Basketball Dad responded to Donald Trump calling him 'very ungr...

LaVar argued with the CNN host over why he came off as ungrateful and why he didn't thank Mr....