Poppin' Bubbles: Providence wins auto-bid, everyone else waits
Providence sealed the deal with the Big East title, but Tennessee, NC State and everyone else will wait.
• 2 min read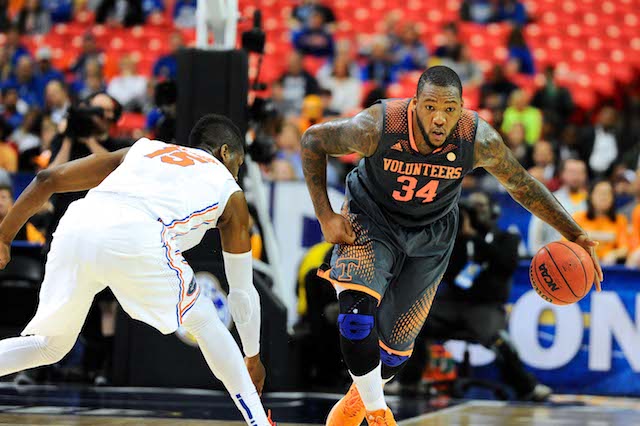 Latest in hoops: Top 25 (and one) | Bracketology | Bubble Watch
After the bubble carnage of the past few days, only a few bubble teams are still playing. There are some teams trying to play their way into the mix by making conference tournament runs, but time is running out on teams looking to boost their resume. One thing to keep an eye on could be bid-stealers. Teams like Georgia (SEC), North Carolina State (ACC) and St. Bonaventure (Atlantic 10) would potentially "remove" a bid from the bubble teams.
Note: Saint Joseph's and Pittsburgh likely punched their tickets on Friday night.
Winners
Providence: There will be zero doubt as to whether the Friars are dancing on Selection Sunday. They would have been one of the final teams in or out had they lost to Creighton on Saturday night -- but they knocked off the Bluejays to win the Big East tournament championship. As a result, Providence is going to the NCAA Tournament. The Friars will likely push a bubble team to Dayton, as they won't be able to play in the First Four. 
Losers
Tennessee: The Volunteers could have clinched a bid to the NCAA Tournament by beating Florida in the SEC tournament semifinals, but they lost to the Gators and now have to wait to find out their fate. I think they'll get into the field, but it isn't a 100 percent lock. The SOS in the 20s is a huge boost, and the RPI is solid. But they don't have a deep collection of good wins. They did beat Virginia, which is terrific, but after that, it's Xavier, Missouri and not much else. Throw in four sub-100 losses and Tennessee will likely be a double-digit seed in the big dance.
North Carolina State: The Wolfpack's win over Syracuse put them in the mix, but I think they needed to beat Duke. And they didn't. As a result, I think NC State is heading to the NIT. The Wolfpack have the win over Syracuse, plus decent victories over Pittsburgh and Tennessee. But they are 3-9 against the top 50 and 6-10 against the top 100 -- along with three sub-100 losses. The non-conference SOS is in the triple-digits too. I think a win over Duke on Saturday would have really made it interesting on the committee, but I see them out right now.
Louisiana Tech: I think the Bulldogs are in for a long Selection Sunday after losing in the Conference-USA championship game to Tulsa. They do have two top-50 wins, including a road win at Oklahoma, but they also have three sub-100 losses. The RPI is in the 60s and both the overall SOS and non-conference SOS are in the 200s. Not having a healthy Raheem Appleby has been crippling for Louisiana Tech.
Georgia: The Bulldogs never seemed like much of a bubble team, but a 12-6 SEC regular-season record and an appearance in the conference championship game could have made it somewhat interesting on Selection Sunday. But Mark Fox's club were handled by Kentucky in the SEC semifinals and now won't be selected for the NCAA Tournament. Aside from the gaudy league record, there's not a ton on the resume. There's a sweep of Missouri, a bubble team at best, and five sub-100 losses. It's not a tournament profile.
Thousands of fans were turned away (even LeBron!) from the LaMelo Ball-Zion Williamson sho...

"Four Sides of the Story" also takes a look at Tiger Woods' first PGA tournament and the role...

Indiana's Archie Miller and Mizzou's Cuonzo Martin have been killing it on the recruiting...
Duke's much-anticipated Allen-Duval connection is off to a hot start already

It'll be Miller vs. Miller if the Hoosiers and Wildcats can finalize the proposed series

Wisconsin's Ethan Happ has made only two jumpers in his career, but is adding a long-range...