Poppin' Bubbles: Richmond, Nebraska and missed opportunities
There's a late-night bubble showdown, but there has been plenty of must-wins throughout the night.
• 4 min read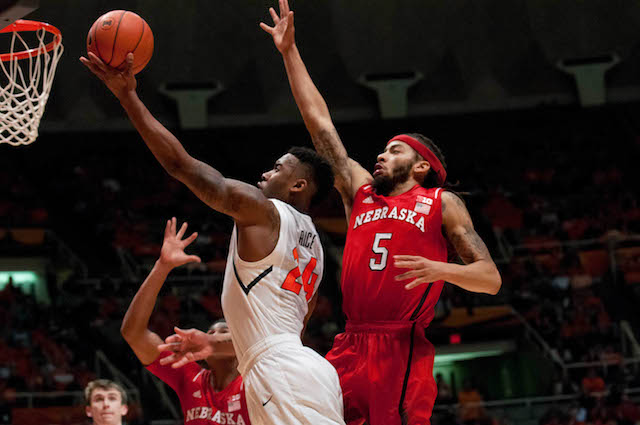 Tuesday saw big opportunities for bubble teams, and Wednesday is filled with bubble teams needed to avoid losses. Moreover, there are some marquee win chances -- and a showdown in the Pac-12. 
Winners
Arizona State: The Sun Devils were comfortably in the dance last week, but back-to-back losses left them in the 9 or 10 seed range -- still in, but starting to sweat. Beating Stanford handily on Wednesday should give Herb Sendek some breathing room. The Cardinal were Arizona State's fourth top-50 win, joining Arizona, Colorado and Oregon. It will also only help the RPI and SOS, which were already very good compared to other potential bubble teams. The non-conference SOS is awful, but it might only impact seeding at this point. They finish at home against Colorado and then on the road at the Oregon schools. 
Tennessee: Losing three of their previous four games knocked the Volunteers out of most projected brackets, but they stayed alive with a win at Mississippi State on Wednesday. They still need to likely win out the rest of the regular season, which includes home games against Vanderbilt and Missouri, along with a road trip to Auburn. The season finale against Mizzou could be huge for bubble purposes. Tennessee has two top-50 wins, including a blowout over Virginia, but the Vols are 7-9 against the top 100 and have two sub-100 losses. 
LSU: The Tigers missed a big chance over the weekend, falling at Kentucky in overtime. But they bounced back with a victory over Texas A&M on Wednesday, keeping them in the discussion. The next two games will be big for LSU, especially this weekend at Florida. The Tigers could really use the marquee win, although winning in Gainesville won't be an easy task. Then they go to Vanderbilt, never a fun place to play. Moreover, LSU has lost six straight road games. Three top-50 wins are nice, but the computer numbers aren't good and the Tigers have three sub-100 losses.
Pittsburgh: The Panthers were ahead of the bubble heading into the week, and they will stay there after beating Boston College. It's not an impressive win by any means, but a loss would have sent them right to the cutline. The win snaps a three-game losing streak, and avoids a sub-100 loss. The final stretch is at Notre Dame, vs. NC State, and at Clemson. Two wins would likely allow Pitt to be comfortable heading into championship week.
Losers
Richmond: The Spiders really missed out on Wednesday, losing to a George Mason team that was 2-10 in the Atlantic 10 heading into the week. It's not going to get easier for Richmond going forward, as it heads to Rhode Island this weekend -- and then finishes with VCU at home and Dayton on the road. The team looks different without leading scorer Cedrick Lindsay, who is out for the rest of the season with a knee injury. As a result, the resume takes a hit as well. They have wins over Massachusetts and Saint Joseph's, although both of the wins came with Lindsay.
Nebraska: The Cornhuskers had been one of the biggest stories of the past few weeks, winning five in a row to play their way onto the bubble. Well, that road to an at-large bid hit a big bump on Wednesday, as Nebraska fell at Illinois. The Cornhuskers drop to 8-7 in the Big Ten and 16-11 overall. They still have the three top-50 wins, but they are now 6-8 against the top 100 -- with three sub-100 losses. The final three games on the schedule are Northwestern, Indiana and Wisconsin. All three are winnable; all three might be needed. 
California: The Golden Bears were obliterated by Arizona on Wednesday, with the Wildcats getting revenge for their first loss of the season. Cal has had a few opportunities at resume-boosting wins lately, but continue to strike out. The finish to the schedule offers opportunities to improve the ledger, but it's also a chance to drop several spots in the pecking order. Up next is a weekend game at Arizona State, and then there are home games against Utah and Colorado. Three top-50 wins are nice, especially the win in early February over Arizona. They are 6-8 against the top 100, with two sub-100 losses.
Baylor: The Bears could have given themselves some breathing room on Wednesday night, but they came up short against Texas and now still have work to do. They had won four in a row heading into the week, but they have opportunities to bounce back. Texas Tech comes to Waco this weekend, and then Iowa State does next week. A trip to Kansas State is on the docket in the season finale. If Baylor can go 2-1, Scott Drew's team will likely feel fairly comfortable heading into the Big 12 tournament. They have five top-50 wins, a great SOS, and solid computer numbers.
Stanford: The Cardinal had a chance to really solidify their standing in the NCAA tournament by winning at Arizona State on Wednesday, but they came up short and now risk going on a two-game losing streak with Arizona up next this weekend. Even a loss to the Wildcats wouldn't put Stanford at danger of dropping out of the field, but the Cardinal aren't a lock just yet. They get Colorado and Utah at home next week; they could probably survive by winning just one of those games. The computer numbers are solid, and they own wins over UCLA, Connecticut, Arizona State, Oregon and California. 
Was there contact? 'Everybody saw it,' UK coach John Calipari said

After losing its second game this week, a deep NCAA Tournament run looks far-fetched for U...

Coach K shows he is on on top of his game by landing the best three prospects in the Class...
The Buckeyes and Boilermakers continue to assert their dominance in the Big Ten

The 5-star phenom was thought to be headed to Clemson, but was swayed to the Blue Devils

The nation's No. 3 player will commit Saturday and here's his impact on each of his finali...