Poppin' Bubbles: SMU gets statement win at UConn
SMU was the big bubble winner during the early part of Sunday.
• 4 min read
Saturday saw quite a few bad losses by bubble teams, as well as missed opportunities for others. Only a few truly took advantage of their weekend game. Sunday was different – there has already been one marquee win, and teams are avoiding bad losses.
Winners
SMU: What a job by Larry Brown this season. The Mustangs picked up a huge road win at Connecticut on Sunday, giving them four top-40 wins for the season – including a sweep of the Huskies. More importantly, it was a marquee road victory, something SMU didn't have all season. The SOS numbers are still poor, including a non-conference SOS in the high 200s. They have two sub-100 losses, but are 4-3 against the top 50. There are still some chances to boost the resume, too, with Louisville and Memphis on the schedule after next weekend's meeting with UCF.
California: The Golden Bears let USC hang around for much of Sunday's game, but they pulled away down the stretch to avoid what would have been a terrible loss. Despite the blowout to UCLA earlier in the week, Cal has won three of four and is 9-5 in the Pac-12. They do have a difficult week coming up, though, with Arizona and Arizona State waiting on the docket. A split would be huge for the Golden Bears. Like Arizona State, the Golden Bears have a win over Arizona in their back pocket, but the only other top-50 wins are over Oregon and Stanford -- and they also have two sub-100 losses. 
Oregon: The Ducks looked awful in the first half against Washington State, but the second half was a different story, as they rolled past the hapless Cougars to a relatively easy win down the stretch. That's now three straight wins for Dana Altman's team -- but they head into a brutal four-game finish. Up first is the Los Angeles road swing, starting with UCLA and then USC this weekend. And then Arizona and Arizona State come to town to finish out the season. The Ducks might need at least two wins, maybe even more. Simply put, there aren't enough quality wins on the ledger. They beat BYU back in December, but they are 1-6 against the top 50. That needs to change late in the season. 
Providence: After losing four their previous six, the Friars needed to beat Butler on the road on Sunday. And despite the Bulldogs staying close throughout the game, Providence pulled out a win. The Friars stay on the road for two of their final three games, visiting Seton Hall next Friday, before finishing vs. Marquette and at Creighton. Providence has one big win on its resume, at home against Creighton -- but it is just 1-4 against the top 50. The Friars do have splits with fellow Big East bubblers Xavier, Georgetown and St. John's. The lone bad loss is to Seton Hall. 
Nebraska: The Cornhuskers continue to push toward the bubble, winning their fifth game in a row and eighth in their last 10 games. This wasn't as headline-grabbing as beating Michigan State on the road, but Tim Miles' crew needed to take care of business against an inferior team. There are winnable games coming up, but they do head on the road for two of their next three. Nebraska travels to Illinois on Wednesday, followed by a home game vs. Northwestern and a trip to Indiana. The Cornhuskers have three top-50 wins, although they also have three sub-100 losses. They are 3-7 vs. the top 50.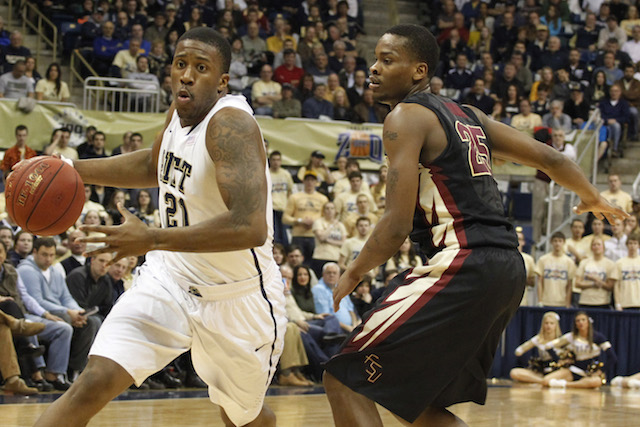 Losers
Pittsburgh: The Panthers are still in the field, but losing at home to Florida State on Sunday once again highlights the deficiencies on their resume. It also marks three straight losses, and a 2-5 record in their last seven games. This was their first sub-50 loss, but the computer numbers are falling. The positives on the resume include a win over Stanford and zero bad losses, but there are some negatives, too: 1-6 against the top 50, a non-conference SOS in the 200s. Pittsburgh isn't in the clear yet, with three of the final four games on the road: at Boston College, at Notre Dame, vs. NC State, at Clemson. It's a slate that doesn't offer opportunities to improve the resume, but every game is winnable. Another slip-up or two, though, and Pittsburgh could be in real trouble.
Arizona State: Like Pittsburgh, Arizona State is still in the field -- but this was a very bad week for the Sun Devils. They got destroyed at Utah on Sunday night, with that game coming on the heels of a loss at Colorado on Thursday. Now the Sun Devils still have work left to do. Up next is a home game against a hot Stanford team, followed by a home tilt with what could be a desperate California team. The Oregon road swing finishes out the season. The RPI looks solid, but the non-conference SOS is in the 200s. They do have four top-50 wins, and the win over Arizona is carrying the load right now. 
The game will be finished on Thursday at noon at Providence's on-campus basketball gym

The five-star forward put on a dunking and blocking clinic in high school's state quarterfinal...

Pitino dug in and maintained he ran a 'clean program' after the NCAA stripped UL of its 2013...
Bagley is still recovering from a knee injury he suffered during the Blue Devils' loss to...

Izzo was emotional as he coached the seniors on their final home game in East Lansing

The Shockers look to build on their four game winning streak as they return home to face T...