Poppin' Bubbles: Teams ahead of cut line begin to separate
With only days left until Selection Sunday, there aren't many opportunities left for bubble teams to boost their resume.
• 5 min read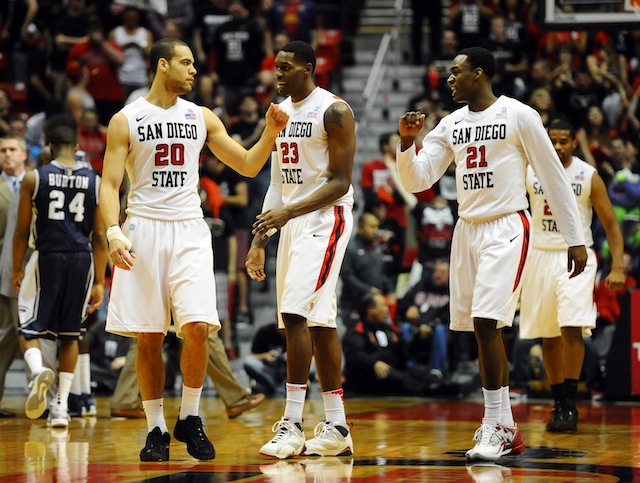 Bubble teams have only days to make an impression, and Wednesday has several meaningful games. Some teams on the cutline need to win in order to feel safe, while others need deep runs in the conference tournament to get a bid. An early exit for any of these bubble teams could mean they are sweating until Selection Sunday.
Note: This page will be updated throughout the day with bubble discussion and analysis.
Winners
San Diego State: The Aztecs were in good shape heading into the Mountain West tournament, but a loss to Boise State in the quarterfinals wouldn't have been great news. However, they avenged a regular season finale loss to the Broncos by making plays down the stretch and getting the win. As a result, they should be in the field of 68. They have very solid computer numbers and five wins against the top 40 of the RPI. Moreover, they don't have a single loss outside the top 100. They may be fourth in the Mountain West pecking order, but they will be dancing.
Cincinnati: Losses in six of its final nine games left Cincinnati unsure of its NCAA tournament status heading into the Big East tourney's second round against Providence. After beating the Friars, though, the Bearcats should be able to breathe a bit easier. They're not a lock, but they're more comfortable. They have four top-50 wins, including a top-15 victory over Marquette, and are 9-10 against the top 100. Another plus for Cincinnati's resume is the fact it has zero sub-100 losses, and fairly solid computer numbers. A win over Georgetown in the quarterfinals would certainly seal a bid, but the Bearcats might have done enough already.
Villanova: Compared to other bubble teams, Villanova's list of big wins is exceptional, as the Wildcats have defeated Syracuse, Louisville, Marquette and Georgetown. They also own a road victory at Connecticut. However, given their two sub-100 losses (including a horrendous one to Columbia), the Wildcats were still on the bubble heading into the Big East tournament. While they aren't a certain lock yet, avoiding a loss to St. John's on Wednesday was key. A loss would have left Villanova sweating profusely until Sunday; now, the Wildcats are in good shape. A win over Louisville on Thursday would obviously seal a bid, but Villanova should be fine either way. 
Colorado: Essentially cemented itself into the NCAA tournament by beating Oregon last week, but the Buffaloes followed that up with a home loss to Oregon State to end the season. Had they lost to Oregon State again in the first game of the Pac-12 tournament, they might have had some nervous nights until Selection Sunday. However, the return of Andre Roberson propelled Colorado to a victory, and now the Buffaloes should be headed to the NCAA tournament. Their RPI took a hit with the loss to Oregon State last week, but their computer numbers and SOS are still very solid. A 9-8 record against the top 100 -- including wins over Arizona and Colorado State -- is also good. 
Arizona State: It's not even close to enough, but at least Arizona State is keeping its at-large hopes alive. The Sun Devils held on to beat Stanford in overtime, buoyed by Jahii Carson's 34 points, and advance to face UCLA in Thursday's quarterfinals. They still need to make a run to the title game -- and even that might not be enough. The RPI is in the 90s and the non-conference SOS is hovering around the 300 mark. Arizona State does have two wins over Colorado, as well as victories against California and UCLA. A couple more key wins could get the Sun Devils back into the discussion. As of now, they are still a distance away. 
Losers
Boise State: The Broncos could have really sealed the deal with another win over San Diego State, after Boise knocked the Aztecs off in the season finale. Despite that, Boise State is in the field for now. Aside from a non-conference SOS that is in the low 200s, the Broncos have decent computer numbers, and wins over Colorado State, UNLV, San Diego State -- and a road victory at Creighton, which looks very solid. They are 8-8 against the top 100, and have two sub-100 losses. Given their quality wins, they are in OK shape for now. It won't be an easy few days, though.
Stanford: Back-to-back wins to end the regular season -- including a road win at California -- put Stanford on the outskirts of the bubble, but the Cardinal needed a deep run in the Pac-12 tournament. That won't be happening, as a late comeback fell short. As it stands, Stanford simply doesn't have the resume to get a bid. There is a sweep of California and a win over Oregon, but that's basically it. The Cardinal are 2-9 against the top 50 and 6-12 against the top 100, with two sub-100 losses. It's a young roster, though, so Stanford should be able to improve next year. 
Providence: A loss at Connecticut in the season finale meant Providence likely needed to make a run to the Big East tournament championship if it wanted to be in the conversation for an at-large bid. However, the Friars fell against Cincinnati on Wednesday, meaning they are likely relegated to a lesser tournament. The computer numbers are generally poor, including a nonconference SOS nearing 300. A sweep of Villanova, along with wins over Notre Dame and Cincinnati, are nice, but Providence is 2-9 against the top 50 and 5-10 against the top 100. On top of that, there are four sub-100 losses -- including two sub-200 defeats. They should be back next year, though. 
Air Force: It was going to be tough for Air Force to get an at-large bid no matter what, but the Falcons saw their hopes end with a quarterfinal loss to UNLV in the Mountain West tournament. Had they made a run to the title game, they might have had an outside shot at an at-large bid. Air Force does have wins over UNLV, New Mexico, San Diego State and Boise State, but all four wins are at home. On the down side, its computer numbers are poor and there are two sub-100 losses. Most concerning was the loss of leading scorer Michael Lyons, who went down with a knee injury within the first two minutes and didn't return. 
---
For more college basketball news, rumors and analysis, follow @EyeOnCBB on Twitter, subscribe to our RSS Feed and subscribe to our College Basketball Newsletter. You can follow Jeff Borzello on Twitter here: @jeffborzello
The Sun Devils make a big jump and the Jayhawks slide after ASU pulls the big upset

Gary Parrish and Matt Norlander spend some time on the SEC, too

Having shocked Kansas at Allen Fieldhouse, Duke legend Bobby Hurley is coaching the Sun Devils...
Jay Wright's undefeated Wildcats are now No. 1 in the Top 25 (and one)

Coach K's Blue Devils are the fourth preseason top-10 team to lose to a sub-75 KenPom team

TCU, which downed Nevada late Friday, continues to flourish under second-year coach Jamie...