Poppin' Bubbles: Virginia gets statement win over Duke
Which teams will make statements on Thursday? Virginia has the best chance of any bubble team.
• 3 min read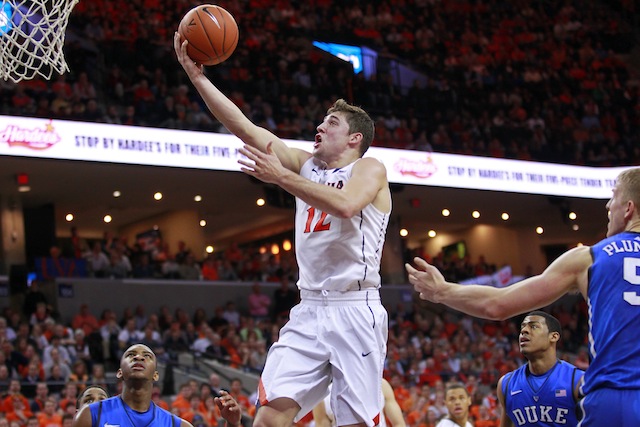 Compared to Wednesday, Thursday is a lighter day in the bubble world -- but that doesn't mean it's bereft of meaningful games. At least one team is looking for a statement win to boost its at-large resume, a couple of others are trying to stay ahead of the bubble, and some are trying to keep their hopes alive.
Note: This page will be updated throughout the night, with bubble discussion and analysis.
Winners 
Virginia : The Cavaliers went into Thursday knowing they could really boost their at-large profile with a marquee win over Duke -- and they came through in a major way, completely shutting down the Blue Devils en route to a win. Does this win automatically put the Cavaliers in the field? Not yet, especially considering the six sub-100 losses and the mediocre computer numbers. With that said, Virginia is now 7-2 against the top 100 -- with four wins against the top 30, including Wisconsin and now Duke. Up next are road games at Boston College and Florida State, and Virginia can't afford more bad losses. Get through those two, and it  might be in solid shape.
Missouri: The Tigers should have felt pretty good about their situation heading into Thursday, but they needed to avoid bad losses. Hammering South Carolina on the road accomplishes that perfectly. Next up is LSU at home, so Missouri needs to take care of business this weekend too. If the Tigers get past that, it might be tough to leave them out, considering they have wins over Florida, Illinois and VCU. People can point to the 2-7 road record, but throw in a trio of solid neutral-court wins, and it's no longer a huge weakness. 
North Carolina: The Tar Heels seem to be playing well at the right time, winning their fourth in a row at Clemson on Thursday. They have also won 10 of their last 13 games to move to 10-5 in the ACC. North Carolina was ahead of the bubble heading into the day, and the win over the Tigers keeps them there. There aren't a ton of quality wins, but the RPI and SOS are great and victories over UNLV and NC State are nice. Handling Florida State at home on Sunday is the next step.
California: The Golden Bears weren't taking any chances with Utah on Thursday, dominating the Utes for their sixth win in a row. Next up are home dates with Colorado and Stanford to end the season, and a sweep of those two games could leave Cal in fairly comfortable shape heading into the Pac-12 tournament. They don't have any losses outside the top 100, and they own a sweep of Oregon, along with wins over Arizona and UCLA. Going 13-5 in the Pac-12 isn't out of the question.
Temple: For awhile, it looked like the Owls were going to struggle to a loss against Detroit on Thursday, a loss that would have pushed them closer to the cutline heading into the weekend. However, Khalif Wyatt hit a couple of big shots late in the game to give Temple a win. That's the Owls' fourth victory in a row, with winnable games against Rhode Island and Fordham coming up next. Win those two, and the Owls can take a shot against VCU at home in the season finale. 
Louisiana Tech: The Bulldogs are really starting to cruise heading down the stretch, steamrolling Utah State for their 17th win in a row. Their at-large resume isn't great, with the best win coming over Southern Miss and the SOS looking terrible for a bubble team. Moreover, they still have to trip to New Mexico State and Denver to end the season (after a home game against San Jose State). If Tech makes a run to the WAC title game, could they get a bid?
Middle Tennessee: The Blue Raiders won their 15th straight game on Thursday, beating Troy to move to 18-1 in the Sun Belt. Like Louisiana Tech, they need to make a run to at least the title game to have an at-large shot -- and even then, the Blue Raiders' resume might not be good enough for a bid. They have just one top-100 win, coming at home against Ole Miss. Sheer accumulation of wins might not convince the committee.
For more college basketball news, rumors and analysis, follow @EyeOnCBB on Twitter, subscribe to our RSS Feed and subscribe to our College Basketball Newsletter. You can follow Jeff Borzello on Twitter here: @jeffborzello
Mikal Bridges' slam and an alley-opp started by Jalen Brunson showed Nova came ready to pl...

The Wildcats face a surging Stanford team that has risen as a potential Pac-12 contender

The reeling Mountaineers look to get back on track against Texas at home
Young is coming off his worst game as a Sooner and will try and bounce back vs. the Cowboy...

The first-ranked Wildcats travel to UConn to face a middling Huskies team that is 3-3 in league...

The men's and women's basketball teams were among the handful of events now cancelled