Poppin' Bubbles: Where does Middle Tennessee stand after loss?
Temple was Sunday's first big bubble winner, but Virginia also stayed alive. And what about Middle Tennessee?
• 3 min read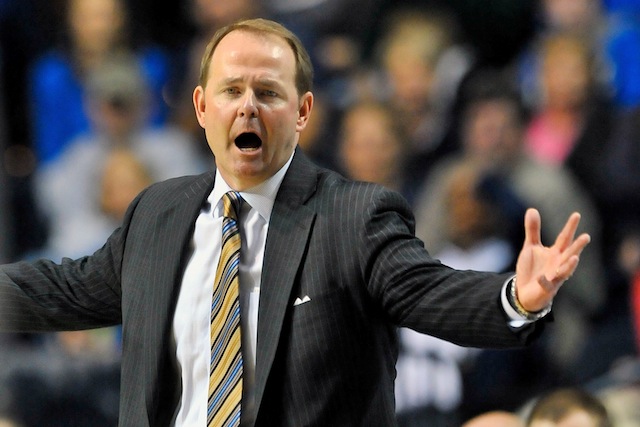 After a busy Saturday, Sunday is a much quieter day on the bubble. There are only a handful of cutline teams in action, although a couple of teams could cement their spot in the tournament with a win.
Note: This post will be updated throughout the day with bubble discussion and analysis.
Middle Tennessee: One of the most hotly debated resumes for the next week will be that of Middle Tennessee, which lost in the semifinals of the Sun Belt tournament on Sunday night to Florida International. The Blue Raiders rolled through the league's regular season campaign with a 19-1 record, and finished 28-5 overall. Heading into the day, they had an RPI of 25 and a non-conference SOS of 11. However, 26 of their 28 wins were against teams ranked 100 or below, with a win over Ole Miss the only remotely decent scalp on the slate. They were 2-3 against the top 100, which is normally not good enough for an at-large bid. The Blue Raiders were also 12-5 in road/neutral games as well. Will all that be good enough for a bid? I think they needed to reach the finals to have a better argument, as the wins simply aren't there. Expect this to be debated for the next seven days. 
Temple: After getting outplayed for the first stretch of the game by VCU, the Owls dominated the final 20 minutes and ended up cruising to a win over the Rams. The win moves Temple to 11-5 in the Atlantic 10 and 23-8 overall –- and it also should make the Owls feel pretty comfortable heading into the conference tournament. They have won seven in a row to end the season, and are 4-3 against the top 50 of the RPI, a record that also includes wins over Syracuse, Saint Louis and La Salle. Moreover, they are 10-5 against the top 100, with a couple more victories against Villanova and Massachusetts. There are three sub-100 losses, but the RPI is still in good shape. One more win in the A-10 tourney would lock things up, but I think Temple is in solid position right now.
Virginia: The Cavaliers looked done after getting down big early to Maryland, but they came back to win in overtime -- which kept their at-large hopes alive. Back-to-back road losses to Boston College and Florida State erased all the positive vibes from Virginia's win over Duke, but knocking off Maryland keeps it in the hunt. The bad: seven sub-100 losses, including a sub-200 loss to Old Dominion, along with a poor RPI and a non-conference SOS in the 300s. However, on the plus side, the Cavaliers have beaten Duke, won at Wisconsin and also defeated North Carolina State and North Carolina. They are 8-3 against the top 100. There is still work to do in the ACC tournament. 
Wichita State: The Shockers could have ended all bubble debate by beating Creighton in Sunday's Missouri Valley tournament final, but they couldn't keep up in the second half and their comeback fell short. It was their second loss to the Bluejays this season, but I still think Wichita State should be fine. With that said, it won't be a week without some sweat for the Shockers. They have three sub-100 losses, and they were 7-6 in their final 13 games. With an 11-6 road/neutral record and and 8-5 record against the top 100, though, Wichita State probably did enough to get a bid. Had the Shockers been bounced before the league title game, they would have been in a much more precarious position. 
Maryland: The Terrapins likely needed to beat Virginia and then do a lot of work in the ACC tournament just to have a chance at an at-large bid, and well, that didn't happen. They blew a lead in Charlottesville, and now fall to 8-10 in the ACC. They have lost five of their last eight games, and are 7-10 since starting the season with a 13-1 record. The computer numbers are poor and the non-conference SOS is terrible. There are wins over Duke and NC State, but the resume is pretty barren otherwise. Going 3-9 against the top 100 won't get it done. 
For more college basketball news, rumors and analysis, follow @EyeOnCBB on Twitter, subscribe to our RSS Feed and subscribe to our College Basketball Newsletter. You can follow Jeff Borzello on Twitter here: @jeffborzello
Arizona, for no good reason, doesn't have to play at USC or UCLA this season

We look at the 'Major 7' leagues and give you the best of what's to come in conference play...

Louisville's coach predicts a change is coming to the NBA's one-and-done rule by 2019
Multiple former players of Lonergan's alleged verbal abuse and inappropriate remarks

When Miller left for Indiana, there was cause for concern in Flyerland; a top-100 signee says...

The Hoyas will spend their non-league schedule playing mostly nobodies -- as will most big...