Poppin' Bubbles: Will we get some clarity?
Thursday was filled with bubble winners and losers, but the fight for final few spots became slightly more muddled. Will Friday begin to narrow down the potential teams?
• 8 min read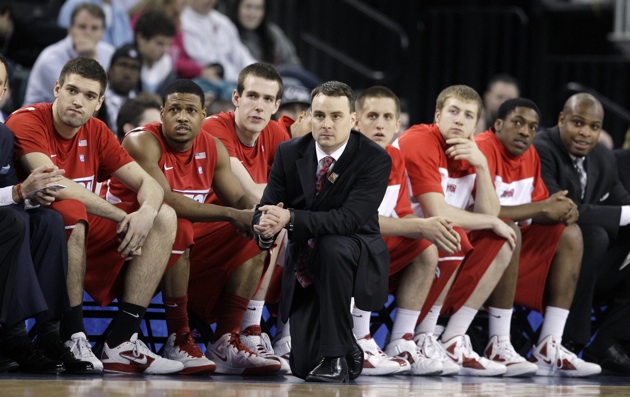 Dayton's last-second loss to Xavier ends the Flyers at-large hopes and sends them to the NIT. (AP)
Thursday was supposed to be separation day in the bubble world. And while that ended up being the case for several teams, the bubble picture became more muddled with so many teams doing their best to play themselves out of the tournament. Of course, when too many teams lose, we get what we have now – a growing number of teams in the mix for a handful of spots. Several teams continue to make last-ditch runs at an at-large bid, while others are simply looking to lock one up. Friday is another jam-packed bubble day.
Note: This post will be updated throughout the day, with bubble analysis and discussion after each relevant game.

Still safe:
Virginia: The Cavaliers did not finish the season on a high note, dropping three of its last four and five of its last eight, including a quarterfinals loss to North Carolina State in the ACC tournament. With that said, it looks like Virginia will be still be safe, mainly because it pulled out a win against Maryland in the regular-season finale. The overall resume isn't great, with a terrible non-conference strength of schedule and a mediocre computer profile. Virginia was 6-0 against 51-100 before the NC State loss, and it also owns a win over Michigan. The Cavaliers might sweat a little bit, but they will still likely get a bid.
Alabama: A win over Florida could have pushed the Crimson Tide to a No. 8 seed, but a loss doesn't put them in a precarious position for Selection Sunday. They still have three top-50 wins, and a 9-10 record against the top 100. Throw in the personnel situation in February that they weathered and bounced back from, and Alabama should be safe. The win over South Carolina on Thursday was key. 
Southern Miss: Even though the Golden Eagles aren't playing good basketball down the stretch, their resume is good enough to get an at-large bid in two days -- despite their loss to Marshall on Friday. They have a top-15 RPI and a 9-5 record against the top 100. Throw in wins over Memphis, Colorado State and South Florida, as well as a good schedule, and Southern Miss should be in. Its seed could drop, though.
Purdue: The Boilermakers got dominated down the stretch against Ohio State, losing 88-71, but the only thing that affected was seeding – if that. Purdue is safely in the NCAA tournament, and could potentially get a No. 8 seed. A win over Ohio State would have catapulted them even higher, but the Boilermakers have nine top-100 wins and a pretty solid computer profile. The non-conference SOS isn't good and neither is the 3-9 top-50 record, but they'll be fine.
Colorado State: I still don't see how the Rams won't get an NCAA bid, even with their loss in the Mountain West semifinals to San Diego State. They have three top-50 wins, a top-25 RPI and a top-10 strength of schedule. The Rams did struggled on the road, but they went 3-1 on neutral courts and played well to finish the season. The two sub-100 losses and 7-9 record against the top-100 don't bode well, but I still think Colorado State is safe.
Winners:
North Carolina State: Heading into the ACC tournament, it looked like two wins might get it done for the Wolfpack. After their win over Virginia in the quarterfinals, have they done enough to get a bid? NC State now has at least two top-50 wins, as Texas rose into that category with its win over Iowa State. A two-game sweep of Miami (Fl.) also helps. Throw in the fact the Wolfpack are 9-5 away from home – including 4-1 on neutral courts – and one can make the case for them. On the negative side are two sub-100 losses and the 2-8 record against the top 50. An upset win over North Carolina would certainly lock up a bid, but this one might do it.
Xavier: The Musketeers saw their season in the balance, down six to Dayton in the final minutes of a quarterfinal matchup. Then Mark Lyons took over and Xavier made stops down the stretch to pull out a one-point victory. Heading into the game, everyone knew it was basically a win-and-in situation for the Musketeers. After the win, it's tough to imagine Xavier not getting a bid. Beating Saint Louis in the semifinals would lock it up for sure, but eight top-100 wins – and the personnel situations at midseason – look good from here. Only one sub-100 loss is helpful.
Ole Miss: The Rebels still have hope. They survived a buzzer-beating 3-pointer by Skylar McBee to beat Tennessee in overtime, therefore living to see another day and subsequently ending the Volunteers' at-large dreams. They still need another win, likely over Vanderbilt, in the semifinals to have a legitimate chance, as the top-50 record is only 1-6 and they are just 6-11 against the top 100. Wins over Miami (Fl.) and Mississippi State could help in bubble comparisons. Ole Miss only has one sub-100 loss and the computer profile is getting slightly better.
Arizona (and Marshall): The Wildcats are in the same boat as Marshall, to be honest. One more win would get them in serious at-large consideration – but one more win gives both teams the automatic bid. In Arizona's case, beating Oregon State in the semifinals didn't help the resume – but a win in the Pac-12 title game against California or Colorado gets them in the NCAA tournament regardless. In Marshall's case, beating Southern Miss was nice and the resume is looking better, but they need to beat Memphis in the Conference-USA championship.
Long Beach State: Things looked shaky for the 49ers early in the Big West semifinals against UC-Irvine, but they took control midway through the second half and cruised to an 11-point victory. Now comes the interesting part. Can Long Beach State survive a title game loss to UC-Santa Barbara or Cal Poly and still get a bid? I don't see the 49ers getting beat by either team, but we'll look closer if they lose on Saturday.
Losers:
Saint Joseph's: The bubble has popped for the Hawks, after their lost a heartbreaker to St. Bonaventure in the final seconds of the Atlantic 10 quarterfinals. The door had opened for the Hawks to make a run, as they would have faced No. 8 seed Massachusetts in the semifinals had they pulled out a win over the Bonnies. As it stands, St. Joe's has a poor RPI and three sub-100 losses. They do have wins over Temple, Creighton, Dayton and Drexel, but 6-10 against the top 100 won't get it done.
Tennessee: The Volunteers would have been one of the more fascinating at-large candidates of the season, as they had a terrible non-conference season, a mediocre computer profile – but a collection of nice wins, the No. 2 seed in the SEC tournament and the status of Jarnell Stokes. Well, none of that matters anymore, as the Volunteers lost to Ole Miss in the quarterfinals of the conference tournament and are now NIT-bound. Tennessee is just 18-14 overall, 7-11 against the top 100 with three sub-100 losses. It's been a great turnaround, but it won't continue in the NCAA tournament.
Miami (Fl.): Tonight might be a disaster for the Hurricanes. First, let's start with the loss to Florida State. While fellow ACC bubbler North Carolina State took advantage of a chance at a top-50 win, Miami really struggled in the first half en route to a loss to Florida State. The loss drops the Hurricanes to a paltry 3-11 against the top 100, which doesn't stack up well to other bubble teams. Wins over Duke and Florida State are nice, but that might not be enough. Moreover, Durand Scott was suspended indefinitely by the NCAA, and his future is not clear just yet. If his status is up in the air on Selection Sunday, Miami (Fl.) is in trouble.
Dayton: Wow, so close. The Flyers looked to have a semifinal berth wrapped up in the final minutes against Xavier, but couldn't get it done down the stretch and are now likely headed to the NIT. They have a nice cadre of good wins, with Temple, Saint Louis, Alabama, Xavier and Ole Miss all among the scalps. However, the computer profile is terrible and they finished sixth in the Atlantic 10. Four sub-100 losses seal their fate. It's heartbreaking.
Texas: The Longhorns were basically playing with house money on Friday night, and they ended up losing to Missouri in a game that would have only calmed their nerves for Selection Sunday. As it stands, Texas is in pretty good shape because of its quarterfinal win against Iowa State on Thursday. The Longhorns were one of the few teams to actually play itself into the field. They are only 4-10 against the top 100, but they own a win over Temple and Kansas State, and two over Iowa State. The SOS in the top 20. Given the state of the bubble, they're probably OK.
Nevada: The Wolf Pack needed to at least get to their conference championship game to have a chance at an at-large bid. After losing in the final minutes to Louisiana Tech in the WAC semifinals, it looks like they're headed to the NIT. The resume is just pretty barren. They are 0-3 against the top-50, with four wins in the 51-100 range. The schedule is absolutely appalling, both in-conference and out-of-conference. Nevada also has three sub-100 losses. 20 of their 24 wins came against teams ranked 140 or below. It's not an NCAA tournament resume.
California: The Golden Bears probably just needed to reach the Pac-12 title game to feel secure about an at-large bid on Selection Sunday. Naturally, they fell short, losing to Colorado in the semifinals. Now, it's time to reassess their resume. The RPI is good, but the SOS is mediocre. They have zero top-50 wins, but they are 9-7 overall against the top-100 – with all nine teams in the 63-99 range. There are two sub-100 losses, but they finished 13-5 in the Pac-12 regular-season. The away from home record is 7-8. The best non-league win is over Weber State. It's a very nondescript profile, but it might be enough.
CBS Sports HQ Daily Newsletter
Get the best highlights and stories - yeah, just the good stuff handpicked by our team to start your day.
Please check the opt-in box to acknowledge that you would like to subscribe.
Thanks for signing up!
Keep an eye on your inbox for the latest sports news.
Sorry!
There was an error processing your subscription.
We are one round into the 2019 NCAA Tournament, so print your bracket and follow along with...

Gary Parrish and Matt Norlander breakdown every region and make Sweet 16 predictions

Everything you need to watch the first round of the NCAA Tournament on Saturday
Against-the-spread and straight up picks as the second round of the 2019 NCAA Tournament b...

Here's the master schedule and how you can watch March Madness 2019 no matter what device you're...

R.J. Barrett helped spark his Duke teammates shake off a sluggish start against North Dakota...