Poppin' Bubbles: Xavier falls to Villanova, still has work to do
Xavier could have locked up a bid with a win over Villanova on Thursday; instead, the Musketeers lost and now have work to do.
• 2 min read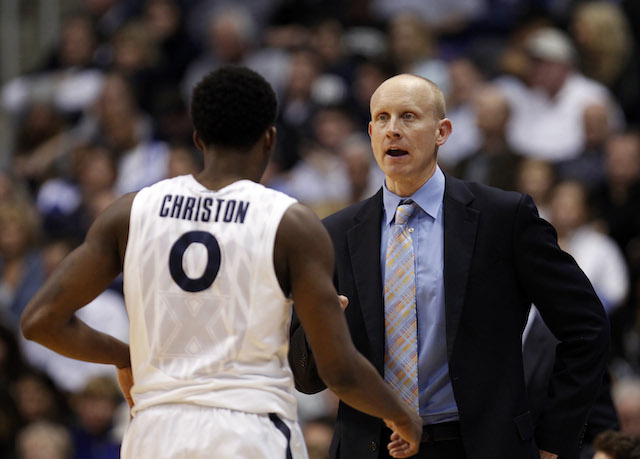 Latest in hoops: Top 25 (and one) | Bracketology | Bubble Watch
After Xavier beat Creighton last weekend, the Musketeers seemed like a sure bet for the NCAA Tournament. They got the marquee conference win they were looking for, and had also just beaten St. John's on the road. They were a step ahead of the bubble, and clearly the third-best teams in the Big East pecking order.
Less than a week later, and Xavier is back in trouble. The Musketeers fell at home to Villanova on Thursday, giving the Wildcats the outright Big East regular-season title. In a vacuum, it's obviously not a bad loss, but it's a game that could have locked up a bid for Xavier. Moreover, it comes on the heels of a road loss to Seton Hall -- a loss that gave the Pirates a season sweep of Xavier.
Thursday's loss likely doesn't drop Xavier out of the field, but it means the Musketeers will have work to do when they get to Madison Square Garden next week. Their regular season is over, so they could watch teams pass them in the bubble mix this weekend. 
The Musketeers' resume is solid, but it's by no means a lock. They have an RPI in the 40s, a solid overall SOS, and wins over Creighton and Cincinnati. Xavier also has victories over fellow bubble teams Tennessee, Providence, Georgetown and St. John's (twice). But there are some negatives, too. They are just 3-5 against the top 50, and 8-8 against the top 100. They have three sub-100 losses, including the aforementioned sweep at the hands of Seton Hall. Xavier is also just 5-9 away from home.
Xavier is probably still in the field, but it can't go winless in New York City. If the Musketeers fall in the Big East quarterfinals, it's going to be a long few days for Chris Mack's team.
Other bubble action:
-- Southern Miss and Louisiana Tech have the best at-large resumes of the Conference-USA quartet of regular-season champions, and both teams won on Thursday. Southern Miss has a much better computer profile, but Tech has a road win over Oklahoma. Moreover, the Bulldogs just got all-conference guard Raheem Appleby back from injury; he has been out since mid-January.
-- LSU's 2-4 stretch over its last six games put the Tigers a distance from the at-large field, but they bounced back with a win at Vanderbilt on Thursday. There is still a ton of work to do, and it doesn't seem likely, but there might be a pulse for the Tigers going forward. 
-- If Richmond had any life yet, it's probably gone after the Spiders' home loss to VCU. They have lost four of their last five, and they are just 4-4 without Cedrick Lindsay, who is done for the year with a knee injury.
The FBI investigation took another high-profile twist

The Zags are ranked No. 9 in the CBS Sports Top 25 (and 1)

Davis is averaging 8.8 points and 2.4 rebounds per game this season
CBS Sports reached out to coaches across the country to get their reaction to Friday's huge...

Our advanced model simulated Saturday's Creighton vs. Villanova game 10,000 times

The ex-UCLA star says college players are getting paid under the table, so it's time to legalize...