Power Pyramid: Week Four has the holiday spirit
Don't worry: we don't take weeks off here for the Pyramid. There has to be consistency when it comes to rankings, or at least the publishing of rankings. I know, I know: you're already ready to throw a few Christmas cookies at me for one reason or another. That's fine; I'm already opening my mouth and accepting your hostile donation.
• 10 min read
Don't worry: we don't take weeks off here for the Pyramid. There has to be consistency when it comes to rankings, or at least the publishing of rankings. I know, I know: you're already ready to throw a few Christmas cookies at me for one reason or another. That's fine; I'm already opening my mouth and accepting your hostile donation. (Seriously: I've already downed like 30 cookies in the past week and nowhere close to slowing up. Bring it on.)
This is the last disclaimer I'm going to use for these rankings, should anyone be coming upon them for the first time this season. We're defining "mid-major" as teams from "mid-major" conferences, whether that be for funding, scheduling abililty, top-to-bottom quality, etc. So that applies to all conferences except the Big Six and the Atlantic 10, which most in college basketball are lumping in with the big boys now, especially this year due to the influx of VCU and Butler, plus the pedigree of schools like Temple, Xavier, Dayton, Richmond, St. Joseph's, UMass and Saint Louis.
Top Tier

1. Creighton (11-1).
Why it's here: Thank goodness the Bluejays' conference schedule arrives this week; Creighton's becoming a very boring but very respectable team atop this structure. Creighton's nothing if not reliable on offense, and the defense is getting better as well. Many of you probably haven't gotten to see much of Creighton this much this season. I spent some time looking at tape over the weekend. Full-fledged crush now.
Something you should know: Creighton's weakness comes from being such a good shooting team that the Jays aren't preparatory in rebounding on the offensive end. They're down to snaring 26 percent of their shots, which puts them in the fourth percentile nationally.

Up next: Saturday vs. Evansville.

2. Gonzaga (11-1).
Why it's here: Mark Few's team is getting more and more hype for what it could be come March. I was on this early, but by some blind luck, picking the Bulldogs to reach the Final Four. We're still so far away from that. But I can't recall two other years where so many have been so positive about Gonzaga this early in the season. Will it stick if/when Gonzaga drops two or three league games? Forget that -- what about come Friday night?
Something you should know: If you missed last week's Pyramid, I want to repeat something so important, so impressive and so rare: Gonzaga has played seven games against the KenPom.com top 100, winning six of them. That's better than any other team on this list both in games played and games won. By the time 2013 gets here, the former number will leap to nine and could be at 12 within the next three weeks. It's going to amount to a record-setting seed for the Zags if they lose five games or less this season. (Absolutely possible.)
Up next: Friday vs. Baylor.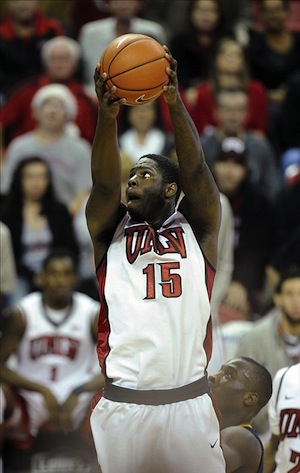 Anthony Bennett has become so vital. (US Presswire)

3. UNLV (11-1).
Why it's here: Anthony Bennett is now compiling numbers that are approaching a realm where we're going to have to start comparing him to all-time freshman campaigns. I repeat: starting. The season's not half done yet, but anyone who has seen Bennett this year understands just how skilled and powerful he is, and why all things big-picture for UNLV now rest on his shoulders.
Something you should know: It was last year when UNLV beat UNC in Vegas that the college hoops season got its first jolt of energy. Vegas at UNC in five days is a realistic barometer for both teams. For UNC, there are questions and issues that might be irreversible. If UNLV's truly a top-15 team, it goes into Chapel Hill and beats a flawed Roy Williams team.

Up next: Saturday at North Carolina.
A Cut Below

4. Wyoming (12-0).
Why it's here: It's the only non-major-conference team left without a loss.
Something you should know: Wyoming's not doing it against patsies. The Cowboys have beaten Colorado, Illinois State and Denver, three teams that aren't all-world but wouldn't shock me in the least if you told me they ended up in the 2013 NCAAs. Wyoming's the only school right now guaranteed to make it to 2013 undefeated because, well ...

Up next: Jan. 2 at Southern Methodist.

5. San Diego State (11-1).
Why it's here: The further we get away from the aircraft carrier game/loss to Syracuse, the better that SDSU looks and the more that game seems an aberration.
Something you should know: San Diego State is among the best teams in the country that can overcome bad shooting and win games. It was proven again Sunday, when SDSU took out Indiana State despite shooting 41.7 percent from the field, going 18-of-28 from the foul line and hitting only four of 17 attempts from deep. How do the Aztecs overcome it? In the big picture, the team's aggressive defense and strong discipline not to foul eliminates a lot of chances for opponents to take advantage of mistakes, mistakes that seldom show themselves.

Up next: Tuesday vs. Arizona.

6. New Mexico (12-1).
Why it's here: South Dakota State is a good team with a great player. And even though the Jackrabbits got to The Pit via a 1,200-mile bus trek, I can't/won't knock New Mexico too far after falling to a group that's favored to win the Summit League.
Something you should know: New Mexico remains the most impressive team in the country in getting to the foul line. To date, UNM has taken 363 free throws and shot 677 field goals, meaning New Mexico's "free throw rate" is bloated to 53.6 -- the highest in the country. Combine that with a healthy 76-percent team foul-shot percentage, and the Lobos should be just fine going forward.

Up next: Thursday at Cincinnati.



7. Wichita State (11-1).
Why it's here: It got dicey for the Shockers over the weekend. Wichita State only managed to put up 17 in the first half, at home, against Southern Miss before pulling away 59-51. So is it good the team rallied and restored itself, or do we look down on such a bad half? When you're good, you shouldn't be scoring less than 25 at home against a questionable team.
Something you should know: Wichita State's the deepest team on the Pyramid, maybe in the country. Eleven players are averaging double-figure minutes, and the 12th guy, junior Nick Wiggins, is clocking in for 9.5 minutes per game.

Up next: Sunday vs. Northern Iowa.

8. Bucknell (11-2).
Why it's here: I've moved Bucknell up, but really, I wonder if it's even enough. The Patriot League is no slouch this season, as the league is a combined 40-17 against "regional conferences" (Atlantic 10, America East, CAA, Ivy League, MAAC, NEC and MEAC) this year. If the Bison get dropped once or twice, they've earned the benefit of the doubt. And if they win Friday, Bucknell will be the third team in Patriot League history to win 12 non-league regular-season games.
Something you should know: Bucknell's 11-1 start was the first time in 93 years the program won 11 of its first 12 games. (I went Mike Muscala-free this week because I've got a post on him coming soon.)

Up next: Friday at Loyola (Md.).

9. Boise State (9-2).
Why it's here: The Broncos remain a viable program across the board in terms of offense. Problem is, until the Wyoming game on Jan. 9, it's going to be hard to get a gauge on this group. Two non D-I schools and a road game at Texas-Arlington isn't going to do much for me. Thank goodness for that Creighton win, the lone thing keeping the team no-doubt-about-it in this part of the Pyramid.
Something you should know: The Broncos do not intimidate a lot of teams because of their size, and that's validated in the fact not one player is averaging a block per game. Beyond that, the best is Ryan Watkins' anemic 0.5 swats per (and Watkins could be the team's most valuable player by February).

Up next: Sunday vs. NAIA Corban University (Ore.).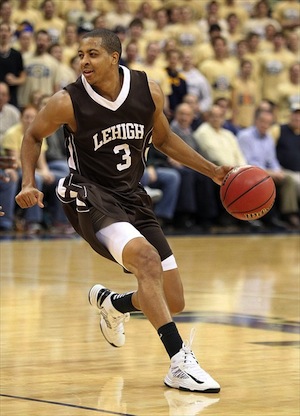 McCollum has a cool look and scoring style. (US Presswire)

10. Lehigh (9-2).
Why it's here: I love players who can score and who can shoot. There's a fine line in between there. And beyond all, Lehigh's C.J. McCollum being second in the country in scoring at 24.9 points per game (he was leading the nation until Va. Tech's Erik Green went big over the weekend) is a huge thing for a team like this. McCollum has reached a point where he is, for all intents and purposes, unstoppable.
Something you should know: Lehigh is 9-2 for the first time since ... 1925-26. And Lehigh hasn't had a healthy McCollum for part of this run.

Up next: Saturday vs. Bryant.
Base Blocks

11. Murray State (9-2).
Why it's here: The Racers fell to Dayton last week, but I'm not swayed on getting down on Steve Prohm's team. They remain good on offense, and I think we're in for a really good Horizon/OVC game five days from now.
Something you should know: Murray State earned a six seed last season based on losing just one game with an overall schedule that wasn't so great. It was a fair reward from the committee. The Racers are going to face a similar challenge this year, only now they don't have the pub and deep run into their season without a loss. After the Valpo game, the next respectable/tournament-maybe team that Murray State plays won't come until Belmont in early February. The Valpo game is a huge one.
Up next: Saturday vs. Valparaiso.

12. Memphis (7-3).
Why it's here: I mean, we're just biding time until the Tennessee game shortly after New Year's.
Something you should know: Memphis is going to be hindered once again by Conference USA. Now that most teams are 10 games deep or more into their seasons, we're getting an idea of who's aligned in which tiers overall. Be it RPI-wise, KenPom-wise, Sagarin, etc. And on KenPom.com, C-USA only has two top-100 teams: Memphis and Southern Miss. The league might have a few teams racking up wins, but they're not power wins and the Tigers will be dragged down by their brethren again for one final go-round in Conference USA.

Up next: Friday vs. Oral Roberts; Sunday vs. Loyola (Md.).

13. Utah State (9-1).
Why it's here: The schedule hasn't been great, but it did beat the team right below. And, yet again, the Aggies are one of the better shooting teams in college basketball, making 53 percent of their 2s and 38 percent of their 3s.
Something you should know: USU is winning games by 11 points per. Stew Morrill has had quite a few teams bulldoze their way to one-loss seasons in the WAC, and when I look at that league, I get the feeling "here we go again."
Up Next: Saturday at Texas-San Antonio.

14. Santa Clara (11-2).
Why it's here: Well, one: Santa. Duh. But also, the West Coast Conference might not just be Gonzaga and Saint Mary's (which dropped out this week) and BYU. Kerry Keating has the Broncos rolling after a bad season last year. This team's already three wins ahead of last season's total.
Something you should know: How bad did it get last season? The Broncos' campaign swirled and swirled and dipped down the drain in the slowest, most agonzing way possible. The team lost its last 18. That's a vicious cycle of the worst kind for a college hoops program.
Up next: Thursday vs. Rhode Island; Sunday vs. Yale.

15. Stephen F. Austin (9-1).
Why it's here: Welcome in the Lumberjacks! I love a good school named after a man. Except Oral Roberts -- that one's kinda weird. But Austin shouldn't be denied after beating Oklahoma this past week. That signals something strong, even if the team has played four games against teams outside of D-I. And believe me, it's hard to stomach that kind of sugar scheduling. In fact, the schedule is so weak going forward, merely winning won't keep SFA around. Gotta win big and hope others trip.
Something you should know: This team only makes 59 percent of its free throws, one of the worst in the country, and you can't keep that up and hope all's gonna be rosy later on. Too late to turn the trend around?
Up next: Saturday at Texas A&M Corpus-Christi.
---
Outside the Pyramid:
-- UIC, much as I love the Flames, had to drop out after dropping two straight, getting handled by Western Illinois and Miami University.
-- Saint Mary's is out after falling on Sunday to Northern Iowa, a pesky Valley team if there ever was one.
-- I got really close to including Colorado State. Really close. In fact, I'm already sort of regretting it. I see you, Rams. 
-- Teams under consideration for next week: Colorado State, Saint Mary's, UIC, Air Force, Houston, Canisius.
For more college basketball news, rumors and analysis, follow @EyeOnCBB on Twitter, subscribe to our RSS Feed and college hoops newsletter. You can follow Matt Norlander on Twitter here: @MattNorlander.
These teams went to The Big Dance in March, but could take a step back this season

The success of Chris Chiozza and KeVaughn Allen have the Gators ready to compete for SEC t...

FBI investigation suggests Quinerly received improper benefits from a Wildcats assistant c...
Meet the mid-major coach who refused to vote for the teams involved in the recruiting scan...

The player, now at the University of Portland, says he was injured during a workout which broke...