Preseason Q & A: George Mason coach Paul Hewitt
CBS Sports Network and CBSSports.com's Jon Rothstein sat down with George Mason head coach Paul Hewitt to discuss the challenges that lie ahead for the Atlantic 10's newest program.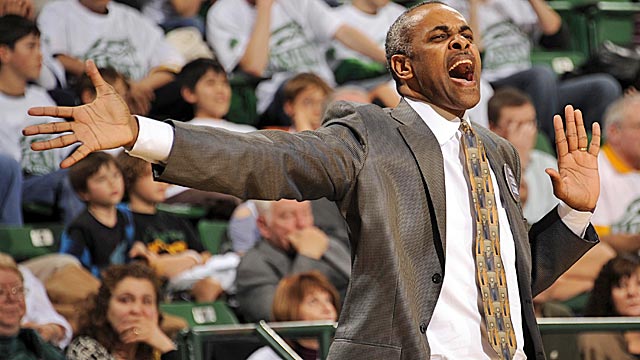 Paul Hewitt has faced a number of challenges in his 16 years as a Division I head coach, but his next task will undoubtedly rank near the top of the list. In this, his third season at George Mason, Hewitt will transition the Patriots from the CAA to the tougher Atlantic 10 Conference, which they'll have to navigate if they wish to build on last year's 21-win season which included a runner-up finish in the CBI. Most of CBSSports.com's experts have GMU as a second-tier A-10 club in 2013-14, but Hewitt's longer-term vision has the program competing with the league's elite.
Jon Rothstein, CBSSports.com: How would you describe the buzz surrounding your program since it was announced that you'll be joining the Atlantic 10 for the upcoming season?
Paul Hewitt: It's been a topic of conversation for a lot of people. The kids have been surprisingly business as usual. They're not really talking about the league. They're just talking about what we have to do as a team to get better. I think they recognize that this league is stronger. There's some really good teams in the Atlantic 10. The buzz hasn't been about the league. It's more been about what we have to do.
CBSSports.com: One of the things that drew you to George Mason was the area it was in and the recruiting possibilities that existed because of the area. Has that been enhanced since you joined the Atlantic 10?
Hewitt: There's definitely been a shift. We've had to kind of refocus. Some of the guys we were recruiting for a year or year and a half we had to take another look at, especially in July. We started to say "some of these guys may not be good enough for where we're going". You have to start comparing those kids to some of the kids that were coming into the Atlantic 10. We've had to make some definite adjustments in terms of who we're going after and I think we're improving. We're in pretty good shape and we've been able to catch up.
CBSSports.com: You were 2-0 last year against teams in the Atlantic 10, but playing those types of teams now on a regular basis is a completely different thing. After a year in which you regularly admitted that you were inconsistent in the CAA, what have you told your team about raising the level of focus and consistency as you bump up a weight class?
Hewitt: We have to get tougher. We lost a lot of games last year just because we weren't tough enough and smart enough down the stretch. It might mean giving a foul here. It might mean not fouling there. Or it might mean getting a rebound. The last game in the CAA tournament, there were three plays that really showed our lack of toughness. We had a rebound in our hands with less than a minute to go that we couldn't hold on to. We had a turnover that we knew not to dribble to a certain area or leave our feet to pass it, and that's just what we did. Then there was another time where we were supposed to foul a kid and put him on the line and make him make two foul shots and we didn't touch him. Then he got an uncontested layup. We've got to get tougher. I think the extra practice time is a benefit. We can kind of ease into things and cover a lot of special situations.
CBSSports.com: Toughness in a lot of situations starts in the frontcourt. One of your big men, Erik Copes, actually committed to an Atlantic 10 school out of high school (George Washington). How big will he be as you transition into a higher-level league?
Hewitt: If he's healthy, he'll be really good. Obviously, it's about getting him back healthy. He wasn't healthy last year. I think he's healthy now, but I did give him off the month of June. In June he did intense rehab and then in August he didn't go home to Philadelphia. He stayed here and did another month of intense rehab because this hip thing isn't coming along the way we wanted it to. It's kind of bogged him down to be honest with you. It's not just on Erik though. We have other guys that are a year older, a year wiser, a year bigger, a year stronger. When I look at a guy like Bryon Allen or a I look at guys like Marko Gujanicic and Sherrod Wright, they're mature enough to go into this league and compete.
CBSSports.com: You mentioned Bryon Allen. Being out on the road this past summer, you couldn't bump into someone on your staff without hearing Bryon's name being immediately mentioned. What has he done that's transcended his image?
Hewitt: Attitude. He's totally changed his attitude. He's always been a good kid but dealing with kids in coaching, some kids are difficult to reach. Bryon is the most coachable kid now. He's always been a great athlete but you see that athleticism on every play now because his effort level is so good now. Just a total transformation of attitude.
CBSSports.com: Is Patrick Holloway the X-Factor for this team?
Hewitt: I think a lot of guys are X-Factors. I think Patrick obviously has a chance to be a big time contributor. You saw how Jalen Jenkins has changed his body. He's so much bigger now. He's put on 25-30 pounds. He's also grown an inch and a half. Marko is also a year older and a year more mature. We've got a lot of guys. I expect Vaughn Gray to have a bounce back year. He by his own admission for some reason was just not locked in last year. So far he seems to be really locked in. That's obviously a good sign for us.
Kansas won the rivalry renewed and helped raise money for hurricane relief

Larranaga still claims he is innocent in the FBI's investigation into corruption within college...

The Tar Heels join Arizona, Kentucky and Wichita State with key players on the sideline
It's difficult to figure out how these teams will perform this season

The reigning Final Four Most Outstanding Player will miss the start of the season

These teams went to The Big Dance in March, but could take a step back this season