Preseason Q & A: Georgetown coach John Thompson III
CBS Sports Network and CBSSports.com's Jon Rothstein talks to Georgetown coach John Thompson III, on the brink of his 10th season as Hoyas coach, about the prospects for this edition of the team.
• 7 min read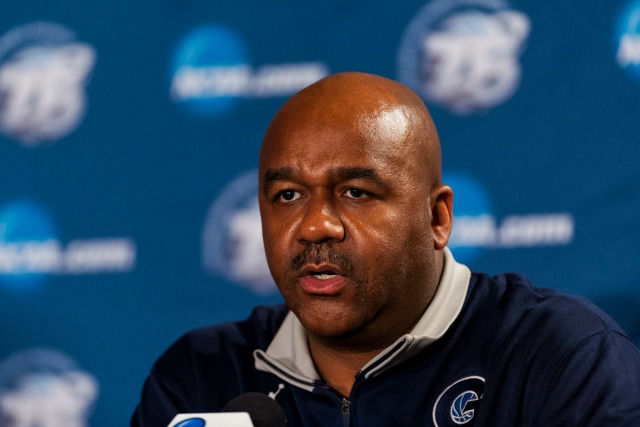 Few teams enter 2013-14 with a bigger chip on its shoulder than Georgetown, which saw the glory of a 25-win season, which came complete with a No. 1 seed in the Big East tournament (ahead of eventual national champion Louisville), take a major hit with a shocking 78-68 loss to 15th-seeded Florida Gulf Coast in the NCAA tournament. Gone from that team is Big East Player of the Year Otto Porter, who was the No. 3 pick in the NBA Draft by the Washington Wizards in June. But Hoyas coach John Thompson III does not appear willing to let his program -- which has averaged 23 wins in his nine seasons -- take a step back in his 10th. Thompson talked to CBS Sports Network and CBSSports.com's Jon Rothstein about the challenge of the new-look Big East, of overcoming last year's heartbreak, and of the team's identity in this first year of the post-Porter era.
Jon Rothstein, CBSSports.com: Does it feel any different starting a season knowing that you're going to be playing in a new conference?
John Thompson III: No. Not at all. Maybe it will feel different by the time games start, but right now it's all about preparation. It doesn't feel any different than it was before. As much as you can stress who's in, who's out, who left, who came in, when I sat down and looked at the field and the teams in the league, I still know we're going to have to play very well to win every night. That hasn't changed.
CBSSports.com: You told me over the summer that you were going to need this season to get underway for you to fully get over how last season ended in the NCAA Tournament. Has it gotten to that point?
Thompson: No. But we'll get there. Once the games start it will help.
CBSSports.com: Did that loss to Florida Gulf Coast feel any different than any other early defeat you've had in the NCAA Tournament?
Thompson: They all hurt. I can probably remember every last game in every season that I've coached. I think what does happen or what has happened is that people forget, because of how things ended, what a good year we had. There's definitely some residual effects of that. I'm hearing things about this year's team that are related to that. As good as Otto Porter was and he was terrific, we only lost one person from last year's team and that was him. A lot of people forget that. We had a very good year last year. We had a bad game at the wrong time, but we had a very good year and everyone that was here for the most part is out in our gym right now.
CBSSports.com: I feel like every year we talk about how your teams annually replenish talent, but one thing that doesn't get enough attention is that your teams play differently every year. When you think about the potential identity for this team, what will it be?
Thompson: I think we're still sorting through that. I know that this team will guard. We were a very good defensive team last year and I think that this team will guard. From an offensive perspective, we have veterans. We have Markel Starks, Nate Lubick, even the junior class with Mikael Hopkins and Jabril Trawick. They played significant minutes and won games. Moses Ayegba goes into that category as well. I think D'Vauntes Smith-Rivera has worked very hard in the offseason as well. He's probably 15-20 pounds lighter than he was last year. He's in great shape and is playing really well. We have some questions that need to be answered, but the answers are in the gym. The answers are here. We just have to figure it out.
CBSSports.com: You mention D'Vauntes Smith-Rivera. Every year in this program there seems to be a player that takes a little step to the next level. Could be that guy for this team offensively?
Thompson: He's going to take a big step, not a little one. He's that guy and he's going to take a big step and you're probably going to see something similar with Jabril. All of them are aided by Nate, who even more so than the previous three years is going to be looked upon to get other people baskets. He does that very well. Nate makes other people's jobs easier because he can get others shots but he can also create for himself.
CBSSports.com: You mentioned Nate Lubick a few times, and it feels like because of the addition of Josh Smith, people forget that you have two experienced big men returning in Nate and Mikael Hopkins. Do you feel that to be the case?
Thompson: You can't forget about Moses either. You look at both regular season Syracuse games last year, Moses was terrific. The Notre Dame game we don't win without Moses. We have juniors and seniors in the post position that haven't just played --- they've played well and played meaningful minutes and they've won games. That definitely happens. People ask me "what are you going to do about your frontcourt?" We won the Big East last year and Nate and Mikael started and Moses played a lot of minutes. Those guys have worked hard and I'm very OK with what we have up front.
CBSSports.com: A lot of people are focusing on Josh Smith's physical condition and for good reason, but what about the mental adjustment for him playing at Georgetown? How will he adapt to the type of reads he has to make playing in your system?
Thompson: He's going to be fine with that. I didn't realize what a good passer he was until he got here. He has to understand accountability. He has to understand how hard it is to be successful at this level every day. Not just sometimes. There are sacrifices that he has to make everyday. Just like in life, he has to make them when he gets on the court. If he does that, the conditioning will take care of itself. In terms of how we do things, he's pretty good at picking stuff up.
CBSSports.com: Last year you got mileage out of Aaron Bowen by his ability to defend and affect the game without scoring. Could he add more offensively this season?
Thompson: Absolutely. When you look at Aaron, a couple of things stand out. People talk about our frontcourt this year and talk about how we lost Greg Whittington. People forget he didn't really play last year. We went through the season last year and he didn't really play. It's not like this group has to adjust without having Greg. It's the same thing people forget about our front court. Those guys have played. Aaron is ready to take that step. He gave us good minutes last year and he made key plays. We're going to need him to do more. The same thing applies to him as a lot of different people on our team. It's natural for the media or the fans to say "how are they going to replace Otto?" What we need from Aaron and everyone else is just to make a natural progression. Be better in your junior year than you were in your sophomore year. Be better in your senior year than you were in your junior year. I think everyone is putting themselves in a position to do that and he is definitely one of those people.
CBSSports.com: This is the second straight year that you bring in a highly touted shooter as part of your freshman class. Last year was Stephen Domingo while this year is Reggie Cameron. Is one of the X-Factors for the season having one of those guys come off the bench and give you offense?
Thompson: It will be nice if that happens. Both of those guys can put the ball in the basket. As it relates to Reggie, his body looks a lot different than it was in high school. He's worked very hard in that regard. He's an effortless shooter and just as important, he has a really good feel for the game. I knew he had a feel but the game comes easy to him. We just need to figure out who he can guard. He's going to have to guard threes and fours. We'll figure it out. He's smart enough and he's tough enough. And his teammates will help him enough on that end of the floor.
CBSSports.com: If you had to coach against your team this year, what would be the biggest reason why you wouldn't want to play Georgetown?
Thompson: I think this group is experienced. I think this group is deep. I think this group is going to be able play big or small, and I think over the course of the past two years, we've been in every situation. We're not going to get rattled. We're going to have bad days. We're going to have lows, but this group isn't going to get rattled and understands what we have to do to win. We're poised and you're going to have to beat us.
Gary Parrish and Matt Norlander discuss the latest in college basketball

The university also maintains that Pitino was appropriately fired

Price only made it nine games into his third season
The Wildcats won't play another currently ranked team until Jan. 10

The BC fan has a ton of apparel and gear headed his way after this putt

Durant's made a habit of making sure his alma mater is set with the latest customized gear