Preseason Q & A: Marquette coach Buzz Williams
CBS Sports Network and CBSSports.com's Jon Rothstein discusses Marquette's outlook for 2013-14 with head coach Buzz Williams.
• 8 min read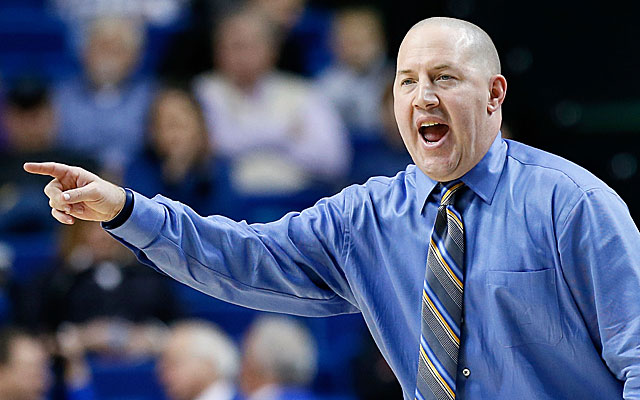 Buzz Williams has made it look easy. Williams has conquered nearly every challenge thrown at him during his time at Marquette, winning at least 22 games in each of his five seasons on the job, and in 2013 leading the Golden Eagles to just their second Elite Eight appearance in 36 years. CBSSports.com's corner of the college basketball world thinks so much of Williams that it picked Marquette as the unanimous favorite in the refashioned Big East, despite the departure of the team's top scorer, Vander Blue (now with the NBA Philadelphia 76ers) and floor general Junior Cadougan. CBS Sports Network and CBSSports.com's Jon Rothstein sat down with Williams to talk about those heightened expectations, the terrain in the new-look Big East, and the need for young players to help carry the banner in 2013-14.
Jon Rothstein, CBSSports.com: How would you define Marquette basketball for the upcoming season?
Buzz Williams: A step slow. A step behind. I think that our DNA has always been similar. The names have changed. Sometimes we have to play faster. Sometimes we have to play slower. But I think that the overall theme of how we play is fairly specific. And I see a lot of that with our returning guys already, and I understand the overwhelming feeling that our new guys feel because our old guys used to be new guys. It's always, in a demented way, kind of funny to me to see old guys see young guys struggle and they don't seem to remember they once were young. This crew of old guys have done a really good job with our new guys in terms of just telling them this is how we do things.
CBSSports.com: You told me last year that when Junior Cadougan exhausted all of his eligibility it was going to be one of the saddest moments of your coaching career. He leaves after being a multiple-year starter at the most important position on the floor. Which way does your compass point in terms of who initially fills his role?
Williams: It's Derrick Wilson. Sometimes last year to be honest, I was pointed towards Derrick but out of my loyalty to Junior and to be frank with you, Derrick's loyalty to Junior, we continued to go in the same direction. It's hard to argue with what Junior did with the success rate that he had. Even though I don't know if any possession was ever sexy with what he did. But I do think that part of the reason why Junior had the success that he had was Derrick held him accountable every day. Derrick got to school his first day and his body was Big East-ready. It's very rare that you see that in any position, particularly in a sub six-foot guard. Derrick's good. Is he great? Not yet. Can he get there? I'm not sure. Does he want to be there? Yes. Has he been a great leader thus far even though we haven't played? He's done a great job with that. And I think with each passing day he's beginning to be more comfortable with me, and I'm beginning to be more comfortable with him. That was the thing with Junior. There was a comfort level. Because of when he arrived, because of his injury, because of Dominic James' injury, because of Mo Acker only having a year left, the roster played itself out perfectly relative to Junior Cadougan's career. And to be honest, I think that the roster has played out perfectly for Derrick Wilson's career. I do think that he's ready for the next step, and I think he's as prepared as you can be having never been in that role to be ready for that role.
CBSSports.com: When you first got to Marquette, people would always talk about your teams and just say "they play really hard." As you evaluate your program over the past few years, people can now say that you've had some really talented players. Just based on your roster, not based on what people on the roster have done in a game, is this your most talented roster at Marquette?
Williams: No. Because I think there's too much youth to be able to say that. I like their talent but I don't think that you can say that it's the most talented group. I think that from top to bottom, our bottom is getting better and our top is continuing to expand. And that's what you want. You don't want the bottom to continue to weigh you down. I like the direction that we're going in with that. I think we need another really good recruiting class to be able to get out of the bottom as far as our roster is concerned. The truth is, if that happens there's going to be a metamorphosis of our roster because when you look at it a year from today there's going to be very few guys that have played a lot of minutes at this level. Just from a roster change, we're going to be really young again. So it's imperative that those four freshmen that are on our team now, the foundation that is laid for them this year. They've got to mature because next year as sophomores they're going to carry a heavier load than most sophomores do.
CBSSports.com: You've mentioned your recruiting class a couple of times. Was this your best recruiting class that you had at Marquette?
Williams: Yes. It was our best class in regards to talent. It was our best class in regards to the complexion of how it impacted our roster. Having said that, the class itself has yet to win a game. You can't judge that until four years from now. Was it a really good class? I think Georgetown has done a really good job when you study how they've put together their roster regardless of how they play, but more importantly the balance of the classifications of that roster. Who was the senior class at Georgetown? Who was the junior class of Georgetown? Who was the freshman class at Georgetown? There's got to be some continuity in that and that's when you become a consistently good program.
CBSSports.com: One player in your recruiting class that might epitomize a "Buzz Williams" type of player more than any other player you've had at Marquette is guard Deonte Burton. Did you have that same thought the first time you saw him play?
Williams: Immediately. He's a great kid. He's got an unbelievable spirit. He's got a unique story. I love how he was coached. He wants to work. He wants to be coached. He's not scared. He knows that it's hard and is OK with the fact that it's hard even though it is hard. You don't find a lot of guys like that. And so I'm very excited about what he's going to become.
CBSSports.com: Your ability to develop combo forwards like Jae Crowder and Lazar Hayward has been part of building your identity at Marquette. Does Jamil Wilson after this season take a seat at that table?
Williams: I wouldn't bet against him. I think Jamil's talent is better than those guys. Those other guys were every-day, hard core guys and I think that's what Jamil has to get to and I think he's working really hard to be that guy. He's always been talented. He's extremely intelligent. He's got some Jimmy Butler qualities. Jimmy could do multiple things, guard multiple guys. So can Jamil. His toughness level has to improve, and it has. His consistency has to be at an elite level every day in order for our team to be as good as we can be, and in order for him to go where he wants to go.
CBSSports.com: The strength of your team is definitely your frontcourt. Initially how do you think you're going to structure that?
Williams: We're trying to figure it out. As I saw the Big East All-First Team I saw five guards, all dribble guards and Davante Gardner, who thinks he's a dribble guard. I think you win with guards. It's by far the most experienced and best frontcourt that we've ever had. It's also the least experienced backcourt that we've ever had. We've got to figure out a way to meld all that together.
CBSSports.com: Why don't you need much sleep?
Williams: I'm just wired different. I'm scared. I live scared. That's not a good answer. As a faith-born guy that's for sure not the right answer. I'm anxious to wake up. I'm anxious when I go to sleep, so I wake up anxious. I'm ready to go to work. That way whether it's Media Day or it's August 20th, it's just how I'm built.
CBSSports.com: What do you think it's going to be like when you play Creighton for the first time and you have to game plan for Doug McDermott?
Williams: He's the best player in our league, and I think Coach McDermott does an incredible job in putting him in a lot of unguardable positions. I haven't studied him completely but what I do know is he can do whatever he wants, whenever he wants. The matchup with him is imperative, but ball screen coverage and all of the things that force rotation have to be right. You can't rotate and have the wrong guy guarding McDermott.
CBSSports.com: What are you going to miss the most about the old Big East?
Williams: Jim Calhoun. Jim Boeheim. Rick Pitino. Guys like that. It's a thrill for a guy like me to have the opportunity to coach against coaches of that caliber. But now I think you'll see other guys step to the forefront. I think Jay Wright will shine more now. I think [John Thompson III] will shine more now. We'll have other guys take the roles that the guys I mentioned had in the old league.
CBSSports.com: What are reasonable expectations for your team?
Williams: I don't know just yet. I'll be better able to answer that question around Valentine's Day.
Was there contact? 'Everybody saw it,' UK coach John Calipari said

After losing its second game this week, a deep NCAA Tournament run looks far-fetched for U...

Coach K shows he is on on top of his game by landing the best three prospects in the Class...
The Buckeyes and Boilermakers continue to assert their dominance in the Big Ten

The 5-star phenom was thought to be headed to Clemson, but was swayed to the Blue Devils

The nation's No. 3 player will commit Saturday and here's his impact on each of his finali...