Preseason Q & A: Villanova coach Jay Wright
Villanova was an NCAA Tournament team in 2012-13, which was a surprise to, among other people, Wildcats head coach Jay Wright. Jon Rothstein talked to Wright about the program's resurgence, and its prospects for this season.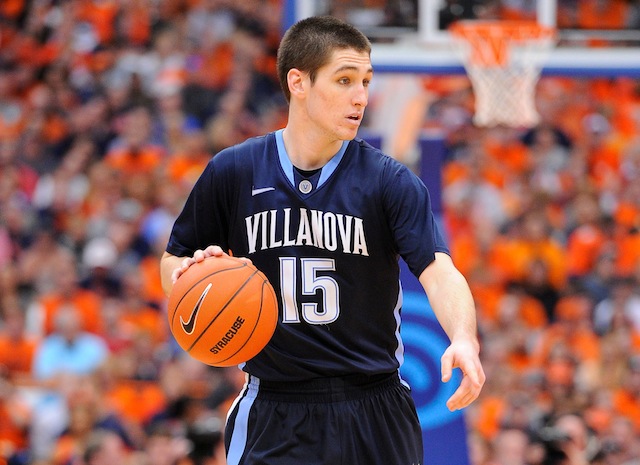 The Villanova Wildcats reached their eighth NCAA Tournament in nine years last season, improving from 13 wins to 20 -- managing to recover from a shaky 5-4 start including a shocking 18-point loss to Columbia early in the year -- and giving the program a burst of momentum as it embarks upon a fresh challenge in the new-look Big East. CBS Sports Network and CBSSports.com's Jon Rothstein sat down with VU head coach Jay Wright, who reflected on the team's climb up the standings, the road ahead for the program, and the perspective gained from his 12 years as head coach on the Main Line.
Jon Rothstein, CBSSports.com: Your team begins practice with a regained sense of culture and expectations. What was it like a year ago at this time when there was really none of that around your program after so many successful years?
Jay Wright: We were humbled before that. We were humbled during that entire season two years ago when we finished 13-19. That's never a bad thing. Humility is not a bad thing. We needed that. I wish we didn't. I liked it better when there were high expectations going into every year, I liked that better. We definitely had to come into last year knowing that we had to prove ourselves and knowing that it wasn't going to be pretty. I don't think we could have imagined it was going to be as ugly as it was at the beginning of last season, but I think we feel great about how we came out of it and where we are as a program right now.
CBSSports.com: What have you learned about rebuilding the program this time versus when you originally came to Villanova?
Wright: When we first got to Villanova we had some good players. We just had to establish what our program was going to be like. It wasn't coming off anything bad. It was just a matter of establishing what we wanted to do. This time we were coming off some negativity which we created, and I think we learned how we got there was by not staying true to our core values. We got caught up in the results -- where our recruiting classes were ranked, where we finished in the NCAA Tournament, and what our record was instead of just staying true to our core values and letting all that other stuff just take care of itself.
CBSSports.com: You mention rankings for recruiting classes. We've seen teams in the past few years from lower-level leagues advance deep into the NCAA Tournament with players who weren't necessarily recruited at the highest level out of high school. Coaches always want to get the best players they can get, but are we now seeing more of a focus on how a recruit fits into the culture of your program instead of their overall talent?
Wright: I think there are a number of programs where their culture is to get the best possible player and then create a culture around them. I think there's a lot of teams that are really successful with that. Then I think there's a lot of teams that aren't successful with that and I think we may have been one of those teams. I think there are teams being surpassed by programs like VCU and Butler who just focused on what fits their culture and being a great team rather than a great group of guys who gets the best players.
CBSSports.com: Is there any different feeling for you this year heading into the season knowing that you're starting a new conference?
Wright: Not yet. I think the excitement of starting a season always overrides what conference you're in. I think once December ends there's always an excitement about starting the conference season. I think it's going to be unique this year. We're starting on New Year's Eve (at Butler). We're going to see everybody in the Big East play on the same day. I think it's going to be thrilling. It's unlike anything we've ever really seen in the past.
CBSSports.com: Last year, you gave yourself an opportunity to go to the NCAA Tournament by beating Louisville and Syracuse in the same week. Moving forward, you won't have those types of opportunities anymore in the new Big East. Do you have to be more cognizant of how you're going to plan your non-conference schedule because you may need more high-profile games to build your resume for March?
Wright: Not yet. We're going to approach this like we're going to have the same opportunities with this new league. We think at this time that the teams in the league are going to be just as good. St. John's is going to be really good. Providence is going to be really good. Creighton is going to be good. We're going to approach things the exact same way for right now. At the end of this season, we'll revisit it and see if that question is something we have to address.
CBSSports.com: It seems like there's a bit of a carryover from your team from last season. Does it feel that way to you?
Wright: As a coach I don't want to feel that way yet. I want us to re-commit to all of our fundamentals. I think that's a fair point though. In one sense we have a young team, but in one sense we have an experienced team because all these young guys played so much and they've been through so much. There's probably some carryover and that's what good teams have. Really good teams are good teams to start the year and then they become great by the end of the year. It's hard to be a struggling team early and then be a great team at the end.
CBSSports.com: A big reason why you were able to have a bounce back season last year was your point guard Ryan Arcidiacono. We saw him have the ability to play through mistakes last season as a freshman. Now that he has a year under his belt, what can we expect from him as a sophomore?
Wright: He's one of those guys last year that had a season like Robert Griffin III is having for the Redskins right now. Ryan was coming off a serious injury and he was capable of playing, but he's wasn't 100 percent. He missed his entire senior year of high school because of back surgery. We're seeing Ryan at 100 percent right now and I think we're going to continue to see it this season. He got the experience last year but I think we're going to see what he really can do this year.
CBSSports.com: The one thing you didn't have last year which you've always had at Villanova was a guard that could be isolated and break someone down off the dribble. Will that change this season with Dylan Ennis, a transfer from Rice?
Wright: I think Dylan has the ability to be a dynamic guard. I think Ryan has gotten better in that regard, and I think Tony Chennault has gotten better with his decision-making. I think overall in that guard spot we're going to be a lot better.
CBSSports.com: The guy no one talks about and it's funny because he averaged about 11 points per game last year is Darrun Hilliard. Is he kind of your unsung presence?
Wright: He is a guy that could really step up for us this year. He really should be a sophomore because he's really young for his age. He's a junior now. When we recruited him we thought we'd probably redshirt him, but because of injuries and our situation we had to play him. I think he's really coming into his own now physically and mentally. He's got the confidence now. He had a week last year where he was national player of the week and then he had some average games after that. The great ones are consistent throughout the course of a season. I think he has a chance to do that this year. He can play multiple positions for us. He can play two, three, or four. We think he can be a really good player.
CBSSports.com: When you were at your highest peak here at Villanova and you advanced to the Final Four in 2009, you had great senior leadership with Dante Cunningham, Dwayne Anderson, and Shane Clark. How important is it for your upperclassmen -- JayVaughn Pinkston and James Bell, to emulate those same characteristics?
Wright: I think that's the key to us having a great year. Pinkston and Bell have to become efficient scorers. I think both are good defenders and good team players, but they both really have to become high-level scorers. I think they have the ability do that. If you put our young core around those two and they're doing what we need them to do, we have a chance to have a really good team.
CBSSports.com: What do you expect from your freshmen?
Wright: I think Josh Hart can be a really versatile guy that can fill a lot of roles. I think Kris Jenkins is a really intelligent who has already improved his conditioning so that he can play at this level. He has a high basketball IQ. And Darryl Reynolds could help us in an area that concerns me the most -- rebounding. He's got good size, good hands, and he's a natural rebounder. He pursues the basketball.
CBSSports.com: You were always someone who was an advocate for playing smaller. Do you think you'll be more prone to playing that way because the league you're in now will likely be smaller?
Wright: That point of playing smaller has become prevalent in the game, even in the NBA. The real transition now is towards skill, and many times smaller guys are more skilled. I think the Heat and the Pacers both do this. If you can find teams that are skilled and have size, you're still going to see size out there. We're not concerned with being small as much as we are with being skilled. That will lend towards playing smaller, but one of the things I like about this team is we have a chance to put lineups on the floor with really good size but really good skill level too.
CBSSports.com: What are realistic expectations for this team?
Wright: I don't know. Last year I didn't expect to get back to the NCAA Tournament. Our goal last year was just to get back to our core values. I wanted to be going into this year with some carryover and not having to teach guys how to play hard or how to play unselfishly. That was my goal for last year. I think we got a little lucky last year just the way things fell at the time of the NCAA Tournament. I think we caught some breaks and I thought we did a great job at the end of the year. We never evaluate ourselves based on if we make the tournament or how far we go in the tournament. We evaluate ourselves on whether or not we're playing Villanova basketball at the highest level, and that is in relation to the teams we had here in 2006 and 2009. I think this team has a chance to get close to some of those teams. I think we're still a little young, but I think we have a chance to have a very good team.
CBS' college basketball experts polled more than 100 coaches to get their pick to win it a...

Marvin Bagley, if eligible at Duke this season, projects as the country's top power forwar...

The Big Ten Tournament is a week earlier than usual, so the regular-season schedule may look...
Arizona, Grand Canyon and Tulane are also in Barcelona and have reported to be accounted for...

The Kansas forward is no longer accused of walking out on an $88 tab

Cavaliers basketball coach tapes statement on behalf of his university and his city