Providence advances to title game, on verge of NCAA Tournament
Providence will have a chance to win the Big East tournament on Saturday.
• 1 min read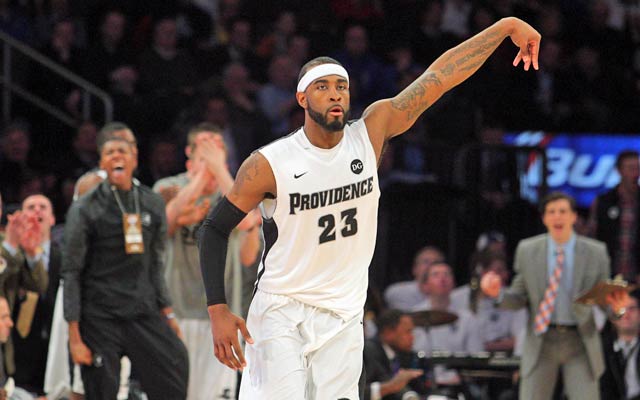 Latest in hoops: Top 25 (and one) | Bracketology | Bubble Watch
NEW YORK – In Ed Cooley's first Big East tournament as the head coach of Providence, the Friars were throttled by Seton Hall. A 22-point loss ended their season and ensured no postseason for Cooley's team.
Two years later, and a win over Seton Hall puts Providence on the doorstep of the NCAA Tournament.
The Friars weren't perfect, but they withstood every Seton Hall run in the 80-74 win.
Bryce Cotton struggled from the field, but still had 18 points and 10 assists, while Tyler Harris went for 17 points. It was LaDontae Henton, though, who was the difference for Providence. He hit big shot after big shot for the Friars, finishing with 26 points and 14 rebounds.
Henton did it while playing all 40 minutes, too.
"LaDontae Henton was a man-child today," Cooley said. "An absolute man-child. He was the first kid we recruited to Providence College when we came. I couldn't be more proud of him."
With the win, Providence advances to the championship game of the Big East tournament. A victory over Creighton or Xavier in the title game will give the Friars an automatic bid to the NCAA Tournament.
Does Providence need a victory to make the dance, though?
The Friars have a great win over Creighton, plus a solid victory over Xavier. They have fewer bad losses than most bubble teams, but they are 7-11 against the top 100 and the non-conference SOS isn't great.
A loss on Saturday could make it close, but making it to the Big East championship for the first time in 20 years wasn't the goal for the Friars. They want to take it a step further.
"Providence College was here with a purpose," Cooley said. "We had a goal and a mission. Our mission was to get to the NCAA Tournament. The mission is close to being achieved."
Playing three games in three days with a six-man rotation and multiple starters playing 40 minutes isn't an easy task, but Cooley insists they're up to the task.
"You only need five," he said, later adding, "You can't be tired playing for a championship."
And an NCAA Tournament bid. 
Jay Wright's undefeated Wildcats are now No. 1 in the Top 25 (and one)

Coach K's Blue Devils are the fourth preseason top-10 team to lose to a sub-75 KenPom team

TCU, which downed Nevada late Friday, continues to flourish under second-year coach Jamie...
The fans rushed the floor and celebrated after Taylor University scored its 10th point of the...

The struggling Bears head to San Diego on Saturday for a late afternoon tip in the Viejas...

The Irish look to get back on track after losing two of their last three