Providence pursuing Jalen Lindsey; Ethan Telfair reemerges
Jalen Lindsey is a top-40 prospect, yet it's an unexpected school making the biggest push. Meanwhile, Sebastian Telfair's brother emerges.
• 2 min read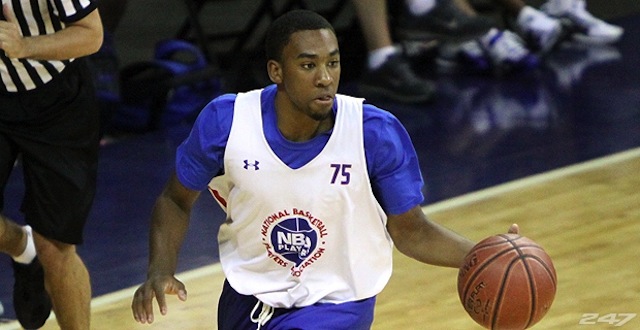 While his Southern Stampede AAU team didn't make it to the Peach Jam finals of the EYBL, Jalen Lindsey is looking to make statements at other events.
One was the Pangos All-American Camp last weekend in California, where Lindsey scored 28 points in his first two games on Saturday.
"I'm trying to prove that I belong with the best," Lindsey said. "I think that I've done well, and I can do better. I'm just trying to show that I'm a versatile player. I hit shots. I take it to the hole. It's an all-around game."
Lindsey, a 6-foot-6 forward from Tennessee, is ranked No. 27 in the 247 Sports Composite for the class of 2014. He is transferring to Huntington Prep (W.Va.) next year for his final high school season.
On the college front, Louisville, Ohio State, Florida, Tennessee, LSU and others are all in hot pursuit. Interestingly, it's a team from outside his primary geographical region that is showing the most interest: Providence.
"Coach [Ed] Cooley is a great coach," Lindsey said. "He's a great person off the floor, and I really respect him as a person."
Lindsey has taken a trip to the Friars' campus and said proximity to home won't be a factor in his decision.
"Academics is a big thing," Lindsey said. "My dream is to go to the NBA, so I look for a coach who can get me to that level."
There's no timetable on a commitment right now.
New York native resurfaces in Oklahoma
Things weren't going well for Ethan Telfair back home in Brooklyn. Playing in the shadow of his older brother, Coney Island legend Sebastian Telfair, Telfair was struggling to make an impact at Lincoln (N.Y.) and also had off-the-court issues.
Telfair had to get away from New York.
He first went to Quest Prep in Las Vegas but left after only a couple of months. Now, Telfair has surfaced at United Prep (Okla.) and reclassified to the class of 2014.
"Oklahoma is kind of slow," Telfair said last weekend. "I do like it. It keeps me focused. I keep going hard. I stay in the gym every day. I'm just trying to get a scholarship, just playing hard."
Wichita State, UCLA, Oklahoma, Baylor, UNLV, Loyola Marymount and others are all interested.
"If I keep my teammates involved, everyone will love playing with me," Telfair said. "And that's what I want. I just want people to love playing with me."
Northern Colorado will be on probation through 2020 due to academic and recruiting violati...

You might not see a projected NCAA Tournament bracket quite like this one anytime soon

The Wildcats, once written off after a three game skid, appear poised to enter Pac-12 play...
The Ducks are riding a three game winning streak yet are slight underdogs against the Bulldogs...

The Hurricanes are one of only a handful of unbeaten teams left in college hoops

The Bearcats are fresh off a convincing win over previous unbeaten Mississippi State