Q & A: Arizona's Sean Miller
Jon Rothstein sits down with Arizona head coach Sean Miller, whose Wildcats -- a popular Final Four pick -- are squaring off in the Preseason NIT this week.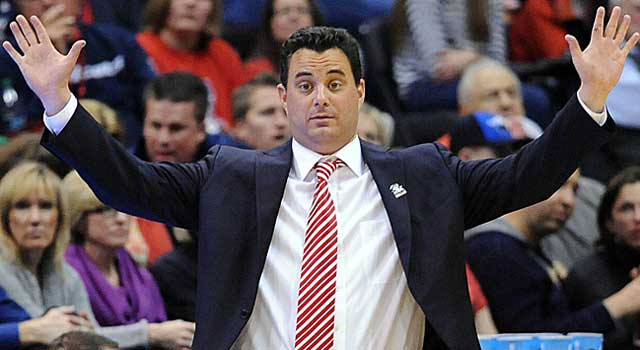 After leading Arizona to an Elite Eight and a Sweet 16 in two of the past three seasons, Sean Miller wants more. The Wildcats are currently ranked fifth in CBSSports.com's Top 25 (And One), and look like the best group Miller has had since he arrived in the desert in 2009. Before Arizona played Drexel in the Preseason NIT, CBS Sports Network and CBSSports.com's Jon Rothstein sat down with Miller to discuss T.J. McConnell's start to the season, NBA prospect Aaron Gordon, and where this team stacks up against the others Miller has had during his coaching career.
Jon Rothstein, CBSSports.com: When I was out in Tucson before the season, you told me you thought about going to the Final Four every 10 or 15 minutes. Do you think about it even more frequently now since the season is actually underway?
Sean Miller: Probably not just because now you're so much more focused on just the next game or the next practice. We're off to a great start. I thought the San Diego State game was a great test for us. I don't think a lot of people realize what a difficult place that is to play. To be able to go in there during the month of November and leave with a win is something that will really help us.
CBSSports.com: You played well enough to advance last year in the Sweet 16 against Ohio State, except for the final play of the game. When you walked off the floor, even though you weren't advancing, did you take solace in the fact that the next time you played a game you would have a point guard in T.J. McConnell similar in mold to the one you played against that night in Aaron Craft?
Miller: No question. One of the gifts that T.J. has given us is he practiced every day last year. Nick Johnson practiced with him a couple of hundred times and spent the summer prior to practice this season around him every day. So even though he's new with the fans, and this is the first time he's able to play, it doesn't feel that way. It feels like he's been with us a lot longer and that's really helped the transition.
CBSSports.com: What was the last time in your coaching career that you had a point guard this traditional and how much more at ease does that make you feel as a coach?
Miller: Probably Drew Lavender when I was at Xavier. The one thing it does, especially for his teammates is recognizing zone versus man. Being able to recognize that one of his teammates just made a three-pointer or that one of his teammates hasn't gotten the ball in a while and needs a touch. All of those things sometimes that you see as a coach but you can't translate as easily if you don't have a point guard who thinks like a pass-first point guard. T.J. is off to a really good start. A lot of people have focused on his scoring. I think as he gets used to playing with his teammates and gets more involved, I think his scoring will go up. Not that he's going to be a big scorer, but I would think that he will settle in at around 10 points per game based on where he's at right now.
CBSSports.com: So much has been made about Aaron Gordon playing small forward but when you watch your team play, he only plays that position really for a few minutes at the beginning of each half unless someone is in foul trouble. Has been that been overblown a little bit?
Miller: It is. One of the things I think for him is he plays the same way really whether he's playing with two big guys or with three guards. Who he has to defend changes but from an offensive perspective, there really isn't going to be a lot of difference. Transition is the same. I think he's in or around the basket whether he's at the four or the three. That can certainly be overblown.
CBSSports.com: If Rondae Hollis-Jefferson was anywhere else and wasn't playing with Aaron Gordon, he'd probably be talked about more when people discuss the best freshmen in college basketball. Is he kind of the forgotten guy on your team?
Miller: He's like a starter for us. He really is. Whether or not he starts is irrelevant. In meaningful games coming up here, his minutes will back up what I'm saying. He's been a breath of fresh air for us because like Aaron, his attitude has been tremendous. He embraces coming to practice and working hard every day. He has a style about him that's contagious. I think when he enters the game, in particular our fans love to see him because it seems like something happens when he comes into the game. He's gotten key rebounds and he's made great decisions in transition. I think he'll only get better. From where he was this summer and where he is now, I think like Aaron he's a product of his own hard work. He's gotten better because he's really been consistent in his approach.
CBSSports.com: One of the things that you said was a concern in the preseason was your outside shooting. Does the length and athleticism you have and the ability your team has to get easy baskets in transition offset that concern?
Miller: I think one of the things we've noticed so far and it's early on, is that we don't turn the ball over much. We played a game recently where we only had five turnovers and that's a great thing in November. We're also better around the basket too. We score a higher percentage of twos. Whether it's a post up, a drive, an offensive rebound, or in transition, we kind of offset things there a bit. The three-point shots we've taken so far have been good three-point shots and we've made a good percentage of them.
CBSSports.com: You mention making three-point shots and that brings me to Gabe York. Here's someone who was always highly thought of before he came to college and then last year he didn't play probably as much as he thought he would. How can that type of a humbling experience serve as a catalyst and allow him to get off to the terrific start he's gotten off to this season?
Miller: It's what college sports used to be about -- where you enter the fray as a young player and you fight and scratch and claw and become stronger. It makes you work harder and then you come back a year a later and carve out a bigger role because you've earned it not because it's been given to you. That's really the path that Gabe is following. I give him a lot of credit because in each of these guys' lives there's always people that are pushing them in certain directions. But there's only one guy who wakes up every day and is in the locker room and goes through it. In Gabe's quest, he's trying to fight and be the best he can. He's off to a good start because he's had the right mentality for a long time now.
CBSSports.com: Is this your most complete team as a head coach?
Miller: I would say one of them. From a depth perspective I think that's a work in progress. We have a heavy seven players that we feel good about. For us now, it's about getting that eighth player or that ninth player that we feel good about entering the game. I think we have it but it hasn't necessarily worked out yet. We have to be smart about how we manage that.
The player, now at the University of Portland, says he was injured during a workout which broke...

Please don't start with the 'Being preseason No. 1 didn't work out so well for Duke last season!'...

A look at some of the biggest name coaches in new places in 2017
The Big Ten will start playing 20 conference games a season earlier than the ACC

Pitino appeared on ESPN to discuss his ousting and the lie detector test he passed

The subpoenas are related with the FBI's ongoing investigation into corruption within the...