Q & A: Duke's Mike Krzyzewski
CBSSports.com and CBS Sports Network's Jon Rothstein sits down with Coach K, who has the Blue Devils out to a 5-1 start ahead of Wednesday night's matchup with Alabama.
• 7 min read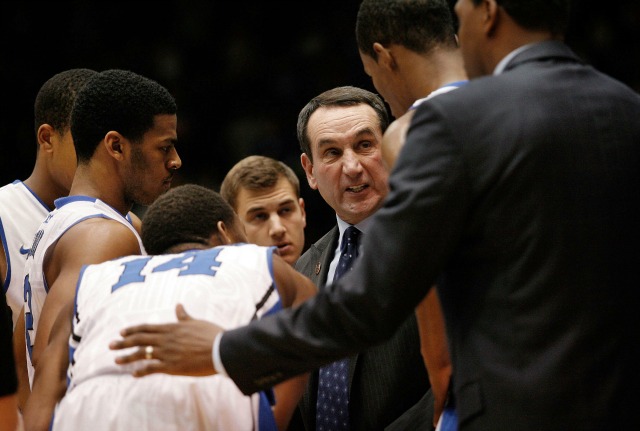 Louisville coach Rick Pitino calls Mike Kryzewski a "modern day John Wooden." The current head coach of the United States' men's national team has won four national championships at Duke and advanced to 11 Final Fours. CBS Sports Network and CBSSports.com's Jon Rothstein sat down with Krzyzewski to discuss this year's Duke team, the talent level of Jabari Parker, and what role guys need to step forward for the Blue Devils to keep improving.
Jon Rothstein, CBSSports.com: I remember you told me a few years ago that you're much more concerned with what Duke is doing versus what Duke has done. As you evaluate your team at this juncture of the season, what is your assessment?
Mike Krzyzewski: First of all, we're developing into a team. Just because a school puts on a uniform and it says 'Duke' or whatever, it does doesn't mean you're a team. The groups of teams around the country that have key players back whether they're seniors or juniors, they're usually ahead right now in terms of being a team because they were part of a team. Our group is different because our two best players have never played at Duke before. To assume that we're all ready to be a team is a bad assumption. We have to go through experiences together. We have to figure out what's good for us and what's not good for us. There's much more of a trial and error with a group like this than there would be in a year like last year when I had Mason (Plumlee), Ryan (Kelly), and Seth (Curry) as three seniors. They knew what I wanted to do with them. We had lived together for three years. These guys are a great group of kids but they have to go through things while they're fighting battles. To me, the main thing we're trying to do is to develop into a team. That takes time. It takes competition. It takes trips. It means that you have to follow your own path. You can't get caught up in where you fit in with the national scene or what's this or that. This is not football and football has to do it that way because if you lose one or two games you may not be in the picture. That's not the way basketball is. We play a tough schedule. You just have to keep getting better.
CBSSports.com: After your first experience with the Olympic team you talked about how unique it was to have so many different players you could put in different spots on the floor. How did that experience help with this specific team because of the personnel you have?
Krzyzewski: It helps somewhat. The only thing is when you're putting those guys in [on the national team], they're men. They can pick up nuances, especially nuances that go to their strengths where you're not trying to pigeonhole them or whatever. They will acclimate to that very quickly and non-reluctantly. With our guys, Rodney Hood is still trying to figure out who he is as a player even though he's really talented. Jabari Parker has played six college games. They don't recognize all the places that they're being put in yet and then the other players need to adjust. Quinn Cook has to adjust in how he plays. We're going through that process. The similarity is that there's adapting. That's the similarity. I didn't have to go through the Olympic experience to adapt every one of my teams and sometimes you adapt better in certain years than others. Or quicker maybe. I don't know what that will mean for our team but we need to adapt to our talents quicker than we are right now.
CBSSports.com: In the day and age that we're in right now with transfers, how refreshing has it been to have a transfer like Rodney Hood (Mississippi State) sit out a year, get better, and now be a completely different player than he was when he initially got to your campus?
Krzyzewski: First of all, we need to address the transfer issue. It's probably unfair or it is unfair that Rodney wasn't able to play last year when a certain number of kids that were able to transfer last year and this year were able to play right away. That's unacceptable. That's totally, totally unacceptable. Now the fact is we've had four transfers that we've accepted. We just don't go and look. We look for the right people and all of them that do come are outstanding players. Roshown McCleod (who transferred from St. John's in the 90's) became a first-round pick. Dahntay Jones (transfer from Rutgers) was a first-round pick. Seth Curry (Liberty) is killing the D-league right now but he played with a broken leg all year last year. They were all great kids and Rodney fits in with those guys. So when we look at a transfer, we try to see if would he fit well. Rodney's been superb. He's one of the great kids of all time and last year when he did sit out he never took a day off. He helped his teammates immensely and he was a big part of us being 30-6 last year even though he never stepped on the game floor.
CBSSports.com: You've had so many talented players during your time at Duke. Where would you put Jabari Parker in terms of his overall talent against some of the other first-year guys you've had at this juncture?
Krzyzewski: He's right there with anyone talent-wise as a freshman in our program. Whether it'd be Johnny Dawkins or Grant Hill or Kyrie Irving, all those guys are gifted. Jabari is gifted just like those guys are gifted. Actually when Jason Williams came to Duke initially he wasn't that because he didn't play point guard in high school but obviously he became one of our greatest players. Jabari is right there with all those guys, but the thing that he doesn't have that they all had is upperclassmen who have been though it and were really good. Grant Hill had Christian Laettner and Bobby Hurley who were lottery picks and national players of the year. In Bobby's case, he was the leading assist man in the history of the college game. Kyrie had Kyle Singler and Nolan Smith. Now Johnny didn't have anybody. Johnny came in and we only won 11 games his freshman year. Jabari though is in a position where he's our most talented player and Rodney is right there with him but Rodney didn't play last year. It's tougher for Jabari. There's no question about it.
CBSSports.com: There were moments last year when Ryan Kelly was out where Amile Jefferson looked like a guy who could really provide intangibles on a regular basis. How paramount is it for he or somebody else to try and take that role in the frontcourt?
Krzyzewski: I think there's a number of people that have to take roles. It's not just one and that big guy position, a number of people can be there. Amile can be there. I'd like to see Marshall Plumlee be there. For a limited time and you know he's been a really good player for us, Josh Hairston needs to contribute as well. It's more of a committee than one person and then at times we'll go small where Jabari is the biggest guy on the court. We're still trying to figure out who we are. I would rather take the time to figure that out than to pigeonhole my team early and not give them a growth period where they can grow.
CBSSports.com: Two years ago, Andre Dawkins had several occasions where he came off the bench and provided a huge lift. There have been moments during the first few games that he's shown that same type of ability. What would it mean to have that type of option in reserve?
Krzyzewski: Well Andre's story is a unique story. He was literally away from the game for a year. It's not like riding a bicycle. That's not to say you ever forget how to ride a bicycle. I'd be a little afraid of me going on a bicycle but the thing about Andre is that Andre's happy and he knows who he is right now. I think we just have to give him time to adjust. If he adjusts where his talents can be shown because he can really shoot the ball, then he can be a big factor for us. Whether he started or he came off the bench, he's won games for us in the past. 
Cal's form wasn't pretty, but when it works, it works

Josh Nagel has his finger on the pulse of Purdue basketball and locked in a play for Tuesd...

Gary Parrish and Matt Norlander discuss the latest in college basketball
The Mountaineers' coach surprised Self with a pullover -- and Self actually wore it during...

After beating West Virginia, the Jayhawks are on a four-game winning streak and jumped to No....

Oklahoma's basketball phenom has won the national Freshman of the Week award again