Q & A: Indiana's Tom Crean
Jon Rothstein sits down with Indiana head coach Tom Crean, whose team is 4-0 on the heels of back-to-back Sweet 16 appearances for the program.
• 10 min read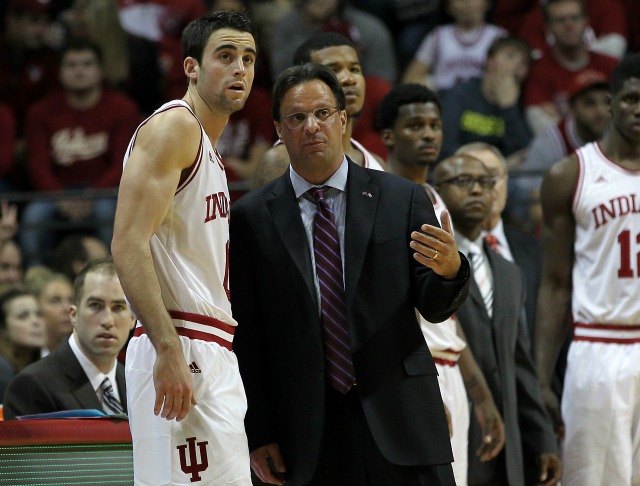 After winning 56 games in the past two seasons and leading Indiana to back-to-back Sweet 16s, Tom Crean has begun a new chapter. The Hoosiers have four new starters this season, and are 4-0 heading into Thursday night's 2K Sports Classic at Madison Square Garden where they'll play Washington. CBS Sports Network's and CBSSports.com's Jon Rothstein sat down with Crean to discuss sustaining success, the augmented roles of veterans Yogi Ferrell and Will Sheehey, and what lessons learned from his time at Marquette he still employs at Indiana.
Jon Rothstein, CBSSports.com: Is the team where you thought it would be after four games?
Tom Crean: I like the improvement they're making. That's the biggest thing. We try to keep a real close eye on things. Before we had the really good teams at Indiana, we would keep an eye on other ones. There was a standard. It's not necessarily about this guy's got to score this amount of points or that guy has got to get that amount of assists. Team wise, execution, percentages, free throw attempts, things like that. The thing we're learning right now is that we're certainly not shooting as high of a percentage as we would like to, but we are getting to the free throw line and we are rebounding the ball. Now, if we could take care of the ball better and we could keep people off the foul line, well then we would have made some serious steps towards progress. To compare them to [last year's team] wouldn't be good, because there's so many new guys. To compare them just to Cody Zeller and Victor Oladipo and Christian Watford wouldn't be good either. To compare them to the numbers and the percentages, and to compare the efficiency levels, now that's a good standard. That's what we're really trying to keep a close eye on.
CBSSports.com: You lost four key guys from last year but two players that return -- Yogi Ferrell and Will Sheehey -- were a big part of your core that went to the Sweet 16. What dialogue have you had with them about taking a bigger role?
Crean: You don't speed somebody up past the point that they're ready for. The bottom line is that the two of them have to do a great job of making their teammates better. Part of making their teammates better is to help. Some moments it's being demanding. Some moments it's being nurturing. Some moments it's patting them on the back. Some moments it's getting after them. But the bottom line is, how do you take responsibility for making them better? And the more that they do it, and I think Yogi is already seeing this -- the more that he does that, the more success he has. He's got 50 points in the last two games and he's making his teammates better every game. He's defending at an extremely high level. Will has innate capabilities of seeing the game. He does a great job of making those points to his teammates, especially in practice. Now he's got to do it during the game. He's got to continue to take what the defense is giving him. What I want those guys to really understand is they have nothing to prove. The moment you think you have something to prove is when you're going to go downhill. When you want to be better by making your teammates better and staying committed to what works in winning, now all of a sudden you're going to be much better. I think that's the path we want to stay on with those guys.
CBSSports.com: Are you more a teacher now with this group or a coach?
Crean: I think you're both. I think you're always both. I don't think you can ever switch hats. I think because you're always trying to make corrections in real time, and you're always trying to learn your players and hold them accountable to what you're trying to teach. I think in the actual game it's a whole lot more coaching than teaching. But I think the before and after, you know it's really hard to try and learn new skills in a game. You might be able to run some different plays after timeouts. With coaching and teaching if there's one thing that stands out, if there's a common denominator in it, it's the reminders. You're constantly putting reminders into them. If you stop having to remind them, then you've done a good job of teaching.
CBSSports.com: So many people have asked you this fall about trying to sustain success at Indiana, but you've already been through that when you were at Marquette. What basic principles will you take from that experience and apply to what you're dealing with now at Indiana?
Crean: I'd say this. Every time we ever made a mistake, it was because we didn't get people that came in and absolutely knew it was about the team. I think it's very, very hard in this day and age to just say "everybody is going to get it." You've got to work hard at it and there's going to be some tough moments through that. Most people really don't mean to be selfish. They're just used to the way they do things. I mean, some people mean to be selfish but hopefully you're going to navigate that in the recruiting process. I think the key is that you have to replace talent with talent, you've got to replace toughness with toughness, and most importantly, you've got to replace character with character. If you get that, well now you have a chance to get people that are really going to improve. But if you have that -- people that come in and their bags never get unpacked, or they feel it's more about them -- that can destroy you. I think you have to watch that as carefully as possible.
CBSSports.com: Your brothers-in-law John and Jim Harbaugh both had very successful years last season, and played each other in the Super Bowl. Have you talked with either of them in the offseason about sustaining success since all three of you will have to go through that to some extent this season?
Crean: No, not really. I just pay close attention to what they do. And I think the biggest thing is with those two, they're always trying to make it better. They epitomize that you're never standing still. And in that league, with free agency, the draft, and everything, that's how you have to be. John (Harbaugh) won the Super Bowl and Jim (Harbaugh) finishes one drive away from having a chance to win the Super Bowl, and they're constantly making changes and evolving as coaches within their program because players change and evolve. I think the bottom line that I've taken from them is that when you have some type of staff continuity, and you have people that are really speaking the same message -- it might be with a different voice, a different tone, a different choice of words -- but you're speaking the same language, that gives you the chance to really sustain it.
CBSSports.com: The difference with their jobs and your job is they're coaching grown men. You're dealing with 18-to-22 year old college students where anything can really change on a given day. You had a close game last week at home that you pulled out against LIU-Brooklyn. Did you feel after the game that by going through that experience it would make you and your team better as you get down the line and begin play in the Big Ten?
Crean: I didn't say it in those many words but after a long film session, and after watching their response to the film session in practice the next day, I don't think there was any question that it was going to help us. It helped us during the game. We realized we were trying to take our own identity rather than take the identity that we have to have to be successful. It's not about how quick you shoot and we're scoring a lot of points, but it doesn't happen because we come down and shoot quick and take the first shot and take challenged shots. It happens because we're working hard on defense, we're trying to rebound the basketball, we're trying to get to the foul line. We shot 17 free throws in that game and a few nights earlier we set a record for free throws for Indiana basketball when we made 45. They were able to learn some of it but it certainly had to be reiterated off the film. The way they carried that message into the next game made me realize that we were already learning and that it would definitely help us down the road.
CBSSports.com: You've had so many great freshman throughout your coaching career. What in Noah Vonleh's DNA is different at this stage than other first-year players you've coached?
Crean: For as good as he is, there's a humility for how he wants to learn that's very unique. Most of those other guys were young. Victor Oladipo's situation was different. Dwyane Wade's was different. Cody Zeller's was a little different. Those guys were different. We had a team at Marquette that started three freshman guards and there was a confidence level. Noah really doesn't know that he's that good, but at the same time he really does want to find out. There's a hunger in him that for 18 years of age that's unique. He's not even 18 and three months yet. He is absolutely locked into doing what it takes to win. He's got a maturity about him -- he doesn't always understand -- but he's got a maturity about him when it comes to response, awareness, and great body language when it comes to somebody his age.
CBSSports.com: For you, it's now been a half a decade in the Big Ten. What's been the biggest difference in coaching in the Big Ten versus the old Big East?
Crean: It's changing now because there's so many different coaches coming in from different leagues, but to me there was so many different ways to play a game in the Big East. There was so many different changes that you would have to adapt to with other teams in the Big East. In the Big Ten, teams are set with what they're going to do. They're going to play this way. They're going to run these sets. They're going to defend the down screen this way. So you have to deal with that. It's the old Vince Lombardi off-tackle play. You have to deal with the fact that you know what they're going to do but you have to be better at stopping what they do then they are at running it. You know what's coming. In the Big East, there was a lot more adjusting and flexibility. I think all that's changed now because the real adjustments are always going to be with how the game is going to be officiated.
CBSSports.com: Last year, the Big Ten looked like a top-heavy conference. Has the bottom of the league caught up to the middle?
Crean: No question about it. Penn State is going to be very good because Tim Frazier is going to be one of the hardest matchups in the country, not just the Big Ten. Iowa is the real deal. There's no question that Wisconsin is going to keep getting better. Illinois is like us. They're young, they've got some good transfers, they're going to keep improving. Minnesota has got the Hollins' and Elliott Eliason is playing at a high level too. They've added a couple of players. They've got an uptempo system that they're going to try and employ. Northwestern will get better. There's no question about that. I think it's going to be a great conference. Purdue is now all of a sudden older. Their freshmen and sophomores are older and they've added a couple of older people. That doesn't even count the fact that there's three teams in the top seven, eight, or nine rankings wise with Michigan State, Ohio State, and Michigan.
CBSSports.com: What's the biggest thing that has to happen for your team to be a squad no one wants to face in February and March?
Crean: We're going to have to take care of the ball. We're going to have to be in a position where we're making consistent outside shots with different people. We're going to have to have a lot of different ways to get to the foul line. I think the ultimate thing for us above all else, is can we really, really utilize our speed, quickness, and length on the defensive end, and be able to do multiple things at different times to cause problems so that we become a really, really hard matchup on a one or two day prep.
Kentucky losing this game probably cost it a shot at earning a high NCAA Tournament seed

Freshman had 12 turnovers and 20 points; the Wildcats rattled him and kept OU on its heels

Kentucky and UNC are just behind the Blue Devils and Jayhawks
Cal's form wasn't pretty, but when it works, it works

Josh Nagel has his finger on the pulse of Purdue basketball and locked in a play for Tuesd...

Gary Parrish and Matt Norlander discuss the latest in college basketball