Q & A: Maryland coach Mark Turgeon
Jon Rothstein sits down with Maryland head coach Mark Turgeon, who is looking to rebound from a turbulent offseason for his program, just as the Terrapins move from the ACC to the Big Ten.
• 8 min read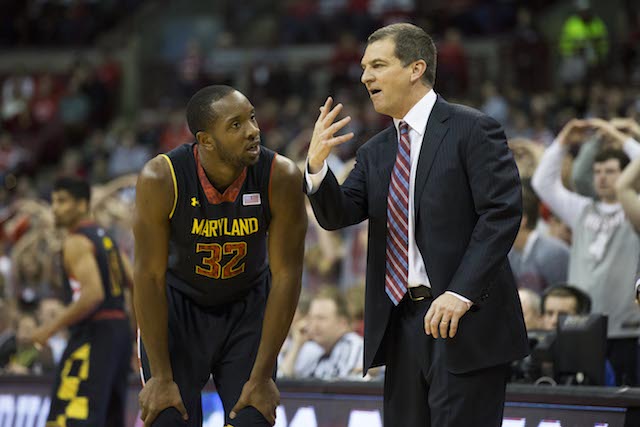 Latest in hoops: Latest News | Coaching Changes | Recruiting
Mark Turgeon is a man in transition. Maryland's fourth-year head coach (59-43 in his tenure at the school) is preparing to lead the Terps (17-15 last season) into the Big Ten this season and is also retooling his roster after five of the team's top eight scorers transferred, including second-leading scorer Seth Allen (Virginia Tech), top rebounder Charles Mitchell (Georgia Tech) and key wing player Nick Faust (Long Beach State). CBS Sports Network and CBSSports.com's Jon Rothstein sat down with Turgeon to talk about Maryland's transition to the Big Ten, the Terps' heralded freshman class, and what lies ahead for senior guard Dez Wells during the upcoming season.
Jon Rothstein, CBSSports.com: There have been a number of departures since the end of last season. As you've had some time to reflect, what's the biggest reason why you think those players decided to leave?
Mark Turgeon: They all left for their own their reasons. It's all been a blessing for them and for us. We all moved on right away as soon as that stuff happened. We have 12 really good players on scholarship. We regrouped pretty quickly. We had a good class coming in and it's like "new league" and "new team." A couple of new coaches, too. There's a lot of new stuff going on at Maryland.
CBSSports.com: Is it a little weird to think that you're getting ready for a season at Maryland in which you'll be playing in the Big Ten and not the ACC?
Turgeon: It's different. I've never done it obviously. I've changed leagues as a head coach but never with the same program. I think it will be strange for a couple of years for our fans. For some of them it will be that way for a long, long time. I think what's going to help us is football gets the first crack at it. Once the fall hits and those games start, it will kind of get it going. But I'm excited about it. I'm excited to be in a great league. We were in a great league in the ACC and the Big Ten's been arguably the best basketball league in the country over the last three or four years. With that said, you're excited about it but it will be weird. It will be weird going to Iowa because we've never been there. It's going to be weird going to Minnesota because we've never been there. It's going to be different.
CBSSports.com: You're about to become the first man to coach in the Big 12, the ACC, and the Big Ten. Based on what you've already dealt with and what you're about to deal with, what are the biggest differences you see with those conferences?
Turgeon: I don't know the Big Ten yet. I thought the ACC was longer and more athletic than the Big 12. That's the difference I saw in those two leagues, two good leagues and two well-coached leagues. I just don't know the Big Ten yet. Obviously the coaching is tremendous and the players are tremendous. I think the difference is going to be -- from what I've heard -- is attendance on the road. There were places in the Big 12 you'd go on the road and it wouldn't be sold out. There were places in the ACC you'd go on the road and it wouldn't be sold out. So I think that's going to be the biggest difference from what I've been told. Every game will be sold out.
CBSSports.com: How do the departures change the dynamic of your team for the upcoming season compared to what you were anticipating you'd have going into the Big Ten?
Turgeon: Not a lot. We felt like we had the five freshmen coming in and we felt like we knew they were going to be a big part of what we were going to do. We knew we were involved with (7-foot power forward) Michal Cekovsky and we knew he was the one that we really wanted to get. I think we're all happy with who's here now and I hope the guys that left are happy. We've got a really good group of guys that have been fun to deal with since we started working with them this summer.
CBSSports.com: The recruiting class you've assembled for next season is regarded as one of the best in the country (12th in the nation according to 247Sports). When you see a team like Kentucky last year go to the national title game with a big group of freshmen, how does that change expectations surrounding how early a young team should win?
Turgeon: Obviously Kentucky recruits at a different level. Most of the guys Kentucky signs have a chance to be in the NBA. We signed five freshmen that I hope end up in the NBA. But we'll see. We expect to be really good. These freshmen that come in these days play basketball at a high level in the summer and that's what we expect from our class this year. We expect to be good. We have four seniors and a good group of other guys like (junior wing) Jake Layman, who's not a senior but has played a lot of minutes during his career. So with the addition of these younger guys, we feel like we could be a heck of a team.
CBSSports.com: One of the key pieces of your recruiting class is point guard Melo Trimble. What elements does he possess that will enable him to make the type of impact you need him to make as a first-year point guard?
Turgeon: He's a winner. Everywhere you look and everywhere you turn, he wins. So hopefully that's going to rub off on the rest of us. He just makes the game look easy and he makes guys around him better. He just does. He's got a great feel. He knows when to shoot and he knows when to pass. And he's such a solid, good kid. When a guy that talented is such a good kid, it's great as a coach. He's going to help us in a lot of ways. The way we're trying to play this year is going to give him a real chance to be successful.
CBSSports.com: One of the biggest unknowns on your team --- at least to Maryland fans --- is North Carolina A&T transfer Richaud Pack. What can people expect from him next season?
Turgeon: First off, you've got a really solid kid that's a really bright young man. He can score. He averaged [17] a game at North Carolina A&T. He can make shots and he has a really good feel for the game. He's good at coming off screens which I like but the biggest thing I've noticed is he's a better ball handler and passer than I thought. He gets into the teeth of the defense and makes plays for other people. I didn't know that I was getting that when I signed him. That's been a good part of his arrival. He's a smart player with a good feel. He's going to help us and where he's going to help us the most is he's a fifth-year kid. He's going to help with maturity. He's been through it. He gets it. So now we have three fifth-year seniors with Evan (Smotrycz), Jonathan Graham, and him. And Dez (Wells) has been through a lot, too. So we've got four pretty mature seniors.
CBSSports.com: It seems like the one guy that's been alongside you through nearly everything you've dealt with at Maryland is Wells. What type of dialogue have you had with him this summer about what you need from him as he gets ready for his senior season?
Turgeon: Well, we've had a lot of talks. He's come a long way. A lot of the talks right now are about stuff like trusting his teammates, relying on his teammates, and trying not to do it all himself. That's going to be a process as we go through it. He's going to have to play some point guard this year due to some of the departures we've had. He played some point guard last year but we really didn't have time to practice it. We thought we had point guards in the program last year but when Seth Allen got hurt, Dez had to play point guard. Now we've got all summer and all fall to practice. And Dez has gotten so much better at it. He has been through a lot. He wants to win. He's competitive. He was loyal to Maryland and he was loyal to me. We have a mission. We want Dez to be a first-round draft pick next year. The more we can teach him about being a point guard, the more it can enhance his chances at the next level so he can play multiple positions for a team. It's a process but he's been good. We've got a great relationship. We talk a lot and he's coming. He's getting there.
CBSSports.com: What's the biggest thing you know now that you didn't know when you first took the Maryland job?
Turgeon: It's even a better job than I thought. I knew it was a great job but I didn't know it was this good. I knew what Gary Williams did here, winning a national championship. I knew the players that Lefty (Driesell) was able to bring in. I knew it was a great job but it's even better than I thought. It's a big-time job. We're close and when we get it rolling, we're really going to get it rolling.
SportsLine's advanced computer model simulated UConn vs. Michigan State 10,000 times

It's not every day that a team gets to the line zero times and doesn't complain

The Wildcats were No. 2 two days ago, but a two-game losing streak keeps them out of our r...
No. 2 Arizona and No. 18 Purdue are each 0-2 in the Battle 4 Atlantis, and they'll play each...

It's rare to see two incredibly gifted big men going head to head this early in a college hoops...

The Wildcats are no longer undefeated after losing to NC State