Q & A: SMU's Larry Brown
Jon Rothstein sits down with venerable NBA and college coach Larry Brown, who has SMU on the college basketball map in just his second year there.
• 7 min read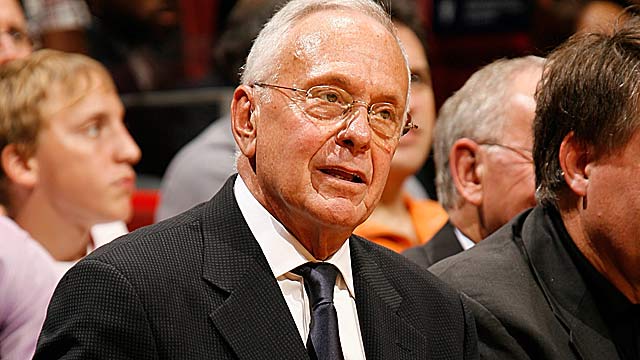 In less than two years, Larry Brown has made SMU nationally relevant. The Mustangs are 23-6 overall and 12-4 heading into Wednesday night's game vs. Louisville at Moody Coliseum (7pm ET, CBS Sports Network). CBS Sports Network and CBSSports.com's Jon Rothstein sat down with Brown to discuss SMU's rise, his relationship with point guard Nic Moore, and how college basketball has changed since Brown was at Kansas in 1988.
Jon Rothstein, CBSSports.com: If someone told you when you first took the SMU job that you'd be 23-6 with two regular season games left in your second season, what do you think your reaction would have been?
Larry Brown: I don't know. When I knew we were going into the Big East, which has now become the American, we knew it would be a challenge. UConn won a national title a few years ago and they were 9-9 in the league. You can win coming out of this league even though it's just the first year of the American. It's a big upgrade from C-USA. We've had five different teams in the Top 25 and every one of those teams can win in the NCAA Tournament. There's no nights off. We've got great players and great coaches.
CBSSports.com: How have you been able to sell a school with no real basketball tradition, in a league that's still growing, to prospective recruits?
Brown: We've got a great staff. I think that really helped. The league does help us. When you tell kids we're going to play Cincinnati, Temple, Memphis, UConn, it helps us. Our building is great. That came out unbelievable. There's also great prospects around here and that made an immediate impact. When Keith Frazier came here, it changed everything. The transfers helped out too. [Mustangs assistant] Tim Jankovich had a relationship obviously with Nic Moore from Illinois State and that really helped. Jerrance Howard had a relationship with Crandall Head and that helped as well. And we got lucky by landing with Markus Kennedy when he decided to leave Villanova. The recruits and transfers gave us a jump-start. And now with a player like Emmanuel Mudiay coming in next year, we're relevant with everyone because of who we beat to get him.
CBSSports.com: You're about to be preparing for your first NCAA Tournament since you won the national title at Kansas in 1988 -- what's the biggest difference in college basketball between then and now?
Brown: I'm not getting that far ahead of myself. We've still got Louisville and then Memphis and then the conference tournament. It'd be a thrill for all of us to get there but we're not there yet. I don't think college basketball is nearly as good now as it was then and I know Boeheim will be mad at me for that. It's a little different. We have more teams now than we had then. The biggest difference is teams like VCU, Butler, George Mason, Wichita State. Those teams have fourth- and fifth-year kids and are experienced. Anyone can beat you. A team like us, we can beat anyone but we can lose to anybody too.
CBSSports.com: What's the biggest difference in you between now and then?
Brown: I'm richer (laughs). I don't know, to be honest with you. I've always been lucky. I've had people around me that were great. I enjoy what I'm doing. I think I'm smarter than I was. I'm always learning. The two years that I sat out was probably the best thing for me. I would have never been able to be like a college coach if I didn't have those two years. I learned so much and I'm still learning. But it's fun. When I was out and going to practices at Villanova, and then spending time with [John Calipari] at Kentucky and Bill Self at Kansas and Mark Turgeon at Maryland, that was good for me. Those guys helped me out. They showed me the ins and outs of the college game. I was going everywhere. Delaware, Penn, everywhere.
CBSSports.com: How does the grind of the NCAA Tournament compare to the grind of the NBA Playoffs? How are they similar and different?
Brown: The NBA is a marathon. There's nothing like that. You play one seven game series and it's as long as the NCAA Tournament. There also used to be a five-game series in the first round. I used to tell Allen Iverson that if we got into four fights in 100 games, that was like having one fight every year in college. If you have four fights in a year in the NBA, they seem to fester. Now you get a kid mad at you here, it's nothing. Games are hard for me, but it's practice I love. If I could just go to practice every day and just be with the kids, it would be like stealing. But there's a lot of other things that go into this. Recruiting, study hall, there's a lot of dynamics that are different than the NBA. I'd say that's the biggest difference.
CBSSports.com: You were pretty emotional when you beat UConn in Storrs on February 23rd, why was that victory so significant in your mind?
Brown: I think we all felt that we were good enough to win against quality teams on the road but I don't know if our players believed it. We had chances at Cincinnati, Arkansas, and Louisville but we didn't win. I don't know if we believed that we could do it but in that game we all believed we could do it. In that game we made all the plays down the strength that we needed to make. To beat a team like UConn at UConn, when you consider their history and tradition, it was big for us.
CBSSports.com: 10 different players on your team average 12 minutes or more per game. In an era of college basketball where many players seem to want instant gratification, how have you been able to get so many different college athletes to sacrifice their individual success for team gain?
Brown: I don't know. I'm dying every game. Our starting center Yanick Moreira got hurt early in the year and now we can't find enough time for him. Ben Moore has blossomed as a player and we can't find him as much time as he deserves either. A lot of our guys have accepted it. For others it's very difficult. Early on, we were winning games we were supposed to by a lot, but now it's becoming more and more difficult. As coaches we were struggling with it. After the game, there's seven or eight guys that are happy, then there's a few walk-ons that are happy, and then there's two or three guys in the locker room that aren't. That's why we have so many transfers every year in college basketball. Guys want to go to school at great places but at the end of the day they all want to play.
CBSSports.com: You've always been famous for having strong relationships with your point guards. What's the dynamic been like with you and Nic Moore?
Brown: It's minute by minute (laughs). He's got Tim (Jankovich) sitting next to me who's like the angel and I'm like the devil. He looks at Tim and says "what did you get me into?" He's trying. He's working hard and he's making shots and I've got to continue to get him to understand what he needs to do to make us good. He sometimes thinks he can go on his own and do what he does but we need him to get other people involved. That's the biggest thing he needs to work on. I'd be doing him a disservice though if I didn't play him off the ball some, because he can really shoot. He's going to really benefit next season in that area.
CBSSports.com: The defending national champions come to Dallas on Wednesday night when you play Louisville at Moody Coliseum. What's the buzz been like surrounding this particular game?
Brown: Wow. There was a huge buzz for the UConn game because we were opening Moody Coliseum and they were UConn. Then Cincinnati was wild because they were a Top 10 team. Louisville? They're the defending national champions and they have Rick Pitino. I think we could get 20,000 people if we played at American Airlines Arena. I don't know if everyone would come to see us but I think we could get 20,000 people. They're (Louisville) so good in transition. You can't give them easy baskets because that's where they kill you. You're not going to stop Russ Smith but Nick Russell has been one of the best defenders in the country. On a regular basis, he's guarding Sean Kilpatrick, Shabazz Napier, Russ Smith, and the kids at Temple on the perimeter are really underrated. Nick's done an unbelievable job all season long.
CBSSports.com: What's the biggest reason why you wouldn't want to play SMU in the NCAA Tournament?
Brown: Great coaching (laughs). I think you could probably say that we have great depth, we play the right way, and we're capable of beating anybody. We still don't have the look in our eye yet and that doesn't happen overnight. We need to get to the point where we have the look in our eye that when we take the floor we know we're going to win. We're just not at that point yet.
Was there contact? 'Everybody saw it,' UK coach John Calipari said

After losing its second game this week, a deep NCAA Tournament run looks far-fetched for U...

Coach K shows he is on on top of his game by landing the best three prospects in the Class...
The Buckeyes and Boilermakers continue to assert their dominance in the Big Ten

The 5-star phenom was thought to be headed to Clemson, but was swayed to the Blue Devils

The nation's No. 3 player will commit Saturday and here's his impact on each of his finali...