Q & A: UCLA's Steve Alford
CBS Sports Network and CBSSports.com's Jon Rothstein sits down with UCLA's Steve Alford in advance of the Bruins' Thursday night showdown with Duke.
• 7 min read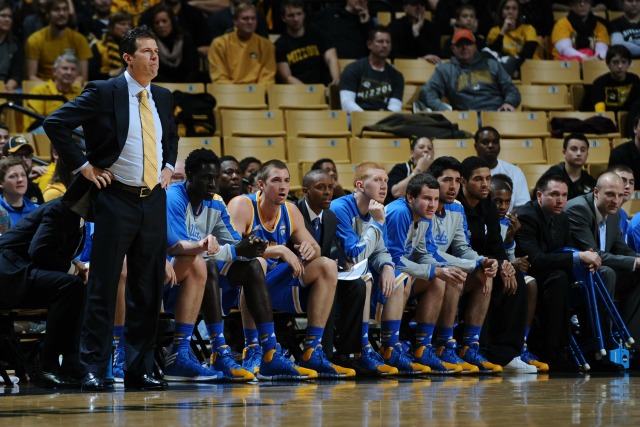 UCLA is 9-1 heading into Thursday night's showdown with Duke at Madison Square Garden. CBS Sports Network and CBSSports.com's Jon Rothstein sat down with Bruins coach Steve Alford to discuss the matchup with the Blue Devils, Zach LaVine's rise, and the ongoing dynamic between UCLA and USC.
Jon Rothstein, CBSSports.com: You heard all the myths about what it would be like to be the head coach of UCLA. Now that you're a month into the season, is it everything you thought it would be?
Steve Alford: From day one, it's been a blessing for me and an honor. I just go back to my roots. I was literally born 26 miles from Martinsville High School where Coach Wooden grew up and then my dad coached there for four years. It's still very surreal to me that I walk around with UCLA on my chest because growing up it was all about Indiana but you still knew about Coach Wooden. The two places that I had most imprinted in my mind and in my memory were UCLA and Indiana. To play at one and coach at the other is unbelievable. I don't get wrapped up in all the other outside stuff that you can't control. I've always been pretty good whether it was player/coach or controlling the locker room. Control what you can control. UCLA is a much bigger animal obviously because of the brand and what you UCLA stands for, but I've been able to keep that in perspective for the most part.
CBSSports.com: You mention keeping perspective. How have you managed the father/coach dynamic with your two sons -- Bryce and Kory -- who are on the team?
Alford: It's been great. I think the father/son dynamic is invaluable because I've been in it. It's really about the sons and hopefully my dad would say the same thing, that I wasn't too big of a pain. But both Kory and Bryce, they're both great kids. They're great teammates, they're great coach's kids. It's not one of those things where if you're in our locker room, you would think that they're just the coach's kids. They fit in really good with their teammates. They're unselfish kids and that helps. When you've got good kids like that, it makes it that much smoother. It's a lot of fun. It's a lot of fun going to work knowing that in between how you're preparing for teams and what you're doing for team meals, you're living that with your kids. That's a unique deal so it's a lot of fun.
CBSSports.com: We spoke prior to the season about how one of the big reasons you had ties to Southern California was because you recruited Kendall Williams at New Mexico. What has the adjustment been like to West Coast recruiting?
Alford: It's been great. We've gotten Isaac Hamilton already as well as Thomas Welsh, who might be the best big man in that class (2015) right out of Southern California. And the 2015 class is shaping up really well for us in Southern California. We've been able to get into Southern California with the talent that was in the 2014 class and get that. And the 2015 and 2016 looks really good. The talent that is in the LA area in 2015 and 2016 is incredible. That's going to be a big emphasis in our recruiting.
CBSSports.com: If recruiting in Southern California is going to be that good over the next few years, it's only going to enhance the potential rivalry between UCLA and USC. A lot of people have focused recently on the comments their program has made in regards to the UCLA. Is that just a spirited rivalry? How would you describe it?
Alford: Well they have made a lot of comments, that's for sure. Again, I don't control that. One side can talk. The other side will do what we do. I think there was a lot of hype early in the year with style of play and those types of things. I've always said "just make the comparisons." We're top 10 in the country in just about every offensive category and we're exciting to watch. It's been a fun team to watch. It's getting ready to come to the forefront here because in two and a half weeks we start playing each other. It will be fun to see how that works out. I think it's a unique thing just because it hasn't happened very often where both USC and UCLA's men's basketball positions came open at the same time. They've definitely been more vocal though on their end than we have.
CBSSports.com: You mention your exciting style of play and the name that has to be synonymous with that is your freshman combo guard Zach LaVine. Has he surpassed your expectations in terms of where he is at this point?
Alford: The freshmen have just been tremendous and with Zach it starts with scoring. I don't think anybody at the start of the season with the amount of weapons that we have would think that a freshman is getting 14 or 15 points a game for us. He's just really gotten off to a great start shooting the basketball. He's very explosive. He can out run anybody in transition. In the open floor, he's terrific.
CBSSports.com: Usually at UCLA every great player is going to be in the limelight more than anyone else in the country but nobody talks about Jordan Adams on the national level. How unbelievable is his efficiency level in so many aspects of the game?
Alford: He's got great instincts. Sometimes you don't put a price tag on the importance of instincts. He knows how to play the game. He can be in the wrong position defensively and you make a pass and he gets it. He's going to be top 10 in the country in steals when the season is over with. He's a good rebounding guard. You'll go through the game and say "well he's not really making shots," and then at the end of the game he'll have 20 because in games where he doesn't make shots, he shoots 12 to 14 free throws. He's just got a really unique ability to find ways to score the basketball. He averaged 15 or 16 a game last year as a freshman and now he's over 20 as a sophomore. He's just really talented.
CBSSports.com: Your perimeter has been terrific to start the season but you've said several times that in order for your team to achieve what you hope to achieve, you need to get more out of your frontcourt. Travis Wear had a big season last year but has had a bit of a slow start. How big is his role moving forward?
Alford: We put him back into the starting lineup and we really liked what we saw in the Prairie View game. He started getting more rhythm. He had surgery before the season for an appendectomy but before that he was playing at a really high level in October and in early November. Then he had surgery and you know any time you have surgery, it can mess with you a little bit. So we've gradually worked him back in but I thought he was really, really good against Prairie View just with his pace and his demeanor. Both he and David (Wear) are so fast for 6-9 forwards. They run the floor. They can shoot it so they can extend defenses. I think with those guys we can do that but we just have to prove that we can rebound. That's where Travis' numbers have got to improve. He was averaging about five to six rebounds per game last year and we have to get him back to that level.
CBSSports.com: You played in good non-conference games when you were at New Mexico but playing Duke at Madison Square Garden on the Thursday before Christmas is a completely different beast. Is this the type of game you envisioned regularly playing in when you decided to come to UCLA?
Alford: There's no question. To be in the Garden, to be in New York City over the holidays, and to have a matchup with Duke, I think that's why the players that we recruit, these are the games they want to play. These are elite games that I couldn't get at some other places. These are the games that we're going to play at UCLA. It's all part of the big stage and what makes it a lot of fun.
CBSSports.com: From what you've seen, what are your early impressions of the Blue Devils?
Alford: Jabari Parker is one of the best, if not the best I've seen on tape. He's so hard to guard. You've got to guard from 23 feet. He can shoot it or he can go one-on-one from there. He can post. He's so fast and long. He can score there or score inside. He gets to the free throw line. Offensively, he's really talented. They put a lot of pressure on you. I've always felt Coach Krzyzewski does a great job of spacing and the pace that they play at offensively. Those are two things that are maybe the hardest things to guard -- spacing and pace. They do such a good job with it so that's going to be a big test for us. We've got a lot of young guys and we're nowhere near where we need to be defensively. That's going to be a real challenge for us. 
Southern California also helped its NCAA Tournament selection hopes

The Cornhuskers, UCLA and NC State all look to improve their NCAA Tournament resumes

Our advanced computer model simulated Sunday's Wisconsin vs. Michigan State game 10,000 ti...
Knox dropped 21 points to lead the Wildcats to a win over Missouri

SportsLine's advanced computer model simulated Sunday's Tulsa vs. Cincinnati game 10,000 t...

Graham was so good on Saturday vs. Texas Tech, he's got a case for Big 12 Player of the Ye...