Q&A: Can Archie Miller, Dayton improve up on last season's success?
Dayton made a surprising run to the Elite Eight of the NCAA tournament last season. How will coach Archie Miller build on that success.
• 10 min read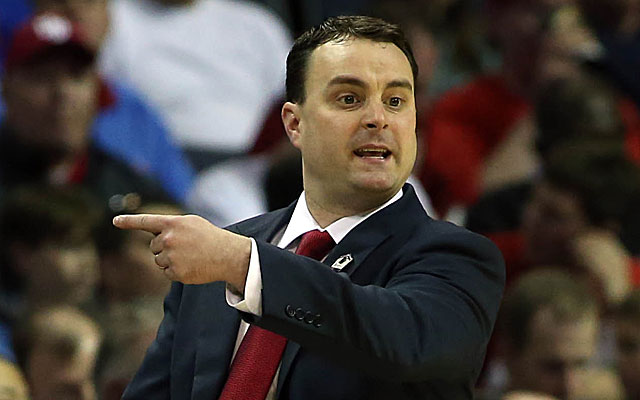 Latest in hoops: Latest News | Coaching Changes | Recruiting
Archie Miller has quickly become one of college basketball's elite young coaches. Miller, 35, led Dayton to the Elite Eight last March and spurned offers from several larger programs to remain with the Flyers.
CBS Sports Network and CBSSports.com's Jon Rothstein sat down with Miller to discuss last year's run during the NCAA Tournament, Scoochie Smith, and what's in store for Dayton in 2014-15.
CBSSports.com: What's the biggest way your life has changed since last season's run to the Elite Eight?
Archie Miller: I think the biggest thing is just the demand. Whether it'd be media or whether it'd be in town, wherever we're at we're just a lot more high profile --- which is a good thing. Those are the things you want to do, but at the same time the focus moving forward is always on next year and we're going to be a lot different. We're going to have a different crew of guys and have a lot of guys in new roles. To be able to build that and start all over again is going to be hard and it has come really been fast. It's almost like we're here again and there was no really no time to enjoy what was going on because the way college basketball is right now, it just steamrolls through to the next phase. It's been fast and there's been a lot going on but at the same time there's a lot of pop. We've got a lot of credibility in terms of how we do things in recruiting but there's always uncharted waters. It will be interesting to see how we can put this next season together.
CBSSports.com: You were 1-5 last season in the Atlantic 10 after six conference games and then your team did a complete 180. What changed within your program?
Miller: Well I think the big thing was we had a group of older players in Vee Sanford, Matt Kavanaugh and Devin Oliver in particular --- the three seniors --- who never really fractured. And because they didn't fracture through some tough times, I thought everybody else was really at peace. And we weren't that far off from having a better record at that time. We lost a couple of home games because we didn't play well, and I thought we lost some confidence. But the big thing was the mental and the physical fatigue. Being in January and having some down times, we needed to back off. Backing off our practice schedule and giving our guys a little more rest on a daily basis was important. Then you get one win and one win leads to two and then you get a couple of wins and you feel like a million bucks. One thing we did bring to their attention was Ohio State lost five in a row. Illinois lost eight in a row. Wisconsin lost four in a row. We weren't the only team that went through a lull in conference play, that's why it's conference play. It's hard. But to be able to get it back going in February was really a chemistry deal. It was guys that liked one another and we just needed to give them a different environment every day and I thought that was big.
CBSSports.com: Two years ago we saw La Salle come from nowhere to reach the Sweet 16 but last season it struggled to meet a higher level of expectations. How do you guard against that with your own team next season?
Miller: Well I think one of the things is we're going to have to be ourselves and we're going to have to hold ourselves to the same standard that we do every day. I don't think that there's many people around here that expect us to go out there next year and be a Final Four team. I think our players understand that it was very, very difficult to do what we did last year. But we've earned it the right way and as we approach this fall, we're going to be a lot more demanding early on. I think this team has to get hit in the head early before we get going. They're going to have to realize that they're not that good right now. Can we be good? Yeah, but we're going to have to really work at it every day and we're going to have to have some humility and leadership from some of these returning guys who weren't in those positions last year. So the quest to put them together, that's the big focus. It's not really about the expectations.
CBSSports.com: Before you were the head coach at Dayton, you were an assistant for your brother Sean at the University of Arizona. Now that you've been a head coach for a few seasons, how would you compare and contrast your two coaching styles?
Miller: I think the one thing about him is he's pretty much 100 miles an hour in terms of the improvement. He focuses on improvement probably more than any other guy I've been around. From practice improvement to his offense, he's constantly on a quest to improve. And his teams always get better. I'm a little bit different but we're the same in terms of styles, we're the same in what we believe in, but we're different in personalities. And I think the quest for me to be able to create that environment in terms of getting better every day is what I've worked hard on. From year one to two to three I've worked on it. Last year one of the reasons why I was pleased wasn't because of how we finished but it was because we got better. We got better in the time of the year where you have to get better. You have to find a way to get better in January. You have to find a way in February to be better. And I think that's what Sean does a great job of and the quest to work to believe in that as a coach is something that's taken me some time. Don't lose faith in the process. Don't worry about the games. Don't worry about the winning and losing. Just worry about getting better. It's something that's been hard for me to do but it's something I continue to try and get better at.
CBSSports.com: Your name was mentioned with certain high-profile job openings this past spring but you decided to stay at Dayton. Why do you think it's sometimes become more comfortable for coaches to stay where they were instead of chasing something else?
Miller: There's unknowns. The greatest thing about our situation here is the known. You know what you can do. You know the people that are around you that want you to do well. Your players are here and you're in a routine of great opportunity, excitement, and at the same time you can be as good as you want to be here. To be able to pick and move, I don't know if that's necessarily the smart thing to do for a lot of people. In this day and age in college basketball, I'm not sure that the Atlantic 10 isn't much different than a lot of these other leagues. And I think you go down the coaches in this league and their track record along with the players in the league that are getting older and better --- our league is built to last right now. It's built with great coaches and it's built with young players that get older and better. It doesn't really matter how many teams come in and out, it's always going to be a terrific league. And if you're in a terrific league and you have an opportunity to compete in it and you can make the tournament and you can put 13,000 people in an arena when everyone is showing up, what's so great then about all these other places? And I think that's the thing that gets away from everybody. It's about the ability to work and be comfortable and have people around you to help you do what you do really, really well. For me, it was very easy. This is where I'm going to be.
CBSSports.com: You mentioned the Atlantic 10. Despite the losses of several key programs over the past few years, the conference has been able sustain and augment its place on a national scale. What's the biggest reason why you think this league has been able to stay so relevant?
Miller: Bernadette (McGlade) has done a great job. We have one of the best commissioners probably in all of athletics. Her aggressiveness, her ability to think forward through all of this has been one huge deal. You can't ever forget the fact that the leader of the pack so to speak gets it. And I think when you start to come down the list of coaches, whether it's Phil Martelli, whether it's Paul Hewitt, whether it's Jim Ferry, all these guys have had great success. It doesn't matter where they were. They're all very good coaches. And when you play in this league at Saint Louis or when you play at GW or you deal with La Salle, you start to figure out this is a very, very high level league -- because of its coaches. The fertile recruiting grounds of the Atlantic 10 has always been good. You're in that Mid-Atlantic Region where the players slip through the cracks and maybe they're a little too small. Maybe they're not a perfect ACC guy at the time but in two years they will be. And that's what this league has been based on. It's got great coaches, terrific players, and I think what's happened to us here of late with the fluctuation has been that you look at a team like Saint Joseph's two years ago. Ron Roberts was a sophomore. Langston Galloway was a sophomore. The next thing you know, they were a damn good basketball team this past year. They had some big time seniors. I think you look at Saint Louis' record track with that as well, coming through with Coach Majerus and then to Coach Crews, that's a tough minded group. You're going to have a tough time playing against them because they're so old and experienced. And I think VCU speaks for itself with what Shaka (Smart) has done. So to me, this league may not have football stadiums in it but that's about the only difference.
CBSSports.com: Your team regularly played 10 or 11 players on a regular basis last season and was able to wear down some of your opponents down during the NCAA Tournament. Will you be able to exude that same type of depth next season?
Miller: We may not have the experience we had last year with the depth we had but we'll still be deep. I think when you look last year at guys like Kavanaugh or Sanford, who came off the bench --- he (Sanford) was a double figure scorer coming off the bench. I don't know if we'll have as many players as we had last year but we're going to play a lot of guys. That's what we do. I think we'll be at least nine or 10 deep and I think we'll have the ability to play different combinations which is what we like to do with our versatility. How that comes to pass though will be a work in progress. Doing what we do with the way we play is going to be very difficult to play seven guys.
CBSSports.com: The complexion of your team changed during the offseason when your starting point guard Khari Price opted to transfer. What does that mean for Scoochie Smith, his backup from last season?
Miller: Scoochie probably had an opportunity last year five or six times where he could have told me "give me the ball". He earned the right. He played well in practice, he played well in games. You looked at his assist to turnover ratio, it was high and we were winning. And what you want to do with winning is you don't want to break the mold or the routine of what's working every day. And he really in my estimation -- in particular in big tournament games -- as I looked out there at him, he belonged. He more so right now, has a chance to explode onto the scene as much as any player in college basketball because of what he's going to be asked to do. He's going to be playing heavy minutes. He's going to have the ball in his hands and the big thing about him is he's 20 pounds heavier. He's going to take the floor as a sophomore at about 180 when he was about 162-165 pounds last year as a freshman. The big thing about him is confidence in his shot. If he's confident and able to make open shots, he has a chance to be one of the best point guards in our conference.
The Spartans finished the regular season with 12 consecutive wins

The Wildcats could look like a completely different team come Selection Sunday

Southern California also helped its NCAA Tournament selection hopes
The Cornhuskers, UCLA and NC State all look to improve their NCAA Tournament resumes

Our advanced computer model simulated Sunday's Wisconsin vs. Michigan State game 10,000 ti...

Knox dropped 21 points to lead the Wildcats to a win over Missouri