Q&A: Jay Wright talks Villanova's rise, its future and Josh Hart
Jay Wright admits Villanova's rebuilding process was ugly at times but likes where his program is now and its future, largely because of players like Darrun Hillard and Jayvaughn Pinkston.
• 3 min read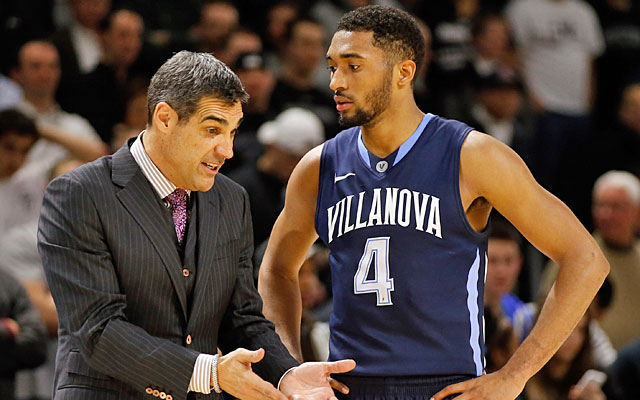 Latest in hoops: NBA Early Entries | Latest News | Coaching Changes
Jay Wright has led Villanova back to national prominence. The Wildcats are on the heels of a 29-5 season in which they won the Big East regular-season title as well as the prestigious early season tournament at the Battle 4 Atlantis. Wright recently discussed Villanova's rise back to the upper echelon of college basketball, the Wildcats' arduous non-conference schedule next season, and what's in store for Josh Hart during the upcoming year.
Jon Rothstein, CBSSports.com: Were there times a few years ago that you wondered if you'd be able to get back to the level of play that you achieved at times last season?
Jay Wright: You always have a little doubt and that doubt is probably good. It's probably part doubt, part fear. It motivates you. I'd have to say yes to that question but I do like where we are right now as a program.
CBSSports.com: What's the hardest part of regaining momentum as a program in college basketball once you've lost it?
Wright: It's building the culture back up and not being afraid to admit that you lost it a little bit. You have to admit that to yourself and then you have to have the patience to build it back up. A couple of years ago at the beginning of the season it was ugly, but we knew we were going in the right direction.
CBSSports.com: Your non-conference schedule is loaded with quality games. How much is that a reflection of the way conferences have shifted over the past few seasons?
Wright: I think it's a combination of a couple of things. We always have a great non-conference schedule because of the Big Five. Then knowing that we were going to have an experienced team coming back, we wanted to get as many competitive games as we could. We wanted to keep the rivalry with Syracuse alive, so we kept that game. And once you start adding all those things up -- playing in the Jimmy V Classic, playing in the Legends Classic at the Barclays Center -- you say to yourself, "wow, we have a heck of a schedule." And that's good. That's the way we want it to be.
CBSSports.com: We've seen certain players at Villanova reach a different level once they become seniors. Is Darrun Hillard the next person person to follow in that line?
Wright: I definitely think so. He's primed to be a great leader and so is Jayvaughn (Pinkston), but they've got their different ways of going about that. I think everyone expected him (Pinkston) to be a great leader and expected him to be where he is right now as a player. I don't know if people expected him to grow up as much he did as a young man whereas with Darrun, I don't think people expected that of him. I think they're both in the same spot where they're both going to give great leadership to this team during the upcoming year.
CBSSports.com: We saw glimpses of brilliance from Josh Hart last year as a freshman. What's going to change for him as he takes a more expanded role as a sophomore?
<strong>Wright:</strong> He's just one of those guys that you coach who you know is going to be an outstanding player because he's got all the qualities and personal characteristics that matter. He's proud. He works hard. He's humble. He's very coachable and very secure in himself. When you see a talented kid with those qualities, you just know he's going to be successful.
Wall is preparing for life after basketball and wants to finish his business degree

Here are teams in the midst of big turnarounds who could be big threats in the Big Dance

Our advanced computer model simulated Monday's Minnesota-Wisconsin game 10,000 times
The latest coaches poll has Michigan State at the top followed by Virginia and Villanova

Zack Cimini nailed 67 percent of his college basketball picks and released a play for Okla...

Zack Cimini is on a 34-24 run and just released a pick for Monday's Maryland-Northwestern...