Q&A: Larry Brown reflects on 27-win season, Mudiay decision, SMU's future
Larry Brown led SMU to 27 wins, including two over eventual champion UConn. Was it tough for the Hall of Fame coach to watch the NCAAs as his Mustangs were relegated to the NIT?
• 12 min read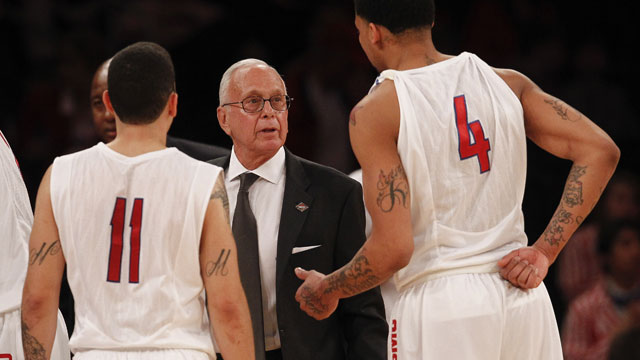 Relateds: Mudiay to play in China | McQuaid decommits from SMU| Top 25 (and 1)
Larry Brown has made SMU into a nationally relevant college basketball program in less than three years on the job. The Hall of Fame coach led the Mustangs to 27 wins last season along with a runner-up finish in the NIT. CBS Sports Network and CBSSports.com's Jon Rothstein sat down with Brown in East Hampton to discuss last year's highs and lows, the situation surrounding prized recruit Emmanuel Mudiay and what's ahead for SMU in 2014-15.
Jon Rothstein, CBSSports.com: How difficult was it for you to watch the NCAA Tournament last year given the fact that you beat UConn --- the reigning national champion --- twice during the regular season?
Larry Brown: I was a big fan of a lot of guys in it so I didn't want to take away from them. You know how it is every year -- you can look back at different games and say that things could have been different if we did this or that. I always get tired of hearing guys say "we deserved to get in" because what does that say about the teams that got in? I mean you can make the case for a lot of teams. We still got five great games out of the NIT. The only thing that bothers me about this process is you don't know what the criteria is. When they [the NCAA] say strength of schedule matters, well we beat Wyoming with Larry Nance Jr. and they beat San Diego State up there in that same arena. So Nance gets hurt and Wyoming's RPI goes south. Rhode Island was supposed to be good and they didn't wind up having the type of season that they hoped to. There were so many teams that we played that were supposedly high quality teams and you also have to take into account that we can't play everyone we want to. That disappoints me. I want everybody in. What's the big deal? The NCAA always says "in the best interest of the student athlete." That's garbage. What does Maryland get out of being in the Big Ten? What does women's field hockey get out of playing at Iowa? How are they going to get to Iowa? It's not like basketball or football where they can charter and football is on the weekend. So I say let everybody in the tournament and play an extra weekend. Have the biggest tournament ever.
CBSSports.com: How much did that experience change your mindset in regards to how you built your non-conference schedule?
Brown: It's hard to get people to play you. Especially at our place. Nobody wants to come here. But we've got Gonzaga at Gonzaga, Michigan at Michigan, and Indiana at Indiana. I don't think many teams have that plus you've got to factor in that we have 18 conference games. I remember when I was at Kansas which then was the Big Eight, we had 14 conference games. I always tried to play big games in my non-conference schedule but if you played three or four big games, people said wow. And now we've got 18 league games and we've got the teams I mentioned plus Arkansas, who is going to be really good again. We've got Wyoming, and I really think Larry Shyatt is a great coach. I think they'll be good. We're definitely trying. My assistant looked at me like I was crazy when I told him that our goal here should be to try to win a national championship. I think we need to aim for that. I'm not sure how this new stuff with the power five conferences is going to affect stuff, but I think if it does come to pass it's going to kill sports. I'm not opposed to rewarding players. I want every kid to go to college and be like a normal student. I want them to be able to go to a movie, go to a concert. I want them to be able to have that opportunity. But if you're paying kids, are you going to pay a lineman less than you're paying a quarterback? I don't know how to explain that stuff.
CBSSports.com: How far do you think your team could have advanced if it did indeed make the NCAA Tournament?
Brown: We could have beaten anybody but we could have also lost to anybody. That was another thing --- when you look at criteria --- we were in every game. We were never blown out of any game. We got down by 24 at Arkansas but we were within six with the ball with a minute and a half to go and turned it over. That was the closest we came to being blown out. Every other game we were in and I think it speaks something about our team that we competed that way in every game. You could have gone into the NCAA Tournament and lost in the first round but we went to the NIT finals in the Garden and lost a hell of a game. We played good teams. So I look at it as a plus. We were playing longer than anybody except for the Final Four teams.
CBSSports.com: Your team was projected to be in the Top 10 of many preseason polls because you had signed Emmanuel Mudiay, who has since inked a professional contract to play in China. Would you still recruit a potential one-and-done type prospect after what you just went through with a player of Mudiay's caliber?
Brown: Yeah because I'm the best coach for that guy. I believe that and I don't mean it in a bad way. I'm still close with the kid and the family. I thought it was a bad decision but I'm going to support him because he decided to come with us because he trusted us and thought we could help him. I was aware of some of the obstacles he faced but you can't tell somebody that has nothing and is struggling for everything to pass up a chance like that. My theory is Emmanuel is going to make it. He's that good and he's a great kid. But it's not going to be good for everybody. And I'm afraid that there's a lot of people out there that are going to push people in that direction. Unfortunately, there's agents and so-called agents pushing them that way and I worry about that. If the NBA would ever get a hold of this thing and make it like baseball, it would be better. I mean look at it. Rory McIlroy came out early, Rafael Nadal came out early, great baseball players leave early. You shouldn't be held back if you're someone like LeBron [James] or [Kevin] Durant, but there's not many of those guys. You look at the NBA, there's all these young kids that are drafted on potential. They go to bad teams, they're in bad locker rooms, and now we got this analytics stuff that doesn't teach kids how to play. We've got these workout coaches that don't teach kids how to play basketball. I would hope the NBA Players Association would say that people like LeBron could come out early because he's so gifted but if you stay, you stay three years. Your skill level will be greater and the chances of you going to the NBA are much greater. You're so much closer to being able to handle all of the other outside things that go on with being in the NBA besides just playing. I don't understand why the players association won't do it because it will give the older guys a better opportunity to play and expand their careers. I don't get it.
CBSSports.com: Did you expect him [Mudiay] to be eligible the entire time you had him signed?
Brown: Yeah I did. I knew there were issues with Prime Prep but that was the year before and a few players had to fight it. But Deion Sanders changed the principal and a lot of the teachers, so the school was much further along than the previous year. I'm new to this but I didn't realize that if you've changed high schools and you're one of the top players, they [the NCAA)] red flag everybody. I was caught off guard because I was just focusing on the hope that the clearinghouse would let him come to SMU and he could have come in the second semester. He was admitted to SMU and then we would have taken our chances but to be on the safe side, they said he needed to take a couple of courses. I didn't know what to do there. Our academic people told us that he was going to get cleared. And then this amateurism stuff, everyone goes through that. That's part of the NCAA clearinghouse.
CBSSports.com: How does his absence change the chemical makeup of your team heading into next season?
Brown: We went from a legitimate team that had a chance to win a national championship to a team that has to get better. We're going to have to do a better job and coach them every day. Again, not having Emmanuel impacts us because we didn't have any other alternatives. You can't all of a sudden invent another guard. I knew we couldn't invent another Emmanuel Mudiay but we could have gotten another kid who could have stepped in. That's going to impact us but I think our young kids got better. If you're begging kids to come to your program and tell them that it's the right place, well hopefully you're the type of coach and you have the type of coaching staff that can make kids better.
CBSSports.com: We spoke several times last season about your relationship with Nic Moore. How much will having a few years in your system benefit him heading into 14-15?
Brown: I have a lot of admiration for him. I think with every kid I coach I'm trying to get them to do the right thing all the time. I always feel like you should raise the bar. There needs to be expectations. So for Nic, every year I raise the bar. People have to understand though, he's in a more difficult situation than anybody. First, we all know how important the point guard is and it's becoming more important. And he's there at SMU with his former head coach [associate head coach Tim Jankovich, former Illinois State head coach] and now he's got his new head coach. And even though Tim and I are really close and have respect for each other, that's hard for Nic. But he's working at it and he's getting better. He's making a lot of progress.
CBSSports.com: You played 10 players last year 12.9 minutes or more. Eight of those players return and you also added a fifth-year transfer in Xavier's Justin Martin. How many players do you anticipate playing on a regular basis next season?
Brown: I think that stat is deceiving because we won a lot of games early by big margins so a lot of kids played big minutes that maybe they wouldn't have. I'm going to play the kids that help us win. Justin [Martin] is going to play. We really didn't have anyone to replace Shawn Williams or Nick Russell in terms of being older and a little more mature and being able to handle an old coach. You know, a guy to explain to the younger guys that I care about them and that's why I'm always coaching them. We're going to play the guys that give us a chance to win. I really believe Sterling Brown, Ben Moore, and Keith Frazier are going to take a major jump. I'm new in a lot of ways to this, but the jump from freshman to sophomore year really is huge. I'm expecting them to get a lot better and Yanick Moreira is going to be healthy. He's playing for Angola now in the FIBA World Championships which is huge for him. Markus [Kennedy] can be as good as he wants. It's all about working hard and thinking that every game is a big game. But we'll play whoever helps us.
CBSSports.com: You mentioned Nick Russell. It seemed like anytime you faced an elite guard last season, he got the defensive assignment as a stopper. Who steps into that role for your team next year?
Brown: We're going to be better defensively just because everyone is a year older and we work so hard at that part of our team. I don't know if you can replace him though. Nick was the best defender and Shawn [Williams] was the best team defender. So everyone is going to have to improve in that area. Freshmen are usually way behind in that area based on what we asked them to do but I really feel like everyone got better. Sterling has a chance. Ryan Manuel could be great too. He just didn't grow up being a basketball player, he grew up a great athlete. We have guys behind our perimeter than can erase shots. Ben Moore --- I've got to learn how to use him. He's so talented. We're just going to have to figure it out. Maybe we'll use some zone to protect some guys in foul trouble and then I think we're going to see a lot of zone too. I hate zone but if we put it in, we'll at least be able to practice against it.
CBSSports.com: Even after you had big wins last season, you said you still didn't feel your team had the "look in its eye" it needed to win big. How do you change that, especially now that your program has a much larger place on the national scale?
Brown: I think it's being in big games. I didn't realize the quality of the NIT. When they changed the rule --- that if you win your regular season conference title you make the NIT --it changed everything. The teams that were in it were better and then when they went from 64 to 32, it got better. We've been in big games. We lost at Louisville, but we were in it until the end. We lost at Cincinnati and the free throws were 34 to eight in their favor. We beat UConn at UConn. We lost at Memphis in front of a full house. We were right there until the end. We also had all those NIT games. So in a lot of ways, it's made us more mature. But also, the biggest change we need to have is when certain teams that we're playing are supposedly "down," we've got to have enough respect for our opponent to know we've got to play. The great programs, they're beating everyone convincingly regardless of who they're playing. We're learning that, but I have do to a better job of stressing that on an every day basis.
CBS Sports HQ Daily Newsletter
Get the best highlights and stories - yeah, just the good stuff handpicked by our team to start your day.
Please check the opt-in box to acknowledge that you would like to subscribe.
Thanks for signing up!
Keep an eye on your inbox for the latest sports news.
Sorry!
There was an error processing your subscription.
The Texas senator drafted the Blue Devils' star before playing Kimmel in a game of one-on-...

John Calipari should have his deepest and most experienced team since 2015

Seven players guaranteed and/or likely to get picked on June 21 weren't seen as NBA material...
Bassey was considered a top-10 talent in the 2019 class and will be an immediate boost for...

The catch: Conferences can still restrict transfers within the league

Georgia's new hoops coach tells Dennis Dodd what it's like to have the Harbaughs as in-laws,...