Q&A: Manhattan coach Steve Masiello
After a wild offseason, Steve Masiello is back where he started. The current Manhattan coach discusses his roller coaster ride and how he recovered from the South Florida mishap.
• 6 min read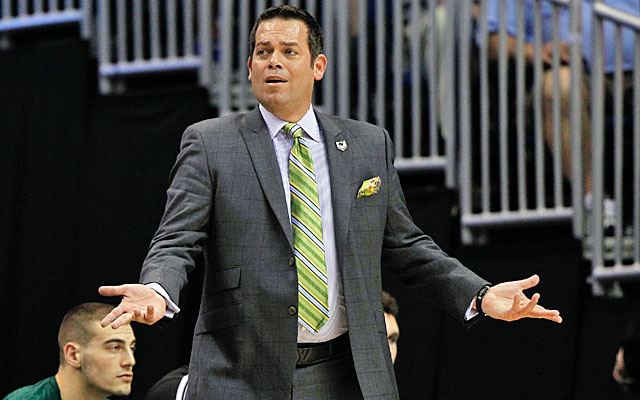 Steve Masiello has weathered the storm. The current Manhattan head coach led the Jaspers to their first MAAC title and NCAA Tournament appearance since 2004 last season and then accepted the job at South Florida only to lose the post due to an inaccuracy on his resume. CBS Sports Network and CBSSports.com's Jon Rothstein sat down with Masiello to discuss the coach's crazy offseason, his newfound perspective, and what lies ahead for Manhattan's program during the 2014-15 campaign.
Jon Rothstein, CBSSports.com: Considering everything that you've had to deal with over the past few months, how nice is it to wake up and plan a practice?
Steve Masiello: It's great. It's the best feeling I've had in a long, long time. Just to get back to doing something you love every day, something that you're passionate about, something that drives and motivates you, something that allows you to be with people. My job is something I love to do and to be able to do that on a daily basis just makes my life complete.
CBSSports.com: Was there ever a moment in your mind during the process where you resigned yourself to the fact that you were never going to coach college basketball again?
Masiello: Definitely. That was a reality that you feel. Even when it's night time, you don't know what time it is when it's dark out. You just know it's night time and it's dark. I didn't know how long it would last. I didn't know how bad it was and it's one of those things where you just have to really face adversity head on. You have to deal with it head on. You can't duck it. You can't wish it away. I tried to just take it head on. Not run from it. Not hide from it. Own it and make myself a better person because of it. Make the people around me better because of it. Learn from it and don't try and justify it or reason it, just make myself better because of it. That's all I could do but the reality of not coaching again was definitely something that was scary.
CBSSports.com: The amazing thing is in just over two weeks, you beat Iona and win the MAAC title, then you nearly beat Louisville and your mentor Rick Pitino in the NCAA Tournament, and then you get and then lose the South Florida job. What was that emotional roller coaster like?
Masiello: The highs and lows were unbelievable. You go from maybe the highest point of your career, which was the MAAC championship to now actually taking the court against your mentor and you have a heartbreaking, gut-wrenching game where you're up at the four-minute timeout with a chance to win. And you lose that nail-biter and then in the next 48 hours, your life basically goes on a roller coaster that you never thought would happen. From other jobs to this job to all the things that went on. I feel like I learned life lessons in a weekend. It was a lot to deal with. Thank God I have a great support system --- my players, my staff, my family --- that are there for me and are a great support system for me to rely on.
CBSSports.com: What advice did Coach Pitino give you when all of this was going on?
Masiello: There's always light at the end of the tunnel. Be honest. Be up front. Own it and get back to doing what you do.
CBSports.com: How humbling was it to finish your remaining academic requirements at the University of Kentucky and what exactly did completing your degree entail?
Masiello: It's humbling. It kind of reminds you of what is at the core of this whole thing and what it's about and that's being a student-athlete. Our job is about making these kids better and making them better people. So when you get put back in that situation and in that kind of world again, even though we're basketball coaches, your interaction with academia isn't maybe as big as people in the outside world perceive it to be. It's really become church and state. There's a separation between athletics and academics in college. So to get back in and see the core of what's going on and see their responsibilities are, it was kind of refreshing.
CBSSports.com: If you could rewind the clock back to 2000 and do things differently, how would you handle things?
Masiello: I would make sure I did everything I needed to do to have that piece of paper (degree).
CBSSports.com: What was the first conversation like with your players at Manhattan after you returned to campus?
Masiello: It was great. We were having dialogue the whole time. They knew what was going on and I was honest with them the whole time. They've just been phenomenal the whole time. They knew about my initial decision and they knew how things turned out afterwards. They're family. They're there for me in good times and in bad. We're a tight group. I love them and I'm lucky to have such great kids like them who are so supportive of me.
CBSSports.com: You've always stated your desire about making Manhattan one of the premier mid-major programs in college basketball. Do you feel as if you've lost any momentum because of what happened after last season?
Masiello: No. Momentum to me is defined by success and the ability to make your players better and enhancing your brand. I think that will be answered this season. I could see us losing momentum because we lost Rhamel Brown, George Beamon, and Mike Alvarado. That's the bigger thing when it comes to the reality of what you're now building. You try to build up and get to that level like the NCAA Tournament and get to the point where we're having postseason success. That's your first goal. Now the second goal is, can we continue to sustain that? We're going into kind of a new era. Not because of what we lost but because this is kind of uncharted territory. We're trying to sustain success for a long period of time and we're going to find out if we have the ability to do that. That's where it's going to get interesting.
CBSSports.com: You mentioned that you have to replace three separate 1,000 point scorers from last year's team. What's going to be the hardest part of attempting to get back to the NCAA Tournament for the second consecutive season?
Masiello: Well I think understanding the fact that we lost three men. I say that because they are men. A fifth-year senior in George (Beamon) and two guys in Mike (Alvarado) and Rhamel (Brown) who were probably guys who played 110 games or so in their college careers. They had pretty much seen it all and what you saw from them this past year was an accumulation of their four-year careers hitting an apex at the right time. I think the first thing that's going to be hard to understand is how hated we are. I say that because of success and that's why I have so much respect for Iona. Because they were able to continually have success even though everyone was out to get them. People are going to be out to get us now. Can we withstand that? Can we withstand being a target that people are trying to come after? There are two ways to look at it. One way is Manhattan is still the defending champion and you've got to go take it away from them. Or the way I'm looking at it is last year had nothing to do with this year. Now we've got to go win another championship and that's what our approach is going to be. But if I was in the other locker rooms, I'd be saying you have to go take it away from Manhattan. That's what I said last year. I said it's Iona's championship and we've got to go take down the champion. Our guys have to understand that. We lost three guys who really understood what the mental piece was about. 
Wall is preparing for life after basketball and wants to finish his business degree

Here are teams in the midst of big turnarounds who could be big threats in the Big Dance

Our advanced computer model simulated Monday's Minnesota-Wisconsin game 10,000 times
The latest coaches poll has Michigan State at the top followed by Virginia and Villanova

Zack Cimini nailed 67 percent of his college basketball picks and released a play for Okla...

Zack Cimini is on a 34-24 run and just released a pick for Monday's Maryland-Northwestern...