Q&A: Texas' Rick Barnes
Jon Rothstein talks with Texas coach Rick Barnes about his team's surprising season and the players' commitment to winning.
• 7 min read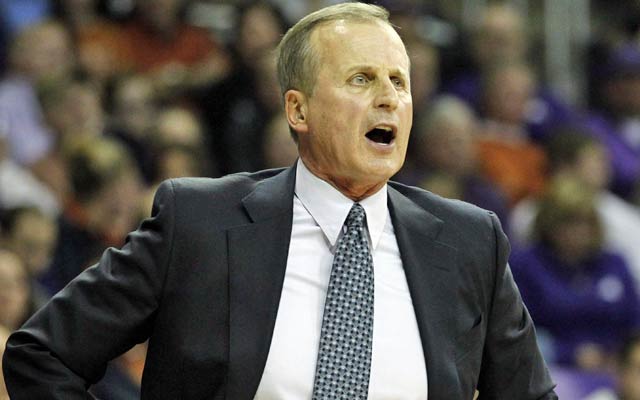 Rick Barnes has weathered the storm. After an offseason filled with speculation that this season at Texas would be his last, Barnes has the Longhorns off to an 18-4 start with a 7-2 mark in Big 12 play. CBS Sports Network and CBSSports.com's Jon Rothstein sat down with Barnes to discuss exceeding expectations, Texas' chemistry, and the Longhorns' long-term potential.
Jon Rothstein, CBSSports.com: The season started with all these rumors about your job status after this year. How gratifying has it been to see all that talk dissipate after your team's strong start?
Rick Barnes: For me personally, we've had some tough years but nothing like last year. I only had one year like that and that was when I was at Providence. Like any coach, when the year is over, you assess where you are. You have to make the decisions you need to make to move the program forward and you do that. We looked at the guys we had coming in and the guys we had coming back and we haven't looked back. The negative publicity puts more of a negative light on the coaches who are out recruiting and recruiting is tough enough to begin with. Our message has been the same with recruiting and that's not going to change. Every year is the same in this business and that's not going to change. You're going to be judged on what you do on the floor. It's been nice to see these kids get these types of results considering the hard work they put in during the offseason. It's been a fun ride with this group
CBSSports.com: You also have to deal with a bit of a regime change now with a new athletic director. What's the best way for a coach to deal with that?
Barnes: Obviously when Steve (Patterson) came we were right in the middle of the year. He's not only trying to get himself situated but we had a change in the football program too so he's had a lot going on. We haven't had a lot of time. He doesn't just have basketball to deal with. I'm sure at the right time we'll sit down and talk about the basketball program. I can already tell he's going to do a great job here. Just from the day-to-day operations standpoint, he's been very impressive. I'll tell you what Mack Brown told me. He said, "You can trust Steve Patterson".
CBSSports.com: Despite losing your top four statistical performers from last year's team, Texas is 18-4 and 7-2 in Big 12 play. Why has less been more with this group?
Barnes: That's a misconception. We're a more talented team. That's not a true statement. The players that are back from a year ago are better. The group of guys that we brought in are good basketball players, too. We're much better than we were a year ago.
CBSSports.com: Will the success you've had with this group change your thought process moving forward in recruiting? Is it maybe better to get guys that can stay and develop while always thinking about the team instead of players that are more interested in individual accolades?
Barnes: There's no doubt about that. We went through a couple of years where we were just plugging holes. Guys leave and put their names in the draft and they don't get drafted. The year that both Cory (Joseph) and Tristan (Thompson) both left hurt a bit. We were just filling holes after that. In recruiting, we had to scramble and get guys late. We have made a conscious effort to talk about the culture that we want here. The guys that we have here now want to be a part of that culture. They want to win. They want to have two feet in. Everybody that's been here, Jonathan Holmes has been here three years, he's been through the tough times. And he's wanted to be here. The guys we have in our program now have never wavered on where they want to be.
CBSSports.com: Was there a point in time, maybe over the summer or in fall workouts when you knew the chemistry of this group had a chance to be special?
Barnes: You could feel that early. Credit for that goes directly to the players and it's really just their personalities. There's not a selfish guy or a moody guy on this team. You get it every day. None of these guys have their heads up in the clouds. It's fun to be around them. There's a real camaraderie there, but it still goes back to the personalities of those guys. I don't think we've ever had any bad kids in our program. Sometimes the chemistry just doesn't work for whatever reason. This group is together. We don't have a group of guys who have thought about individual accolades. Our older guys have told our younger guys about what it takes. Some people thought they knew about hard work and then they got here and saw it wasn't going to be easy. Our older guys are now showing the younger guys that it's going to take work. It's going to take effort. We've got a good mix going on right now.
CBSSports.com: Talk around the college game has been dominated this year by elite freshmen. Your point guard Isaiah Taylor wasn't overly sought after coming out of high school, but he's obviously been an immediate impact guy. What's allowed him to be so effective so soon?
Barnes: He's a really good player. He's a very unselfish player. He's a player that has a charismatic personality. He's not egotistical in the fact that he just loves to play. He's never thought that this is about him. He loves his teammates. You can coach him hard and he can take it. He's just scratching the surface and I think he realizes that. He had some toughness coming in. He's not afraid to compete. Like all freshman, he's had some games that were better than others. But in terms of the recruiting rankings, we got over that a long time ago. Our best teams have been when as a staff we evaluated what we needed as a program and that's what we went after. Where we got into trouble was when we were too reliant on rankings and those types of kids. I think guys in the media that do recruiting know they have to rank kids and that's where the hype starts. In essence, recruiting rankings mean as much as preseason rankings. The truth is there's guys like Isaiah every year. We're very fortunate to have him. 
CBSSports.com: Have you ever had a player improve from one year to the next as much as Cameron Ridley has from last season to this one?
Barnes: We've had some guys that have improved, but the truth is a year ago Cam was a typical freshman. I also think some guys come in and all they know is all they know. They don't know what it's about. Sometimes you have to go through it. Cam's a great kid and he works. His weight fluctuated a year ago and now he's got that under control and I think he's going to even take another step in that regard. Cam plays hard. If I could show people tape of Cam every game, they'd be amazed at how hard he plays. He's a year older, a year wiser. He's put the time in.
CBSSports.com: What's the biggest reason why you wouldn't want to play your team moving forward?
Barnes: I still think we've got a ways to go. I think you look at our team right now and we've got some good size and some quickness. We've got some speed, too. You look at us and you'll say that they're only going to get better. If we can add some good players after this year we'll be even better. But the big thing is the mindset of these kids. They have to keep understanding that it's not about them. I truly know that the culture in our program has been about individual improvement. This group is passionate about the game and they want to get better. Just like the kids from last year got better. We expect that to continue moving forward.
CBSSports.com: You've had several teams that have played deep into the NCAA tournament. From what you've seen so far, does this squad have those same capabilities?
Barnes: This team --- we're the type of team that feels like we can beat anybody we play. And we believe that. But we also know that we were in some really tight games in our non-league schedule. I think we learned now that we better have an edge when we play because everybody can play. We understand that it may not be there for us on certain nights, but we still have to fight through it. We still have to bring that edge. That goes for the rest of league play and moving forward after that. We like this group a lot and we know what they're capable of, but we need that edge if we're going to go where we hope to go.
The BC fan has a ton of apparel and gear headed his way after this putt

Durant's made a habit of making sure his alma mater is set with the latest customized gear

Ball says UCLA told him to thank Trump for getting him back to the states after shoplifting...
SportsLine's advanced computer model simulated Wednesday's Villanova vs. Temple game 10,000...

Will any of these six teams make it to 2018 without their first loss?

Temple could be a big problem for undefeated Villanova, the No. 1 team in the Top 25 (and...