Q&A: URI coach Dan Hurley
Dan Hurley is used to success, which is why his first two years at Rhode Island have been tough. With reason to hope this season, the Rams coach talks depth and if he feels any pressure.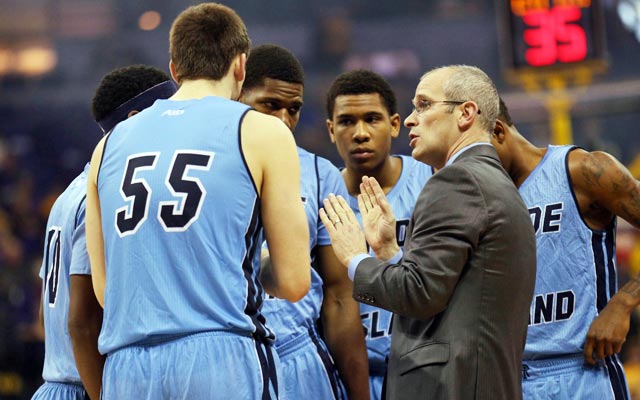 Despite being on the heels of a 14-18 season, Rhode Island is the program that's currently trending upward in the Atlantic 10. With the offseason addition of former Oklahoma State commit Jared Terrell and the return of 6-10 big man Jordan Hare, the Rams are positioned to make a jump in one of the most underrated conferences in college basketball. CBS Sports Network and CBSSports.com's Jon Rothstein sat down with Rhode Island head coach Dan Hurley to talk about the Rams' improved depth, star guard E.C. Matthews, and the high expectations that surround the 2014-15 season.
Jon Rothstein, CBSSports.com: What's the biggest thing you know now after coaching for two years in the Atlantic 10 that you didn't know when you took the job?
Dan Hurley: The level of the conference. It's such a great league. It's as good from top to bottom as any conference in the country. In the last year, the bottom has gotten so much better and the top of the league is as good as most conferences in the country.
CBSSports.com: Your team had a number of excruciating losses last season. How much do you feel the depth you've added this offseason will ultimately change those results?
Hurley: I think the depth is going to be huge for us. The last two years in rebuilding this thing we just haven't had all of the personnel that you need at this level to implement the style of play that we want to utilize both offensively and defensively. We've worked very, very hard the last two years to put the pieces in place to recruit exciting young talent and to also have some really experienced guys that can help lead. Those guys have had a lot of different types of experiences in their careers and I think that the building process has created the type of resolve in us that we now know what we want going into next season.
CBSSports.com: You've been around a number of dynamic guards in your coaching career. Where does E.C. Matthews (14.3 PPG) rank after the sample size he gave you last season as a freshman?
Hurley: I would probably liken it to when I was back at St. Benedict's Prep and I would get those elite guys. The J.R. Smith's, the Lance Thomas', the Samardo Samuels'. Myck Kabongo, Tristan Thompson. Guys like that. Guys who are special. E.C. is a special talent. The things that he can do --- they're different. When you match that up with the high character, the highest level of work ethic, and a guy that keeps his circle real small, you've got a real exciting building block.
CBSSports.com: You took a team trip to Italy last summer and arguably your best player was Jordan Hare (5.2 points, 4.0 rebounds, 1.8 blocks in 12-13). He never played a game for your team last season due to personal reasons. What does his return mean for your program?
Hurley: First of all, I think it's great for him. He belongs in college basketball and he belongs on a college campus getting his education. He's talented kid and he's an intelligent kid who with the level of commitment he's demonstrated in the last couple of weeks has a chance to resume his career and be a productive member of the program. Obviously, he brings things athletically in terms of his length that not a lot of people in our league have. Once he's eligible and in shape, he has a chance to be a really great piece for us. 
CBSSports.com: Rhode Island hasn't been to the NCAA Tournament since 1999 and ironically enough, you said when you left high school coaching and took the Wagner job that you needed more "pressure" in your life. Is that what you feel heading into next season?
Hurley: I ignore the external. My internal machine is pretty pressurized because I have a high standard. Growing up a Hurley, there's always been expectations of performance and it's second nature to me. It's a bad feeling to not coach a good team. I think the last two years, it's been a backbreaking rebuild. Now for the first time since I've been here, I feel like we have the chance to be good. I like the pressure of knowing that you've got to coach well and if you coach well that you're going to be good.
After a close game against Michigan, Air Force is playing San Diego State with some moment...

Quickley played for John Calipari this summer with USA Basketball

A revamped Erwin Center is part of a $4.25 million upgrade to the Longhorns' hoops facilit...
Nov. 10 will be here before you know it so here's what you need to know

The league would be wise to treat that series like the ACC treats Duke-North Carolina

Pacific is penalized after the NCAA found academic rules were broken