Ranking the 20 starters in Final Four
There aren't too many true stars remaining in the NCAA Tournament, but there are also very few weak links still playing. Let's go through the 20 starters.
• 4 min read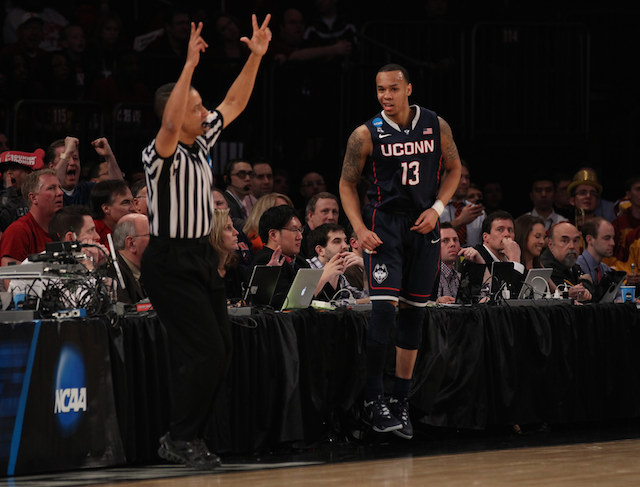 More NCAA hoops: Tournament bracket | Complete coverage of NCAAs | Latest news
The stars of college basketball keep dropping out of the tournament. The first weekend it was Doug McDermott, Jabari Parker, Andrew Wiggins and Sean Kilpatrick. Last weekend, seven of our top 10 players remaining bid farewell to the NCAA Tournament, including Russ Smith, DeAndre Kane, Kyle Anderson, Nik Stauskas, Adreian Payne, Xavier Thames and Nick Johnson. With just four teams remaining, it's time to re-rank the guys still playing in the tournament.
Let's first start with one bench guy from each team.
4. Amida Brimah, Connecticut: The 7-footer took awhile to get adjusted against Michigan State, but he brings shot-blocking and length around the rim. Will be a factor against Pat Young.
3. Alex Poythress, Kentucky: With Willie Cauley-Stein injured, Poythress is the main frontcourt sub now. He's been solid in the NCAA Tournament, missing just one shot in the last three games.
2. Nigel Hayes, Wisconsin: His physicality and strength inside will be needed against Julius Randle or Dakari Johnson. Had his way with Aaron Gordon for a stretch against Arizona.
1. Dorian Finney-Smith, Florida: His versatility and ability to do a little of everything on the court will be a boost against Connecticut's small lineup. Outside threat, good rebounder, decent vision, and can score.
And now, the Final Four starters, ranked 20 through 1.
20. Phillip Nolan, Connecticut: Played a key role against Michigan State, doing a decent job on Adreian Payne around the rim. Usually plays about 12 minutes.
19. Niels Giffey, Connecticut: Giffey has improved since arriving in Storrs, and his ability to defend bigger players while also knocking down 3-pointers has been big.
18. Will Yeguete, Florida: He's not much of a scorer, but he can face up and be a threat at times. His strength is being one of the best interior defenders in the tourney.
17. Dakari Johnson, Kentucky: Getting more minutes with Willie Cauley-Stein injured, Johnson had 15 points and six boards against Louisville. Has to defend Frank Kaminsky.
16. Josh Gasser, Wisconsin: Gasser is extremely efficient on the offensive end, and knocks down shots from the perimeter. Also a good ball-handler and defender.
15. Ben Brust, Wisconsin: Brust is shooting better than 50 percent from 3-point range in the tournament, and he's the school's all-time leading 3-point shooter.
14. Traevon Jackson, Wisconsin: There are few guys better at the end of games than Jackson, and he's hit plenty of big shots during his career. He could frustrate Andrew Harrison.
13. Michael Frazier, Florida: When Frazier is knocking down outside shots, Florida is so difficult to defend. Every shot he makes seems to be a momentum-changing dagger.
12. Ryan Boatright, Connecticut: He was an absolute pest defensively against Michigan State, and he also gives the Huskies a dynamic guard on the offensive end.
11. Casey Prather, Florida: Prather's numbers have dipped since his early-season form, but he's terrific in transition and always finds ways to finish at the rim off the dribble.
10. DeAndre Daniels, Connecticut: Daniels is the biggest key for the Huskies. He showed plenty of toughness against Branden Dawson and had 27 and 10 against Iowa State.
9. James Young, Kentucky: He's been alternating hot and cold shooting nights in the NCAA Tournament, and his ability to make shots from the perimeter will be needed against Wisconsin.
8. Andrew Harrison, Kentucky: After a struggle against Kansas State in the Round of 64, Harrison is averaging 14.0 points and 5.3 assists in his last three tournament games.
7. Sam Dekker, Wisconsin: Dekker needs to be more of a factor offensively against Kentucky. He has the tools, but he is averaging just 7.0 points in his last two games.
6. Patric Young, Florida: Young is an X-factor for the Gators. When he is able to carve out position and finish down low, he's tough. Young's defense and rebounding never wavers.
5. Aaron Harrison, Kentucky: Harrison has exceeded his season scoring average in three of the four tournament games – and hit the winning shot against Michigan in the fourth one.
4. Frank Kaminsky, Wisconsin: Maybe the most versatile offensive player left in the tournament, Kaminsky is coming off a 28-point, 11-rebound performance against Arizona.
3. Scottie Wilbekin, Florida: Just an absolute killer. At the end of the shot clock or at the end of game, only Shabazz Napier is more dangerous with the ball in his hands. Makes shots.
2. Julius Randle, Kentucky: Randle has been a force inside in the NCAA Tournament, racking up four double-doubles in four games. His strength and physicality inside could hurt Wisconsin.
1. Shabazz Napier, Connecticut: Had him ranked No. 1 heading into the Sweet 16, and nothing has changed. He's averaging 23.3 points, 6.0 rebounds and 4.5 assists in the tournament, while shooting 12 of 23 from 3 in his last three games. 
Josh Nagel has his finger on the pulse of Purdue basketball and locked in a play for Tuesd...

Gary Parrish and Matt Norlander discuss the latest in college basketball

The Mountaineers' coach surprised Self with a pullover -- and Self actually wore it during...
After beating West Virginia, the Jayhawks are on a four-game winning streak and jumped to No....

Oklahoma's basketball phenom has won the national Freshman of the Week award again

Happ is a force for the Badgers because of drills at home -- and a big growth spurt