Ranking the Sweet 16 matchups
There are plenty of intriguing storylines heading into the Sweet 16, led by a rematch of one of the best games of the season. Which is the best game this week?
• 3 min read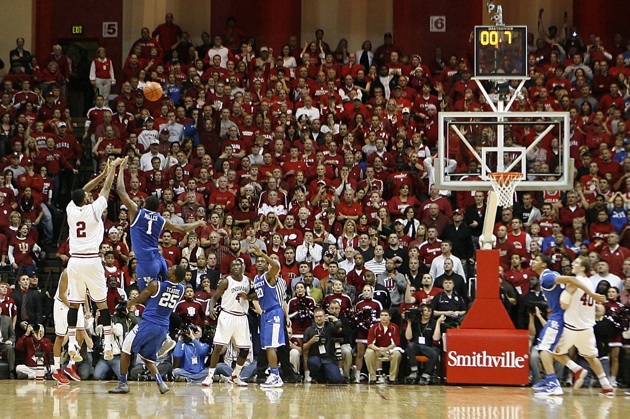 The first game between Kentucky and Indiana produced a classic; will we see another? (US Presswire)
The Sweet 16 is a mixture of chalk and upset-minded Cinderellas this season. All four No. 1 seeds advanced to the second weekend, but three double-digit seeds also won their first two games. Last year aside, the national semifinals are usually filled with the heavy-hitters of the bracket, the top few seeds. Will any of the surprise Sweet 16 teams continue the trend of last season and get to the Final Four, or will we see power conferences fill the streets of New Orleans? It makes for some intriguing Sweet 16 match-ups on Thursday on Friday, but which is the best?
1. No. 1 Kentucky vs. No. 4 Indiana: Everything you can ask for is in this game. Two of the greatest programs in college basketball history, and a rematch of Indiana's one-point, buzzer-beating win back in December. This game isn't in Bloomington, and we can't expect Indiana to shoot 60 percent from 3-point range again.
2. No. 3 Marquette vs. No. 7 Florida: This is going to be fun to watch. Both teams like to get up and down the court, with perimeter-oriented lineups predicated on creating matchup problems. It will be interesting to watch Jae Crowder against Patric Young; can either player consistently guard the other? The key could be 3-point shooting – which team will knock down shots?
3. No. 1 Michigan State vs. No. 4 Louisville: Two of the best coaches in the country will battle wits in what should be a defensive struggle. Louisville has the ability to force turnovers and cause Keith Appling to turn it over, but the Cardinals have no one to guard Draymond Green. After watching him will the Spartans to a win over the weekend, I'm not sure anyone does.
4. No. 1 Syracuse vs. No. 4 Wisconsin: Contrasting styles in this one, as Syracuse will try to force turnovers out of its zone defense and get points in transition, while Wisconsin will guard in a tight man-to-man and make it a half-court game. The Badgers have the shooters to get points against the zone, but can they take care of the ball? Which Jordan Taylor will show up?
5. No. 2 Ohio State vs. No. 6 Cincinnati: Intrastate battle between a couple of teams who rarely face each other. Cincinnati is playing extremely well lately, and its perimeter-oriented offense could pose problems for Ohio State's lineup. The key could be the battle between Yancy Gates and Jared Sullinger. Sullinger isn't as effective as he was last season, but Gates needs to stay out of foul trouble.
6. No. 2 Kansas vs. No. 11 North Carolina State: Plenty of athletes on both sides in this one. The battle inside will be interesting to watch, as NC State's bigs might be playing better lately. Thomas Robinson and Jeff Withey will have their hands full with C.J. Leslie and Richard Howell – if the Wolfpack's tandem can stay on the floor. Tyshawn Taylor vs. Lorenzo Brown is intriguing.
7. No. 3 Baylor vs. No. 10 Xavier: Neither team was extremely consistent against good teams in the second half of the season, but one of them will end up in the Elite Eight. Baylor has the length and athleticism to cause major problems for Xavier, so Kenny Frease needs to play well for the Musketeers. Xavier has no answer for Perry Jones, but Baylor's zone needs to contain Tu Holloway and Mark Lyons.
8. No. 1 North Carolina vs. No. 13 Ohio: The biggest story heading into this one is the status of Kendall Marshall, who underwent surgery for a fractured wrist on Monday. Will Marshall play? If so, will he be effective? Outside of that, it might be tough for Ohio to stay in the game. The Bobcats don't rebound on the defensive end well, and the Tar Heels crash the glass extremely well. D.J. Cooper needs a heroic effort.
Kentucky losing this game probably cost it a shot at earning a high NCAA Tournament seed

Freshman had 12 turnovers and 20 points; the Wildcats rattled him and kept OU on its heels

Kentucky and UNC are just behind the Blue Devils and Jayhawks
Cal's form wasn't pretty, but when it works, it works

Josh Nagel has his finger on the pulse of Purdue basketball and locked in a play for Tuesd...

Gary Parrish and Matt Norlander discuss the latest in college basketball