Rashad McCants says he took fake classes at UNC to stay eligible
Rashad McCants revealed that he took fake classes during his time at North Carolina in order to stay eligible.
• 2 min read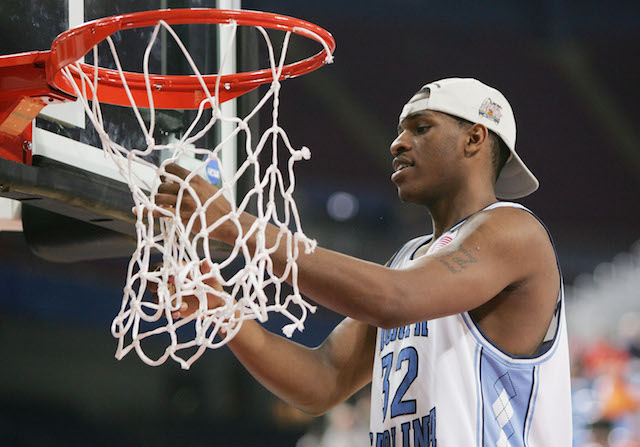 Latest in hoops: NBA Early Entries | Latest News | Coaching Changes
The North Carolina academic fraud scandal has taken another turn, with this one directly pertaining to the basketball program.
Former Tar Heels star Rashad McCants told ESPN's Outside the Lines that he took fake classes, rarely went to his real classes, and had tutors write his term papers.
McCants told them the assistance helped keep him eligible during the 2004-05 national title season. He also discusses the "paper-class" system at North Carolina, which allowed students to simply write one term paper as opposed to attending an actual class. Moreover, McCants was on the Dean's List in the spring of 2005 (the championship season) despite not going to class.
According to McCants, coach Roy Williams knew about it. 
"I remained eligible to finish out and win the championship, his first championship, and everything was peaches and cream," McCants said.

He said he is sure Williams and the athletic department as a whole knew "100 percent" about the paper-class system.
The academic fraud surrounding North Carolina's athletic department has been a story since 2011, although the basketball program has remained mostly insulated from the accusations and the football program received the penalties. However, UNC's African-American Studies program was at the center of the scandal -- and McCants took 18 AFAM classes, according to the transcript obtained by ESPN. 
North Carolina athletic director Bubba Cunningham gave a statement to Outside the Lines regarding McCants' revelations:
"It is disappointing any time a student is dissatisfied with his or her experience. I welcome the opportunity to speak with Rashad McCants about returning to UNC to continue his academic career -- just as we have welcomed many former student-athletes interested in completing their degrees.

"The university hired former federal prosecutor Kenneth Wainstein in January to conduct an independent investigation into past academic and athletic irregularities. While these are the first allegations we have heard from Mr. McCants, I encourage him to speak with Mr. Wainstein. ...

"I have gotten to know some of Mr. McCants' teammates, and I know that claims about their academic experience have affected them deeply. They are adamant that they had a different experience at UNC-Chapel Hill than has been portrayed by Mr. McCants and others."
McCants was part of the North Carolina team that won the national championship in 2005. In three seasons in Chapel Hill, McCants averaged 17.6 points. He left college after his junior season, getting drafted by the Minnesota Timberwolves. McCants spent four seasons in Minnesota before being traded to the Sacramento Kings. Since 2009, McCants has played in the NBDL, France, the Phillipines, China and Brazil.
Davis is averaging 8.8 points and 2.4 rebounds per game this season

CBS Sports reached out to coaches across the country to get their reaction to Friday's huge...

Our advanced model simulated Saturday's Creighton vs. Villanova game 10,000 times
The ex-UCLA star says college players are getting paid under the table, so it's time to legalize...

Stephen Oh has nailed four in a row involving Virginia Tech and he's locked in a pick for...

Oklahoma tries to get back on course and Syracuse and Creighton look for huge wins Saturda...